May 2020
Submitted by Rianne Schestowitz on Friday 1st of May 2020 12:53:50 AM
Filed under
GNOME 3.37.1 is now available. This is the first unstable release
leading to 3.38 stable series.
If you want to compile GNOME 3.37.1, you can use the official
BuildStream project snapshot. Thanks to BuildStream's build sandbox,
it should build reliably for you regardless of the dependencies on
your host system...
Also: GNOME 3.37.1 Released As The First Step Towards GNOME 3.38
Submitted by Rianne Schestowitz on Friday 1st of May 2020 12:50:00 AM
Filed under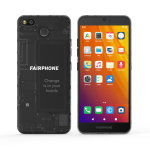 Fairphone and e Foundation are teaming up and taking the rare step of selling a non-Google Android phone to the public. The Fairphone 3, a midrange smartphone originally released in September 2019, can now come pre-loaded with the /e/ OS, a fork of Android that replaces the usual suite of Google apps and services with open source options and /e/'s cloud services. The goal of the two companies is to produce a "privacy conscious and sustainable phone." (It's "/e/ OS" but, for some reason, only "e Foundation.")
The Fairphone 3 was originally released in August 2019 for €450 ($493). If you buy the pre-loaded /e/ version from /e/'s website, the phone is €480 ($525). The Fairphone 3 build of /e/ is freely available no matter where you buy the phone, but if you buy it from /e/, you're presumably financially supporting your phone's OS development.
Submitted by Rianne Schestowitz on Friday 1st of May 2020 12:04:10 AM
Filed under
Linux is a popular platform for those who develop software or are avid programmers. The trouble is, not many programmers and developers know what Linux operating system to use for development purposes. For this reason, we've created a list of 6 best Linux distributions for developers and programmers.
In this list, we covered the 6 best Linux distros for developers and programmers. That said, there are many other excellent Linux operating systems out there for developers. What is your favorite Linux distro to use for software development or programming? Tell us in the comment section below!
More in Tux Machines
Servers: Kubernetes, MicroK8s and Ubuntu

This week's acquisition of Rancher Labs by the veteran enterprise Linux firm SUSE neatly illustrates the growing momentum of container-based application deployment. It also underlines the importance of Kubernetes as the orchestration tool of choice for managing all those containers. So, what does this latest move mean for the broader Kubernetes ecosystem? When containers first garnered corporate attention six or seven years ago, Docker and its tools were the centre of attention. But the focus soon shifted to management frameworks capable of automating the deployment and scaling of containers, and Kubernetes, developed by Google from technology used in its cloud platform, quickly won out. Like many open source tools, Kubernetes has its share of rough edges and does not necessarily provide all the capabilities that users need to build a functioning container-based infrastructure. Companies such as Rancher sprang forth to provide a complete software stack built around Kubernetes for those who didn't want to build it all themselves.

Ubuntu is the industry-leading operating system for use in the cloud. Every day millions of Ubuntu instances are launched in private and public clouds around the world. Canonical takes pride in offering support for the latest cloud features and functionality. As of today, all Ubuntu Amazon Web Services (AWS) Marketplace listings are now updated to include support for the new Graviton2 instance types. Graviton2 is Amazon's next-generation ARM processor delivering increased performance at a lower cost. This

Linux and Linux Foundation: Rust, Windows, SystemD and More

Mozilla Leftovers and Firefox Development

Why Windows Power Users Break Linux

As more people come to Linux, those of us who help the Windows refugees make the switch will need to be very patient with them. The more someone knows about Windows, the more likely it is that they will break Linux. Handing them a Linux laptop and saying, "Here ya go…" is not enough if they are going to succeed. You're going to have to hold their hand for a while and telling them to "RTFM" will just drive them back to Windows. Understanding why they struggle as much as they do will help you to help them avoid some of the common pitfalls. I specialize in helping people get started with Linux. I've helped hundreds of people over the last few years and I can pretty much spot the ones who are going to do well and those who are going to be frustrated. If a client approaches me and they start the conversation with "I've been using Windows for 20 years…" I know it's going to be a bumpy ride. The pattern is always the same: I walk them through an install and all is well for about two weeks and then I get a frustrated message from them about how Linux is stupid and doesn't work. I know without asking that they've broken something major or borked up the whole system. I usually can fix the problem and make a good lesson out of it for them. I have gone so far as to walk them through a second installation from scratch. If the system is totally hosed, that's the best way to go. Give them a clean slate to work with and hope they learned something. On the other hand, if a client tells me that they know nothing about computers but they need one to get things done like writing documents, spreadsheets, web surfing and email then they usually have zero issues. I get them setup and I don't hear from them again. I usually contact then after a month or two and they invariably tell me everything is working perfectly. I got a call from a gentleman I hadn't heard from in a year and a half recently. He said everything was working nicely but he wanted some advice about upgrading his Linux Mint from 17.3 to 18.1 and could I help him get it right. No problem. Wonderful to hear that all is well!