Slackel 7.0 "Live Openbox"
Submitted by Roy Schestowitz on Tuesday 2nd of May 2017 04:58:50 AM
Filed under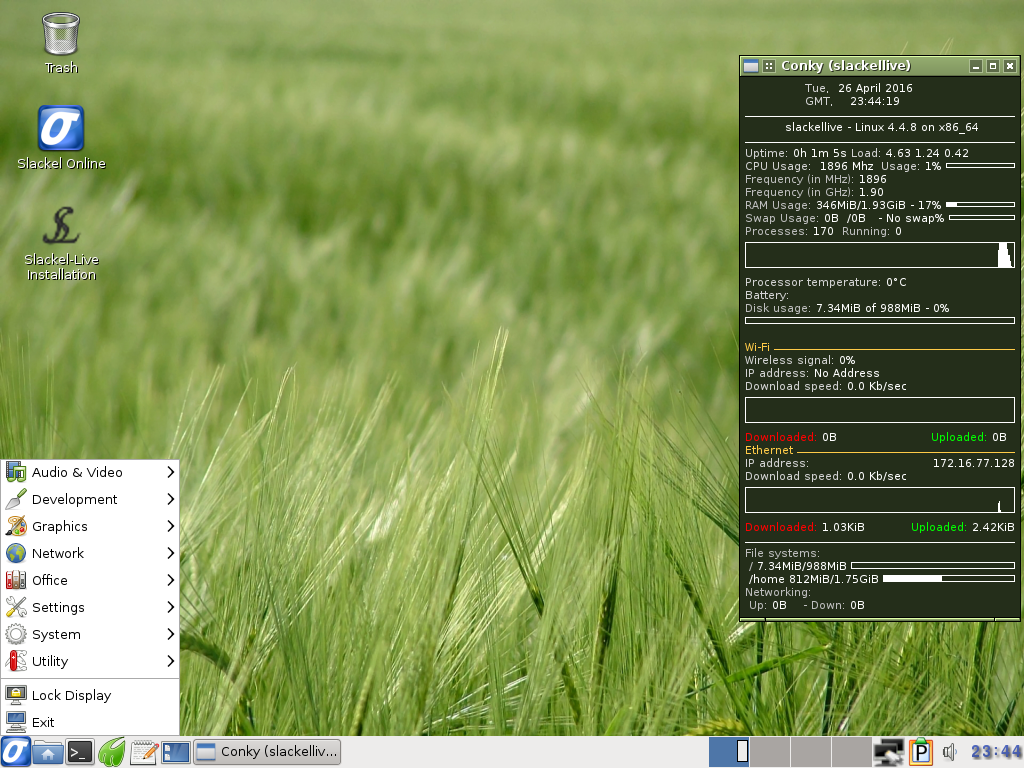 Slackel 7.0 Live Openbox has been released. Slackel is based on Slackware and Salix.
Includes the Linux kernel 4.4.38 and latest updates from Slackware's 'Current' tree.
The 64-bit iso image support booting on UEFI systems.
The 32-bit iso image support both i686 PAE SMP and i486, non-PAE capable systems.
Iso images are isohybrid
Iso images can be used as installation media.
»
Printer-friendly version

2121 reads

PDF version
More in Tux Machines
Events: XDC2020, SUSECON and Xen Project Developer & Design Summit

Hopefully you didn't yet book your tickets to XDC2020 as the annual X.Org conference as the venue -- and host country for that matter -- may change. The annual X.Org Developers' Conference flips each year between different venues in North American and Europe. Last year it was announced XDC2020 would be hosted in Gdansk, Poland by a local Polish crew at Intel. But now that decision is being reassessed over finding a more welcoming and inclusive country for the event.

A new year, a new decade, and a new SUSE (now fully independent), all coalesce to a new SUSECON—bigger, more inspiring, and more focused on the world we live in than ever before. Like a pot of gold, SUSECON 2020 will be full of life-enhancing moments to make your world better. Here are the top five riches you have to look forward to when the rainbow lands in Dublin, March 23 – 27, 2020.

Starting today, registration and Call for Proposals officially opens for the Xen Project Developer & Design Summit. This year's Summit, taking place from June 2nd through the 4th at the PRECIS Center in Bucharest, Romania, will bring together the Xen Project community of developers and power users to share ideas, latest developments, and experiences, as well as offer opportunities to plan and collaborate on all things Xen Project. If you'd like to present a talk at the Summit, the Call For Proposals is open now and will close Friday, March 6, 2020. The Xen Summit brings together key developers in this community and is an ideal sponsorship opportunity. If you are interested in sponsoring this year's event, check out the Sponsorship Page. For information regarding registration, speaking opportunities and sponsorships, head over the event website and learn more!

today's howtos

This Cool Cyberpunk Desktop is Easy to Recreate on Kubuntu

Arguably the most striking feature of this neo-noir desktop in the video above is the vivid live wallpaper. Atmospheric, this instantly instills an edgy, futuristic vibe reminiscent of films like Blade Runner, Dark City, and eXistenZ. I am even more impressed by easy it is to recreate the whole look (assuming you're running KDE Plasma desktop) for yourself. On a regular Ubuntu desktop with GNOME Shell setting up a live wallpaper requires some a bit of effort (installing an unmaintained app from a random repo or getting tricksy with mpv, fining the numbers and deftly placing enough hyphens).

AMD: Ryzen, AMDGPU and More

The AMD Ryzen Linux laptop experience continues improving albeit quite tardy on some elements of the support. In addition to the AMD Sensor Fusion Hub driver finally being released and current/voltage reporting for Zen CPUs on Linux, another step forward in Ryzen mobile support is a fix for ASUS TUF laptops with these processors.

After already several rounds of feature work queued in DRM-Next for Linux 5.6, AMD has submitted a final batch of feature work for this next kernel as it concerns their AMDGPU graphics driver. While Linux 5.6's merge window isn't opening until around the start of February, with RC6 having come, it effectively marks an end to the feature window of DRM-Next for targeting the next kernel. AMD's final pull request is mostly centered on fixes plus a few other extras and also enabling AMD Pollock display/graphics support for that forthcoming hardware.

A few days ago I reported on AMD's "k10temp" Linux kernel driver finally seeing the ability to report CCD temperatures and CPU current/voltage readings as a big improvement to this hardware monitoring driver. The work hasn't yet been queued for inclusion into the mainline kernel, but initial testing is working well and a second revision to the patches has been sent out. Linux HWMON maintainer Guenter Roeck who spearheaded this work independent of AMD sent out the "v2" k10temp driver improvements on Saturday. This allows core complex tie temperature reporting for Zen 2 CPUs and allows current and voltage reporting for Ryzen CPUs. While this information has long been available to Windows users, sadly it's not been the case for Linux at least as far as mainline drivers go -- the out-of-tree Zenpower driver and other third-party attempts have been available but nothing mainline.