The supposed decline of copyleft
Submitted by Roy Schestowitz on Saturday 2nd of September 2017 08:23:49 AM
Filed under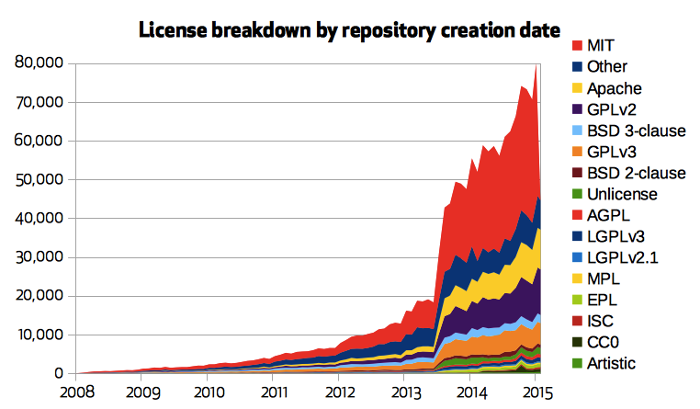 Reproducible observations are necessary to the establishment of solid theories in science. Sullivan didn't try to contact Black Duck to get access to the database, because he assumed (rightly, as it turned out) that he would need to "pay for the data under terms that forbid you to share that information with anybody else". So I wrote Black Duck myself to confirm this information. In an email interview, Patrick Carey from Black Duck confirmed its data set is proprietary. He believes, however, that through a "combination of human and automated techniques", Black Duck is "highly confident at the accuracy and completeness of the data in the KnowledgeBase". He did point out, however, that "the way we track the data may not necessarily be optimal for answering the question on license use trend" as "that would entail examination of new open source projects coming into existence each year and the licenses used by them".
In other words, even according to Black Duck, its database may not be useful to establish the conclusions drawn by those articles. Carey did agree with those conclusions intuitively, however, saying that "there seems to be a shift toward Apache and MIT licenses in new projects, though I don't have data to back that up". He suggested that "an effective way to answer the trend question would be to analyze the new projects on GitHub over the last 5-10 years." Carey also suggested that "GitHub has become so dominant over the recent years that just looking at projects on GitHub would give you a reasonable sampling from which to draw conclusions".
»
Printer-friendly version

2267 reads

PDF version
More in Tux Machines
Red Hat News/Leftovers

DevConf.us 2018 is the first annual, free, Red Hat sponsored technology conference in North America for contributors to free and open source projects. It follows on the success of DevConf.cz and DevConf.in, and will highlight emerging technologies like machine learning and artificial intelligence, serverless, containers and orchestration, as well as important foundational practices like quality engineering and user experience. We sat down with a few of the Red Hat speakers presenting on user experience (UX) in open source technologies to talk about user experience and how it impacts them in all of their different roles.

Cloudgizer: An introduction to a new open source web development tool

Cloudgizer is a free open source tool for building web applications. It combines the ease of scripting languages with the performance of C, helping manage the development effort and run-time resources for cloud applications. Cloudgizer works on Red Hat/CentOS Linux with the Apache web server and MariaDB database. It is licensed under Apache License version 2.

James Bottomley on Linux, Containers, and the Leading Edge

It's no secret that Linux is basically the operating system of containers, and containers are the future of the cloud, says James Bottomley, Distinguished Engineer at IBM Research and Linux kernel developer. Bottomley, who can often be seen at open source events in his signature bow tie, is focused these days on security systems like the Trusted Platform Module and the fundamentals of container technology.

TransmogrifAI From Salesforce

Salesforce is open-sourcing the method it has developed for using machine-learning techniques at scale — without mixing valuable customer data — in hopes other companies struggling with data science problems can benefit from its work. The company plans to announce Thursday that TransmogrifAI, which is a key part of the Einstein machine-learning services that it believes are the future of its flagship Sales Cloud and related services, will be available for anyone to use in their software-as-a-service applications. Consisting of less than 10 lines of code written on top of the widely used Apache Spark open-source project, it is the result of years of work on training machine-learning models to predict customer behavior without dumping all of that data into a common training ground, said Shubha Nabar, senior director of data science for Salesforce Einstein.

Machine learning models — artificial intelligence (AI) that identifies relationships among hundreds, thousands, or even millions of data points — are rarely easy to architect. Data scientists spend weeks and months not only preprocessing the data on which the models are to be trained, but extracting useful features (i.e., the data types) from that data, narrowing down algorithms, and ultimately building (or attempting to build) a system that performs well not just within the confines of a lab, but in the real world.