The supposed decline of copyleft
Submitted by Roy Schestowitz on Saturday 2nd of September 2017 08:23:49 AM
Filed under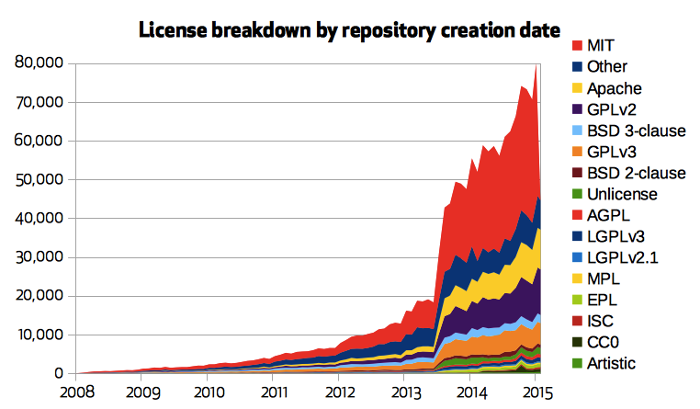 Reproducible observations are necessary to the establishment of solid theories in science. Sullivan didn't try to contact Black Duck to get access to the database, because he assumed (rightly, as it turned out) that he would need to "pay for the data under terms that forbid you to share that information with anybody else". So I wrote Black Duck myself to confirm this information. In an email interview, Patrick Carey from Black Duck confirmed its data set is proprietary. He believes, however, that through a "combination of human and automated techniques", Black Duck is "highly confident at the accuracy and completeness of the data in the KnowledgeBase". He did point out, however, that "the way we track the data may not necessarily be optimal for answering the question on license use trend" as "that would entail examination of new open source projects coming into existence each year and the licenses used by them".
In other words, even according to Black Duck, its database may not be useful to establish the conclusions drawn by those articles. Carey did agree with those conclusions intuitively, however, saying that "there seems to be a shift toward Apache and MIT licenses in new projects, though I don't have data to back that up". He suggested that "an effective way to answer the trend question would be to analyze the new projects on GitHub over the last 5-10 years." Carey also suggested that "GitHub has become so dominant over the recent years that just looking at projects on GitHub would give you a reasonable sampling from which to draw conclusions".
»
Printer-friendly version

1979 reads

PDF version
More in Tux Machines
KaOS 2018.01 KDE-focused Linux distro now available with Spectre and Meltdown fixes

It can be difficult to find a quality Linux distribution that meets your needs. This is partly because there are just too many operating systems from which to choose. My suggestion is to first find a desktop environment that you prefer, and then narrow down your distro search to one that focuses on that DE. For instance, if you like KDE, both Kubuntu and Netrunner are solid choices. With all of that said, there is another KDE-focused Linux distro that I highly recommend. Called "KaOS," it is rolling release, meaning you can alway be confident that your computer is running modern packages. Today, KaOS gets its first updated ISO for 2018, and you should definitely use it to upgrade your install media. Why? Because version 2018.01 has fixes for Spectre and Meltdown thanks to Linux kernel 4.14.14 with both AMD and Intel ucode.

Today in Techrights

KDE: Linux and Qt in Automotive, KDE Discover, Plasma5 18.01 in Slackware

For anyone around the Gothenburg area on Feb 1st, you are most welcome to the Automotive MeetUp held at the Pelagicore and Luxoft offices. There will be talks about Qt/QML, our embedded Linux platform PELUX and some ramblings about open source in automotive by yours truly ;-)

I see a lot of people asking about state of AppImage support in Discover. It's non-existent, because AppImage does not require centralized software management interfaces like Discover and GNOME Software (or a command-line package manager). AppImage bundles are totally self-contained, and come straight from the developer with zero middlemen, and can be managed on the filesystem using your file manager This should sound awfully familiar to former Mac users (like myself), because Mac App bundles are totally self-contained, come straight from the developer with zero middlemen, and are managed using the Finder file manager.

When I sat down to write a new post I noticed that I had not written a single post since the previous Plasma 5 announcement. Well, I guess the past month was a busy one. Also I bought a new e-reader (the Kobo Aura H2O 2nd edition) to replace my ageing Sony PRS-T1. That made me spend a lot of time just reading books and enjoying a proper back-lit E-ink screen. What I read? The War of the Flowers by Tad Williams, A Shadow all of Light by Fred Chappell, Persepolis Rising and several of the short stories (Drive, The Butcher of Anderson Station, The Churn and Strange Dogs) by James SA Corey and finally Red Sister by Mark Lawrence. All very much worth your time.

GNU/Linux: Live Patching, Gravity of Kubernetes, Welcome to 2018

The open-source Xen virtualization hypervisor is widely deployed by enterprises and cloud providers alike, which benefit from the continuous innovation that the project delivers. In a video interview with ServerWatch, Lars Kurth, Chairman of the Xen Project Advisory Board and Director, Open Source Solutions at Citrix, details some of the recent additions to Xen and how they are helping move the project forward.

Most new internet businesses started in the foreseeable future will leverage Kubernetes (whether they realize it or not). Many old applications are migrating to Kubernetes too. Before Kubernetes, there was no standardization around a specific distributed systems platform. Just like Linux became the standard server-side operating system for a single node, Kubernetes has become the standard way to orchestrate all of the nodes in your application. With Kubernetes, distributed systems tools can have network effects. Every time someone builds a new tool for Kubernetes, it makes all the other tools better. And it further cements Kubernetes as the standard.

The image of the technology industry as a whole suffered in 2017, and that process is likely to continue this year as well. That should lead to an increased level of introspection that will certainly affect the free-software community. Many of us got into free software to, among other things, make the world a better place. It is not at all clear that all of our activities are doing that, or what we should do to change that situation. Expect a lively conversation on how our projects should be run and what they should be trying to achieve. Some of that introspection will certainly carry into projects related to machine learning and similar topics. There will be more interesting AI-related free software in 2018, but it may not all be beneficial. How well will the world be served, for example, by a highly capable, free facial-recognition system and associated global database? Our community will be no more effective than anybody else at limiting progress of potentially freedom-reducing technologies, but we should try harder to ensure that our technologies promote and support freedom to the greatest extent possible. Our 2017 predictions missed the fact that an increasing number of security problems are being found at the hardware level. We'll not make the same mistake in 2018. Much of what we think of as "hardware" has a great deal of software built into it — highly proprietary software that runs at the highest privilege levels and which is not subject to third-party review. Of course that software has bugs and security issues of its own; it couldn't really be any other way. We will see more of those issues in 2018, and many of them are likely to prove difficult to fix.