6 Best Free And Open Source Reddit Alternatives You Must Visit
Submitted by Rianne Schestowitz on Thursday 14th of September 2017 09:05:03 AM
Filed under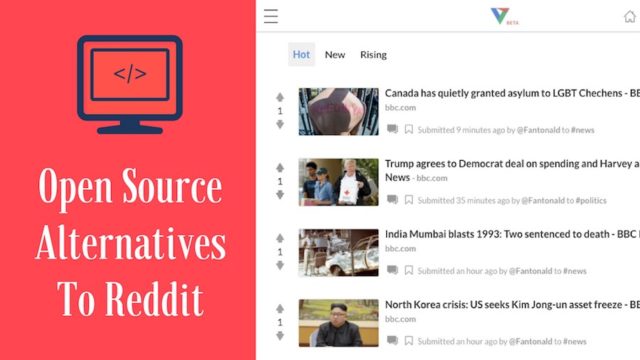 Just recently, Reddit announced its plans to stop sharing its main website's open source code base. The website gave a number of reasons, which weren't welcomed by the open source community. So, we've decided to prepare a list of some free and open source Reddit alternatives that you can give a try. Some of these aren't much popular, but we thought it's a good time to spread the world and tell you about these options.
»
Printer-friendly version

1808 reads

PDF version
More in Tux Machines
Debian GNU/Linux 9 "Stretch" Receives L1 Terminal Fault Mitigations, Update Now

According to the security advisory published on Monday, the new kernel security update addresses both CVE-2018-3620 and CVE-2018-3646 vulnerabilities, which are known as L1 Terminal Fault (L1TF) or Foreshadow. These vulnerabilities had an impact on normal systems, as well as virtualized operating systems, allowing a local attacker to expose sensitive information from the host OS or other guests. "Multiple researchers have discovered a vulnerability in the way the Intel processor designs have implemented speculative execution of instructions in combination with handling of page-faults. This flaw could allow an attacker controlling an unprivileged process to read memory from arbitrary (non-user controlled) addresses," reads today's security advisory.

Rugged, sandwich-style Sitara SBC has optimized Linux stack

Forlinx's sandwich-style, industrial temp "OK5718-C" SBC runs Linux on a "FET5718-C" module with a Cortex-A15 based TI AM5718 SoC. Other features include SATA, HDMI, MIPI-CSI, USB 3.0, CAN, and mini-PCIe. Forlinx Embedded Technology, the Chinese company behind Linux-friendly SBCs such as the TI Sitara AM3354 based OK335xS-II and The Forlinx i.MX6 SBC, has posted details on a new OK5718-C SBC. Like the OK335xS-II, it's a Sitara based board, in this case tapping TI's single-core, Cortex-A15 based Sitara AM5718. Like the i.MX6 SBC, it's a sandwich-style offering, with the separately available FET5718-C module hosting the up to 1.5GHz AM5718.

RISC-V and NVIDIA

today's leftovers

Hyperledger is the umbrella body for ten open source blockchain projects, all of which are cross-industry. So far, that is. Ledger Insights spoke to Hyperledger Executive Director, Brian Behlendorf, and explored the likelihood of industry-specific open source blockchains. Open source could significantly impact the governance of industry consortia and increase the pace of innovation. For the health sector, there's potential for an open source Electronic Health Record project. For supply chain it could be a provenance ledger for diamonds or luxury goods. Or a blockchain for bills of lading. In the case of insurance perhaps a policy ledger.

On August 20th, 2018, cPanel signed an agreement to be acquired by a group led by Oakley Capital (Oakley). The group also owns Plesk and SolusVM. This transaction will enable significant investment in new product and feature innovation and will support growth in headcount in Houston, Texas, USA where cPanel will continue to be headquartered.