OpenSUSE fonts – The sleeping beauty guide
Submitted by Roy Schestowitz on Saturday 23rd of September 2017 05:10:04 PM
Filed under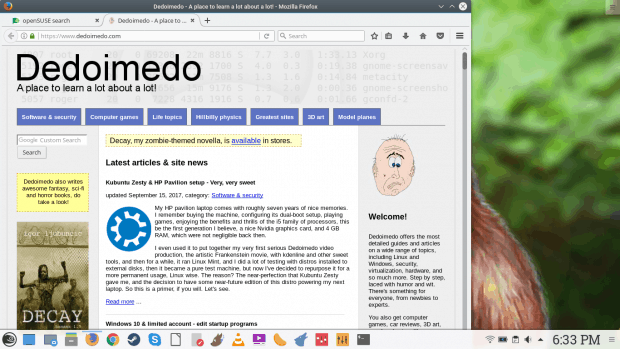 Pandora's box of fonts is one of the many ailments of the distro world. As long as we do not have standards, and some rather strict ones at that, we will continue to suffer from bad fonts, bad contrast, bad ergonomics, and in general, settings that are not designed for sustained, prolonged use. It's a shame, because humans actually use computers to interface with information, to READ text and interpret knowledge using the power of language. It's the most critical element of the whole thing.
OpenSUSE under-delivers on two fonts – anti-aliasing and hinting options that are less than ideal, and then it lacks the necessary font libraries to make a relevant, modern and pleasing desktop for general use. All of this can be easily solved if there's more attention, love and passion for the end product. After all, don't you want people to be spending a lot of time interacting, using and enjoying the distro?
Hopefully, one day, all this will be ancient history. We will be able to choose any which system and never worry or wonder how our experience is going to be impacted by the choice of drivers, monitors, software frameworks, or even where we live. For the time being, if you intend on using openSUSE, this little guide should help you achieve a better, smoother, higher-quality rendering of fonts on the screen, allowing you to enjoy the truly neat Plasma desktop to the fullest. Oh, in the openSUSE review, I promised we would handle this, and handle it we did! Take care.
»
Printer-friendly version

2745 reads

PDF version
More in Tux Machines
Automatically Change Wallpapers in Linux with Little Simple Wallpaper Changer

Here is a tiny script that automatically changes wallpaper at regular intervals in your Linux desktop.

EU Law Threatens Free/Open Source Software

The EC's Expected Decision Against Android Is an Unfortunate Attack on Open Source Software

The European Commission ("EC") is preparing to release its decision against Android, and its framing of the issues makes clear that successful open source software will have a hard time in Europe. In its Statement of Objections, the Commission signaled that Apple's iOS, Android's fiercest rival, would be excluded from the market definition because it is closed source and not available to other hardware makers. The decision is expected to declare unlawful strategies to monetize a free product, provide a consistent user experience to customers expecting the Google brand, and to maintain code consistency to minimize problems for developers using the platform. The decision is not expected to contain any indication on how open source platform developers can solve these problems that are fundamental to their success.

Google, IBM and Microsoft

When Chromebooks first came out in 2011, they were basically just low-spec laptops that could access web apps – fine for students maybe, but not to be regarded as serious computers. While they've become more popular (the low cost, simplicity, and dependability appeal to businesses and education systems), as of 2018 Chromebooks still haven't managed to become widely accepted as a Windows/Apple/Linux alternative. That may be about to change. The humble Chromebook has gotten a lot of upgrades, so let's get ourselves up to speed on some things that just aren't true anymore. [...] The 2011 Chrome OS was pretty bare-bones, but it's gone to the opposite extreme since then. Not only is it steadily blurring the line between Chrome and Android, it can now install and run some Windows programs as well, at the same time as a Chrome and an Android app, if you like. And hey, while you're at it, why not open a Linux app as well? You can already install Linux on a Chromebook if you want, but one of the next versions of Chrome OS is going to include a Linux virtual machine accessible right from your desktop (which is already possible, just not built-in and user-friendly). In sum, Chrome OS has gone from barely being an operating system to one that can run apps from four other OSes at the same time.

...Microsoft getting into hot water over their work with US Immigration and Customs Enforcement. Plus we round up the community news.