ExTiX 17.8 – "The Ultimate Linux System" – with LXQt 0.11.1, Refracta tools, Nvidia 384.90 and kernel 4.13.0-15-exton – Build 171012
Submitted by Roy Schestowitz on Thursday 12th of October 2017 01:49:54 PM
Filed under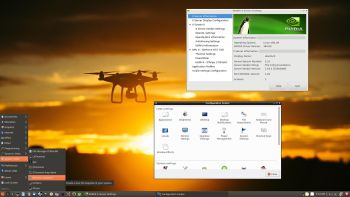 I have made a new version of ExTiX – The Ultimate Linux System. I call it ExTiX 17.8 LXQt Live DVD. (The previous version was 17.4 from 170418).
ABOUT
ExTiX 17.8 LXQt DVD 64 bit is based on Debian 9 Stretch and Ubuntu 17.10 Artful Aardvark, to be released 171019. The original system includes the Desktop Environment Gnome. After removing Gnome I have installed LXQt 0.11.1. LXQt is the Qt port and the upcoming version of LXDE, the Lightweight Desktop Environment. It is the product of the merge between the LXDE-Qt and the Razor-qt projects: A lightweight, modular, blazing-fast and user-friendly desktop environment.
The system language is ENGLISH.
»
Printer-friendly version

2958 reads

PDF version
More in Tux Machines
OSS Leftovers

New CloudBees Suite Addresses DevOps Gaps in Software Delivery

CloudBees is bringing a set of products into a new CloudBees Suite that it said will help companies of all sizes streamline the software development process. The new software is set to be announced Sept. 18 at the company's DevOps World / Jenkins World conference in San Francisco. Jenkins is the open-source version of CloudBees, which is a commercial offering. A central piece of the CloudBees Suite is the CloudBees Core for unified governance of continuous delivery operations and processes used in DevOps. Software pipelines can also use Core to run software pipelines more efficiently in a self-managed way in the cloud or on-premises. Also: CloudBees Announces Availability of Support for Jenkins Open Source

Chrome's Latest

Google's big Chrome overhaul that arrived on desktop and mobile earlier this month is coming to Chromebooks today with the release of Chrome OS version 69. The really noticeable change is the new Material Theme redesign of Chrome itself, which brings tabs with rounded corners and some softer aesthetic elements, like a blank white new tab page, to the overall look and feel of the browser.

Chrome OS 69 is rolling out today following the Android and desktop release last week. Version 69 includes the Google Material Theme to coincide with the browser's 10th anniversary. Meanwhile, Linux apps are launching on the stable channel for select devices, while Chrome OS adds Night Light and easier to access system-level voice dictation.

The feature raised some hackles and brought back memories of Microsoft's strong-arm tactics promoting its old Internet Explorer browser in the first browser wars two decades ago. But Microsoft isn't alone in such tactics: Google promotes its Chrome browser as faster and safer to people who visit its own websites with other browsers. Microsoft didn't immediately respond to a request for comment about the change of direction.

Everything Is File In Linux - Part 1

Divided into 2 parts, in this first part I will introduce the concept that everything is file and present the special devices / dev / null, / dev / zero, / dev / random and / dev / full. Part 2 will be to present didactically interesting features about this, for example, how to turn a file into a partition!