So the 'Year of Linux' never happened. When is it Chrome OS's turn?
Submitted by Rianne Schestowitz on Wednesday 18th of October 2017 09:57:27 AM
Filed under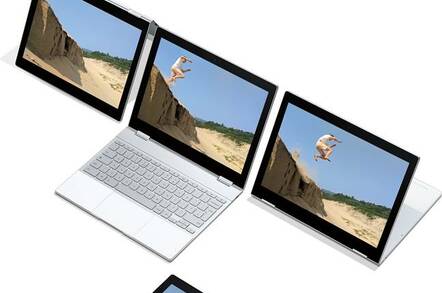 The year of Linux desktop was a running joke. The concept of Linux being ready for the mainstream with users confidently running it on their desktops, sadly, never happened.
Some bravely pushed the idea: the latest being Canonical with a more macOS-like desktop, easier to configure and use than the standard Linux distro. It came with an app-store concept too.
»
Printer-friendly version

1757 reads

PDF version
More in Tux Machines
Funding for Open 'Core' Companies

Crate.io on Tuesday introduced a commercial Machine Data Platform, along with a new version of its open source SQL database for the Internet of Things and machine data. The company also announced an US$11 M Series A funding round.

More than 30 per cent of the Fortune 50 have adopted Nginx's technology to date, fuelling the rise of digital transformation as enterprises rush to keep speed in line with innovation. The platform hopes to use the funding to accelerate adoption of microservices - a modern approach to app development - by enterprises all over the world.

Telstra-backed open source software developer NGINX has raised $43 million in a Series C funding led by Goldman Sachs Growth Equity (GS Growth), a platform within Goldman Sachs' Merchant Banking Division.

'Proper' GNU/Linux on Google OSes

Google's non-Linux-based Fuchsia OS has added an emulator for running Debian Linux apps. Like its upcoming Linux emulator for Chrome OS, Fuchsia's "Guest" app will offer tighter integration than typical emulators. Google has added a Guest app to its emergent and currently open source Fuchsia OS to enable Linux apps to run within Fuchsia as a virtual machine (VM). The Guest app makes use of a library called Machina that permits closer integration with the OS than is available with typical emulators, according to a recent 9to5Google story.

The ability to run Linux apps in virtual machines in Chrome is expanding beyond Google's flagship Pixelbook line of Chromebooks. The feature, for which plans were first discovered in late February, was formally announced by Google at I/O 2018. Unlike the existing solution, Crouton, support for Linux apps does not require enabling developer mode on Chrome OS, allowing users to install Linux apps without needing to sacrifice security protections. In addition to the Pixelbook, support for the new Crostini virtual machine feature has also come to the original Samsung Chromebook Plus, the detachable HP Chromebook X2, and the ASUS Chromebook Flip C101. Likewise, according to a report from xda-developers, the feature is coming to the Acer Chromebook Spin 13 and Chromebook 13, as well as 2018-era Chromeboxes, which all share the same board ID "fizz." Of these, the Acer Chromebox CX13 series and ASUS Chromebox 3 series both have multiple SKUs, maxing out with an Intel Core i7-8550U paired with 16GB RAM and 64GB storage for $750.

Acer's Chromebook Flip C101 is now officially the latest Chrome OS device expected to be in-line for virtualized Linux app support, following a new commit pushed to the Chromium Gerrit on June 15. That places the Flip C101 in a very select club alongside Google's Pixelbook, the HP Chromebook x2, and the first generation Samsung Chromebook Plus. Of course, there's no official date with regard to when Linux App support will arrive for the Chromebook Flip C101. If previous trends are followed, then it shouldn't take too long at all for its official arrival in the Canary Channel of the OS. That comes following a commit indicating that support for the new feature has been moved from the Samsung Chromebook Plus to the devices' shared parent board. Since only the Chromebook Plus and Chromebook Flip C101 share that board, dubbed "Gru," that suggests that both devices will support Linux apps in a virtual environment.

Linux Foundation: New Study, Automotive Grade Linux (AGL), and Hyperledger Fabric

Graphics: AMDGPU, Nvidia, Apple's Harm to Science