Nvidia GTX 1070 Ti review: A fine graphics card—but price remains high
Submitted by Rianne Schestowitz on Thursday 2nd of November 2017 02:01:25 PM
Filed under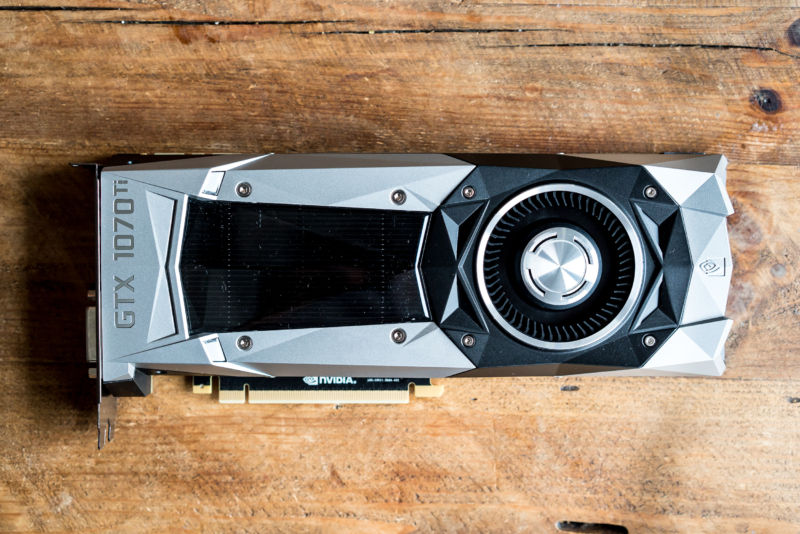 The GTX 1070 Ti is a great graphics card but a frustrating product. In the year and a half since the GTX 1080 and the GTX 1070 launched, Nvidia has faced little competition from rival AMD, which has been stretched thin across the launch of mainstream graphics cards like the RX 480 and high-end processors like Ryzen Threadripper. As brilliant as those products are, particularly Threadripper, it took until August of this year for AMD to launch a competitor to Nvidia's year-old graphics cards. The resulting RX Vega 64 wasn't the graphical powerhouse many were hoping for, with high power consumption and performance that couldn't quite top a GTX 1080.
»
Printer-friendly version

8624 reads

PDF version
More in Tux Machines
Ubuntu MATE - Pimp your desktop to perfection

Ubuntu MATE has made a quantum leap of innovation in the past several months, offering a wealth of visual and functional changes and a mindblowing level of flexibility when it comes to customization. You really have the ability to implement anything and everything, and all of it natively, from within the system's interface. The list of options is so long that it can be overwhelming. Hopefully, this little pimping guide puts some order into this fine and rich chaos. Ubuntu Bionic isn't the most refined distro, but it sure has the almost infinite possibilities to make it appear and behave how you want it. You can have a classic desktop one day and then a MAC-like thing the next and then Ubuntu Unity the day after that. It's all there, very slick, very elegant. Well, it's time for you to do some exploring. See you.

Games: Atari VCS, NEC, Pillars of Eternity II: Deadfire – Beast of Winter, State of Mind

Security Leftovers

An IT glitch afflicting BP petrol stations for three hours last Sunday evening might not sound like headline news. A ten-hour meltdown of Visa card payment systems in June was a bigger story — as was the notorious TSB computer upgrade cock-up that started on 20 April, which was still afflicting customers a month later and was reported this week to be causing ruptures between TSB and its Spanish parent Sabadell. Meanwhile, what do Fortnum & Mason, Dixons Carphone, Costa Coffee and its sister company Premier Inn have in common with various parts of the NHS? The answer is that they have all suffered recent large-scale 'data breaches' that may have put private individuals' information at risk. IT Governance, a blog that monitors international news stories in this sphere, came up with a global figure of 145 million 'records leaked' last month alone. Such leaks are daily events everywhere — and a lesson of the TSB story was that cyber fraudsters are waiting to attack wherever private data becomes accessible, whether because of computer breakdown or lax data protection.

British security researcher Marcus Hutchins, who was arrested by the FBI last August over alleged charges of creating and distributing a banking trojan, has made a fresh bid to go free, claiming that the US has no territorial jurisdiction to file charges against him for alleged crimes committed elsewhere.

An open letter by Gloria Steinem, Noam Chomsky, John Dean, Governor Bill Richardson, Walter Mosley, Michael Moore, Valerie Plame, and others.

Containers or virtual machines: ​Which is more secure? The answer will surprise you

Are virtual machines (VM) more secure than containers? You may think you know the answer, but IBM Research has found containers can be as secure, or more secure, than VMs. James Bottomley, an IBM Research Distinguished Engineer and top Linux kernel developer, writes: "One of the biggest problems with the current debate about Container vs Hypervisor security is that no-one has actually developed a way of measuring security, so the debate is all in qualitative terms (hypervisors 'feel' more secure than containers because of the interface breadth) but no-one actually has done a quantitative comparison." To meet this need, Bottomley created Horizontal Attack Profile (HAP), designed to describe system security in a way that it can be objectively measured. Bottomley has discovered that "a Docker container with a well crafted seccomp profile (which blocks unexpected system calls) provides roughly equivalent security to a hypervisor."