Announcing KTechLab 0.40.0
Submitted by Rianne Schestowitz on Tuesday 14th of November 2017 03:31:06 PM
Filed under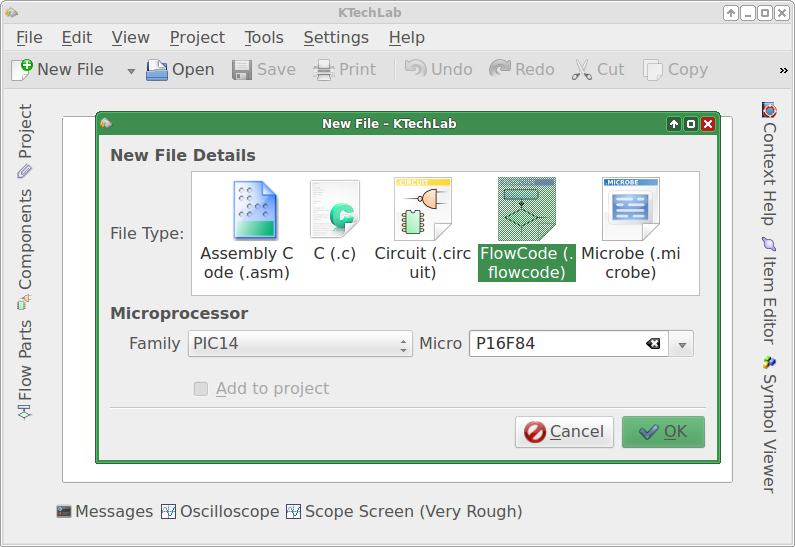 KTechLab, the IDE for microcontrollers and electronics, has reached a new milestone: its latest release, 0.40.0, does not depend on KDE3 and Qt3, but on KDE4 and Qt4. This means that KTechLab can be compiled and run on current operating systems.
In the new, KDE4 and Qt4 based release, practically all features of the previous version are kept. Circuits, including PIC microcontrollers can be simulated, the programs running on PICs can be edited in C, ASM format, or graphically, by using Flowcode, and these programs can be easily prepared for programming real PICs. The only feature which has been removed is DCOP integration, which is not available in KDE4, and should be replaced with D-Bus integration.
Also: KTechLab Microcontroller/Electronics IDE Ported To KDE4/Qt4
»
Printer-friendly version

1119 reads

PDF version
More in Tux Machines
Mozilla: Virtual Reality in Mixed Reality, Taskcluster Development

OSS Leftovers

today's howtos

Security: Updates, IBM, Elytron and Container Vulnerability Scanning

IBM Security unveiled an open-source toolkit at RSA 2018 that will allow the cyber community to test their AI-based security defenses against a strong and complex opponent in order to help build resilience and dependability into their systems.

Elytron is a new security framework that ships with WildFly version 10 and Red Hat JBoss Enterprise Application Platform (EAP) 7.1. This project is a complete replacement of PicketBox and JAAS. Elytron is a single security framework that will be usable for securing management access to the server and for securing applications deployed in WildFly. You can still use the legacy security framework, which is PicketBox, but it is a deprecated module; hence, there is no guarantee that PicketBox will be included in future releases of WildFly. In this article, we will explore the components of Elytron and how to configure them in Wildfly.