Bringing Open-Source, Automated Benchmarks To Windows 10 / Windows Server 2016
Submitted by Rianne Schestowitz on Thursday 8th of March 2018 04:19:37 PM
Filed under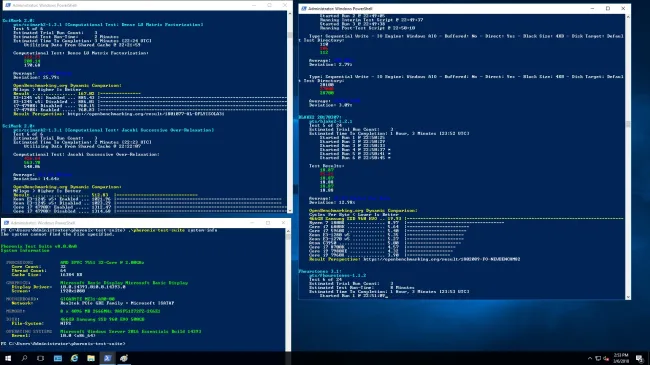 Moving forward the Phoronix Test Suite will be offering Microsoft Windows support that's at near feature parity to the automated, reproducible, open-source benchmarking support we have offered the past decade for Linux as well as BSD, macOS, and Solaris platforms. This is brand new, rewritten Windows support with a focus on Windows 10 x64 and Windows Server 2016.
Back around the Windows 7 days I did the basic port of the Phoronix Test Suite to Win 7 x64 but it wasn't anywhere close to parity with the software when running on Linux or even BSD/Solaris/macOS, but was basically a hobby port. I would use it when wanting to run a few OpenGL Windows vs. Linux gaming benchmarks or so, but it only offered a handful of these basic OpenGL test profiles, the hardware/software detection was quite basic, and there were many other features not available compared to when running the Phoronix Test Suite on other supported operating systems.
»
Printer-friendly version

1341 reads

PDF version
More in Tux Machines
Introducing Red Hat Quay

Embracing container orchestration has many implications for an enterprises' technology stack. An image registry becomes a critical component of the deployment pipeline. Red Hat Quay is a mature enterprise-centric container image registry which has a rich history of meeting the needs of cloud native technologists. When Red Hat acquired CoreOS earlier this year, we were looking to amplify our leadership in enterprise container-based solutions. CoreOS at the time had two primary products, Tectonic and Quay. Quay was added directly into Red Hat's portfolio of products and renamed Red Hat Quay. Also: FPgM report: 2018–38

Security: Windows/NSA Back Doors and Exploits (EternalBlue), Rust Flaw, Roughtime, DDOS Hype and "The Lucy Gang"

Games: The Gardens Between and More to Come From Feral Interactive

The Gardens Between from The Voxel Agents looks like a fantastic puzzle adventure and it's now available with native Linux support.

As a reminder, Feral Interactive have only recently release Life is Strange: Before the Storm and Total War: Warhammer II is confirmed to be coming this autumn. On top of that, last month they also put up another teaser that we're still guessing. I wouldn't be surprised if they do try to get more ports out earlier now, especially with Steam Play which would eat into their Linux port sales. Anyway…looks like 2018 really will be another great year for Linux gaming! The amount of Linux games Feral has ported now is kind of ridiculous: XCOM, XCOM 2, Tomb Raider, Rise of the Tomb Raider, Mad Max, Shadow of Mordor, HITMAN, F1 2017, Life is Strange, Life is Strange: Before the Storm, Dawn of War II, Dawn of War III, DiRT Rally and the list goes on.

FOSS Project Spotlight: Nitrux, a Linux Distribution with a Focus on AppImages and Atomic Upgrades

Nitrux is a Linux distribution with a focus on portable, application formats like AppImages. Nitrux uses KDE Plasma 5 and KDE Applications, and it also uses our in-house software suite Nomad Desktop.