8 KDE Plasma Irritations
Submitted by Roy Schestowitz on Monday 30th of April 2018 05:50:33 AM
Filed under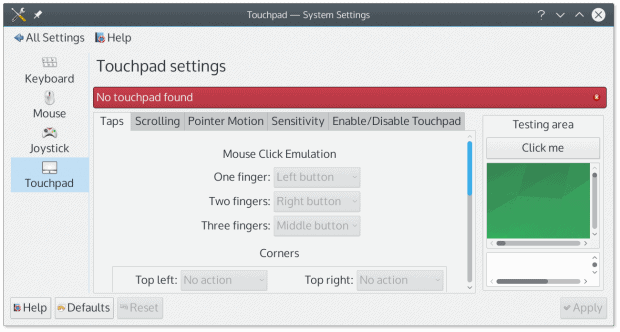 If you think that I am ungratefully complaining, think again. So far as I am concerned, Plasma is the most advanced desktop available on any platform. I only have to compare it to Cinnamon, an admirable desktop in its own right with its own reputation for innovation, to see how far ahead Plasma is.
In fact, that may be the problem. Over the years, Plasma has outgrown other annoyances, such as dumping new features into an Advanced tab while developers figured where the features belonged, and produced a desktop whose advantages are so obvious that the problems are emphasized, too.
To me, it seems that the greatest challenges currently facing Plasma developers is to think through some of their innovations, and to adjust existing tools or add new ones that will allow users to take full of advantage of what the desktop has to offer. If they begin such tasks, then Plasma will start to realize its full potential.
»
Printer-friendly version

5030 reads

PDF version
More in Tux Machines
Fedora 30 Workstation review - Smarter, faster and buggier

Fedora 30 is definitely one of the more interesting releases of this family in a long-time. It brings significant changes, including solid improvements in the desktop performance and responsiveness. Over the years, Fedora went from no proprietary stuff whatsoever to slowly acknowledging the modern needs of computing, so now it gives you MP3 codecs and you can install graphics drivers and such. Reasonable looks, plus good functionality across the board. However, there were tons of issues, too. Printing to Samba, video screenshot bug, installer cropped-image slides, package management complications, mouse cursor lag, oopses, average battery life, and inadequate usability out of the box. You need to change the defaults to have a desktop that can be used in a quick, efficient way without remembering a dozen nerdy keyboard shortcuts. All in all, I like the freshness. In general, it would seem the Linux desktop is seeing a cautious revival, and Fedora's definitely a happy player. But there are too many rough edges. Well, we got performance tweaks after so many years, and codecs, we might get window buttons and desktop icons one day back, too. Something like 6/10, and definitely worth exploring. I am happy enough to do two more tests. I will run an in-vivo upgrade on the F29 instance on this same box, and then also test the distro on an old Nvidia-powered laptop, which will showcase both the support for proprietary graphics (didn't work the last time) and performance improvements, if they scale for old hardware, too. That's all for now.

Events: Automotive at LF, Linux Clusters Institute, Linux Plumbers Conference (LPC)

The Linux Foundation, the nonprofit organization enabling mass innovation through open source has announced the speaker line up for Open Source Summit Japan and Automotive Linux Summit. One registration provides access to all content at both events, which will be held July 17-19 at the Toranomon Hills Forum in Tokyo. Open Source Summit Japan (OSSJ) and Automotive Linux Summit (ALS) will bring together top talent from companies on the leading edge of innovation including Toyota Motor Corporation, Uber, Intel, Sony, Google, Microsoft and more. Talks will cover a range of topics, with ALS talks on everything from infrastructure and hardware to compliance and security; and OSSJ sessions on AI, Linux systems, cloud infrastructure, cloud native applications, open networking, edge computing, safety and security and open source best practices.

Registration is now open for the 2019 Linux Clusters Institute (LCI) Introductory Workshop,which will be held August 19-23, 2019 at the Rutgers University Inn & Conference Center in New Brunswick, NJ. This workshop will cover the fundamentals of setting up and administering a high-performance computing (HPC) cluster and will be led by leading HPC experts.

The Linux Plumbers Conference (LPC) registration web site has been showing "sold out" recently because the cap on early bird registrations was reached. We are happy to report that we have reviewed the registration numbers for this year's conference and were able to open more early bird registration slots. Beyond that, regular registration will open July 1st. Please note that speakers and microconference runners get free passes to LPC, as do some microconference presenters, so that may be another way to attend the conference. Time is running out for new refereed-track and microconference proposals, so visit the CFP page soon. Topics for accepted microconferences are welcome as well.

Security Leftovers

While it was just earlier this month that the OpenSolaris/Illumos-based OmniOS saw a big LTS release, it's already been succeeded by a new release given the recent Intel MDS / Zombieload CPU vulnerabilities coming to light. There are new spins of OmniOS for all supported releases. These new OmniOS Community Edition releases mitigate against the Multiarchitectural Data Sampling (MDS) vulnerabilities and also bundle in the updated Intel CPU microcode.

A group of hackers failed to deploy security mechanisms to secure the storage where they store hacked accounts and another hacker group hacked it. The story is indeed funny and real. Infamous forum named OGUSERS which is popular amongst hackers for obtaining "OG" Instagram, Twitter usernames, hacked accounts of Domino's Pizza, Steam, PlayStation Network, and other online accounts was hacked by a hacker group and its data was published in another hacker forum.

This is an important announcement with an upcoming change in the next Core Update of IPFire. Because of the recent vulnerabilities in Intel processors, the IPFire team has decided, that - to keep systems as secure as possible - Simultaneous Multi-Processing (SMT) is automatically disabled if the processor is vulnerable to one of the attacks. SMT is also called Intel(R) Hyper-Threading Technology and simulates more virtual cores than the system has. This allows to perform faster processing when applications benefit from it. Unfortunately with networking, we benefit from that. Therefore the effect of disabling SMT will be a very signifiant performance impact of around 30% or more. Applications that will be affected in IPFire are the firewall throughput itself as well as other CPU and memory-bound tasks like the web proxy and the Intrusion Prevention System. On systems that are not vulnerable for this attack, SMT is being left enabled. If you still want to disable it, please do so in the BIOS of your firewall.

Android Leftovers