Pine64, maker of cheap Linux laptops, may be making a cheap Linux phone
Submitted by Roy Schestowitz on Thursday 25th of October 2018 02:13:06 AM
Filed under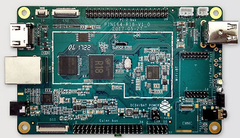 You might remember Pine64 as the manufacturer and retailer behind the Pinebook, a US $99 Linux-based laptop. The company is planning to continue its journey into the world of budget-tier Linux mobile devices by working on a smartphone, dubbed the PinePhone.
Like the cheap laptops Pine sells, the PinePhone isn't likely to be a specs monster. According to the Pine team, they're planning on basing the PinePhone around their Pine A64 single-board computer. That means the PinePhone is likely to have a mere 2 GB of RAM and a quad-core ARM Cortex A53 SoC. The phone will also likely only have 16 GB of onboard storage.
Most of the details are still up in the air, especially concerning the final design. However, Pine64 is planning on releasing a dev kit for the phone on November 1. This will include the Pine A64 baseboard, an SOPine module, a 7-inch touchscreen, a camera, a WiFi/Bluetooth card, a battery case, and an LTE Cat4 USB dongle. The final device may use a 5.45" 1440x720 display, but since the design isn't planned on being final until mid-2019, this could change.
»
Printer-friendly version

3827 reads

PDF version
More in Tux Machines
IBM/Red Hat Leftovers

What Is the Best Linux Distro for Laptops?

Let's start with those aging, venerable machines: your old laptop. Linux carries a strong reputation for breathing life into old hardware, and Lubuntu is one of the best options. Lubuntu, as you might guess from the name, is an Ubuntu derivative. It uses a different desktop environment from Ubuntu, opting for the more lightweight and less resource-intensive LXDE desktop instead of GNOME. The result is a lightweight Linux distro that will run nicely on an older laptop. Lubuntu requires a minimum of 1GB RAM for "advanced internet services" such as YouTube and Facebook, while just 512MB RAM will suffice for basic operations such as LibreOffice and basic web browsing. In terms of CPU, you'll need at least an Intel Pentium 4 or Pentium M, or an AMD K8.

Don't Panic: Kubernetes and Docker

Docker as an underlying runtime is being deprecated in favor of runtimes that use the Container Runtime Interface(CRI) created for Kubernetes. Docker-produced images will continue to work in your cluster with all runtimes, as they always have. If you're an end-user of Kubernetes, not a whole lot will be changing for you. This doesn't mean the death of Docker, and it doesn't mean you can't, or shouldn't, use Docker as a development tool anymore. Docker is still a useful tool for building containers, and the images that result from running docker build can still run in your Kubernetes cluster. If you're using a managed Kubernetes service like GKE or EKS, you will need to make sure your worker nodes are using a supported container runtime before Docker support is removed in a future version of Kubernetes. If you have node customizations you may need to update them based on your environment and runtime requirements. Please work with your service provider to ensure proper upgrade testing and planning. If you're rolling your own clusters, you will also need to make changes to avoid your clusters breaking. At v1.20, you will get a deprecation warning for Docker. When Docker runtime support is removed in a future release (currently planned for the 1.23 release in late 2021) of Kubernetes it will no longer be supported and you will need to switch to one of the other compliant container runtimes, like containerd or CRI-O. Just make sure that the runtime you choose supports the docker daemon configurations you currently use (e.g. logging).

International Day Against DRM (IDAD) is almost here: Stand with us on Dec. 4

Although many of us are in quarantine, that doesn't mean that we have to cease our fight against Digital Restrictions Management (DRM). The International Day Against DRM (IDAD) is just two days away, and we're here to let you know how we can all stand up this Friday, December 4th, against the latest encroachments from one of DRM's major players: Netflix. As pandemic response measures all over the world forced so many people to stay home, we've seen a corresponding and dangerous increase in dependence on streaming media for entertainment. Streaming media has gone from an ethically problematic pastime to being a playground for dystopia. In a world where media is served over ephemeral streaming, these services can delete things from history, or rewrite them, sometimes without any announcement. Besides deciding what people can and can't view with their service, corporations like Netflix also dictate what can and can't be made, now that they're one of the heavyweights in television and film production and distribution. This rise in control is in part due to their constant mistreatment of their subscribers, having used DRM to prevent legitimate uses of their media and dictate which devices can play it. December 4th marks the start of Netflix's "StreamFest" initiative in certain countries -- letting users have a taste of the poison apple before they commit to taking the bite. It's at times like these that we as a community need to step up and say that enough is enough, and let them know that DRM is unacceptable no matter where it appears or how it's being used. We may not be meeting in person, but that doesn't mean we can't come together and let our voices be heard. We hope you'll join us in this year's IDAD by following one or more of the suggestions we've provided below.