Compartmentalized computing with CLIP OS
Submitted by Roy Schestowitz on Thursday 8th of November 2018 07:22:34 PM
Filed under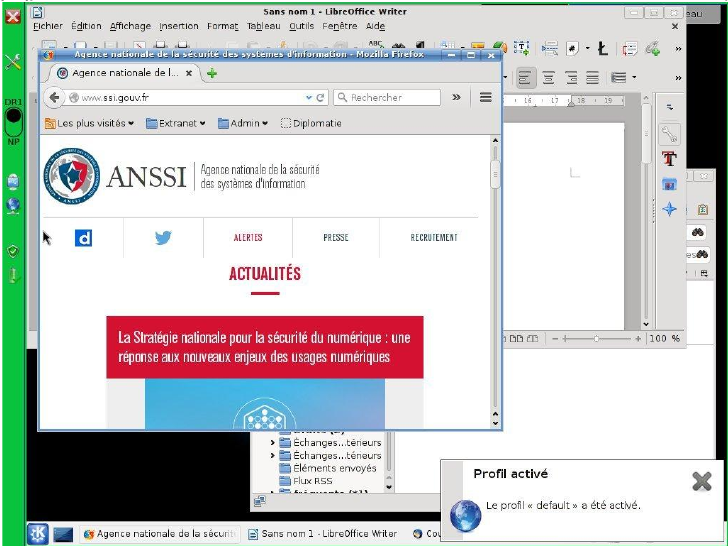 The design of CLIP OS 5 includes three elements: a bootloader, a core system, and the cages. The system uses secure boot with signed binaries. Only the x86 architecture was supported in the previous versions, and there are no other architectures in the plan for now. The core system is based on Hardened Gentoo. Finally, the cages provide user sessions, with applications and documents.
Processes running in separate cages cannot communicate directly. Instead, they must pass messages using special services on the core system; these services are unprivileged and confined on the cage system, but privileged on the core. These communication paths are shown in this architecture diagram from the documentation. Cages are also isolated from the core system itself — all interactions (system calls, for example) are checked and go through mediation services. The isolation between applications will be using containers, and the team plans to use the Flatpak format. The details of the CLIP OS 5 implementation are not available yet, as this feature is planned for the stable release.
A specific Linux security module (LSM) inspired from Linux-VServer will be used to add additional isolation between the cages, and between the cages and the core system. Linux-VServer is a virtual private server implementation designed for web hosting. It implements partitioning of a computer system in terms of CPU time, memory, the filesystem, and network addressing into security contexts. Starting and stopping a new virtual server corresponds to setting up and tearing down a security context.
»
Printer-friendly version

2697 reads

PDF version
More in Tux Machines
Ubuntu 19.10 Puts Nvidia's Proprietary GPU Driver Right On The ISO

In Ubuntu 19.04, Canonical introduced the ability to download Nvidia's propriety graphics driver during the OS installation process (provided the user has an internet connection). That was a welcome step toward making gaming more accessible for newcomers. With the upcoming Ubuntu 19.10, however, Canonical is following in the footsteps of System76's Pop!_OS and slapping Nvidia's driver (both 390 and 418) right onto the ISO. Phoronix spotted the update via Ubuntu's Launchpad platform. What this means is that users can have the proprietary Nvidia driver -- a better option for gaming compared to the open source "Nouveau" driver -- ready to go at first boot. They also have the option to install the Nvidia binary at any point in the future without needing to add or activate a repository or download the driver.

Benchmarking AMD FX vs. Intel Sandy/Ivy Bridge CPUs Following Spectre, Meltdown, L1TF, Zombieload

Now with MDS / Zombieload being public and seeing a 8~10% performance hit in the affected workloads as a result of the new mitigations to these Microarchitectural Data Sampling vulnerabilities, what's the overall performance look like now if going back to the days of AMD FX Vishera and Intel Sandybridge/Ivybridge processors? If Spectre, Meltdown, L1TF/Foreshadow, and now Zombieload had come to light years ago would it have shaken that pivotal point in the industry? Here are benchmarks looking at the the performance today with and without the mitigations to the known CPU vulnerabilities to date. As I've already delivered many benchmarks of these mitigations (including MDS/Zombieload) on newer CPUs, for this article we're looking at older AMD FX CPUs with their relevant Spectre mitigations against Intel Sandybridge and Ivybridge with the Spectre/Meltdown/L1TF/MDS mitigations. Tests were done on Ubuntu 19.04 with the Linux 5.0 kernel while toggling the mitigation levels of off (no coverage) / auto (the default / out-of-the-box mitigations used on all major Linux distributions for the default protections) / auto,nosmt (the more restricted level that also disables SMT / Hyper Threading). The AMD CPUs were tested with off/auto as in the "auto,nosmt" mode it doesn't disable any SMT as it doesn't deem it insecure on AMD platforms.

Today in Techrights

today's leftovers

On this episode of This Week in Linux, we'll check out some Distro News from Peppermint OS, ArcoLinux, LuneOS & IPFire. We got a couple apps to talking about like Nextclou0…d and a new Wallpaper tool that has quite a bit of potential. We'll take a look at what is to come with the next version of KDE Plasma. Intel users have gotten some more bad news regarding a new security vulnerability. Later in the show, we'll cover some interesting information regarding a couple governments saving money by switching to Linux. Then finally we'll check out some Linux Gaming News. All that and much more on your Weekly Source for Linux GNews!

This week we've been installing Lineage on a OnePlus One and not migrating Mastodon accounts to ubuntu.social. We round up the Ubuntu community news from Kubuntu, Ubuntu MATE, Peppermint OS and we discuss some tech news. It's Season 12 Episode 07 of the Ubuntu Podcast! Alan Pope, Mark Johnson and Martin Wimpress are connected and speaking to your brain.

We're quickly approaching the two year anniversary of the OpenGL 4.6 release and it's looking like the Intel/RadeonSI drivers might be inching towards the finish line for that latest major revision of the graphics API.  As we've covered many times, the Mesa drivers have been held up on OpenGL 4.6 support due to their SPIR-V ingestion support mandated by this July 2017 version of the OpenGL specification. While there are the Intel and Radeon RADV Vulkan drivers already with the SPIR-V support that is central to Vulkan, it's taken a long time re-fitting the OpenGL drivers for the likes of ARB_gl_spriv. Then again, there aren't many (actually, any?) major OpenGL games requiring version 4.6 of the specification even with its interoperability benefits thanks to SPIR-V.