Compartmentalized computing with CLIP OS
Submitted by Roy Schestowitz on Thursday 8th of November 2018 07:22:34 PM
Filed under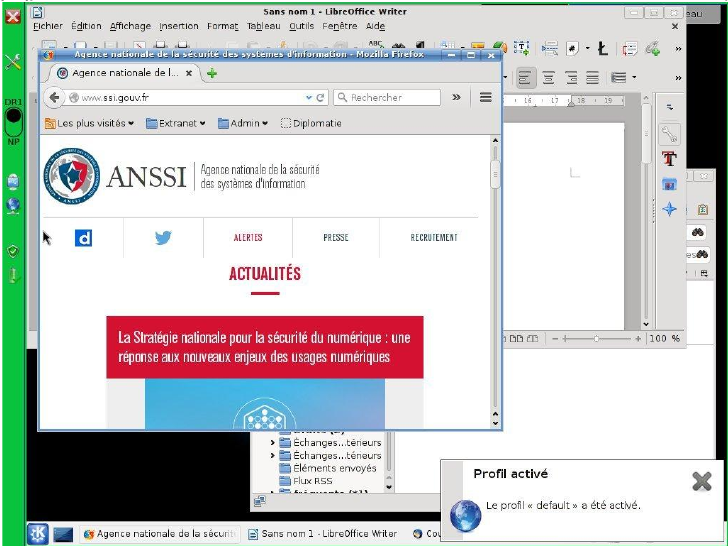 The design of CLIP OS 5 includes three elements: a bootloader, a core system, and the cages. The system uses secure boot with signed binaries. Only the x86 architecture was supported in the previous versions, and there are no other architectures in the plan for now. The core system is based on Hardened Gentoo. Finally, the cages provide user sessions, with applications and documents.
Processes running in separate cages cannot communicate directly. Instead, they must pass messages using special services on the core system; these services are unprivileged and confined on the cage system, but privileged on the core. These communication paths are shown in this architecture diagram from the documentation. Cages are also isolated from the core system itself — all interactions (system calls, for example) are checked and go through mediation services. The isolation between applications will be using containers, and the team plans to use the Flatpak format. The details of the CLIP OS 5 implementation are not available yet, as this feature is planned for the stable release.
A specific Linux security module (LSM) inspired from Linux-VServer will be used to add additional isolation between the cages, and between the cages and the core system. Linux-VServer is a virtual private server implementation designed for web hosting. It implements partitioning of a computer system in terms of CPU time, memory, the filesystem, and network addressing into security contexts. Starting and stopping a new virtual server corresponds to setting up and tearing down a security context.
»
Printer-friendly version

2857 reads

PDF version
More in Tux Machines
Manjaro 18.0.4 Illyria Xfce review - Nice but somewhat crude

Overall, Manjaro 18.0.4 Illyria Xfce is a decent distro. It has lots of good and unique points. Network, media and phone support is good. You get a colorful repertoire of high-quality programs, the performance and battery life are excellent, and the desktop is fairly pretty. The system was also quite robust and stable. But then, there were issues - including inconsistent behavior compared to the Plasma crop. The installation can be a bit friendlier (as Plasma one does). The package management remains the Achilles' Heel of this distro. Having too many frontends is confusing, and none of them do a great job. The messages on dependencies, the need for AUR (if you want fancy stuff), and such all create unnecessary confusing. There were also tons of visual papercuts, and I struggled getting things in order. All in all, Manjaro is getting better all the time, but it is still too geeky for the common person, as it breaks the fourth wall of nerdiness too often. 7/10, and I hope it can sort itself out and continue to deliver the unique, fun stuff that gets sidelined by the rough edges.

Top 10 Best Open Source Speech Recognition Tools for Linux

Speech is a popular and smart method in modern time to make interaction with electronic devices. As we know, there are many open source speech recognition tools available on different platforms. From the beginning of this technology, it has been improved simultaneously in understanding the human voice. This is the reason; it has now engaged a lot of professionals than before. The technical advancement is strong enough to make it more clear to the common people.

Slackware, the Longest Active Linux Distro, Finally Has a Patreon Page

"Slackware is the longest active Linux distribution project, founded in 1993," writes TheBAFH (Slashdot reader #68,624). "Today there are many Linux distributions available, but I've remained dedicated to this project as I believe it still holds an important place in the Linux ecosystem," writes Patrick J. Volkerding on a new Patreon page. He adds that Slackware's users "know that Slackware can be trusted not to constantly change the way things work, so that your investment in learning Slackware lasts longer than it would with a system that's a moving target... Your support is greatly appreciated, and will make it possible for me to continue to maintain this project."

See Ubuntu Desktop Running on a Samsung Galaxy S10

I might have written about its availability a few times, but until today I had never actually seen Ubuntu 16.04 LTS running on a Samsung smartphone. Don't panic, you haven't missed any major announcements and Samsung hasn't started to sell phones with Ubuntu pre-loaded. I'm instead referring to the "Linux on DeX" development experience. DeX is nifty bit of software tech that lets (select) Samsung devices running Android drive a more traditional "desktop" experience when connected to an external monitor, keyboard and mouse. "Turn your Galaxy devices into a PC-like experience with a single cable," Samsung say. Additionally, 'Linux on DeX' is an Android app that's only available as part of DeX. It lets users download and run a full desktop Linux experience using container technology on any supported Samsung Galaxy smartphone or tablet.