Raptor Talos II POWER9 Benchmarks Against AMD Threadripper & Intel Core i9
Submitted by Rianne Schestowitz on Friday 9th of November 2018 04:52:48 AM
Filed under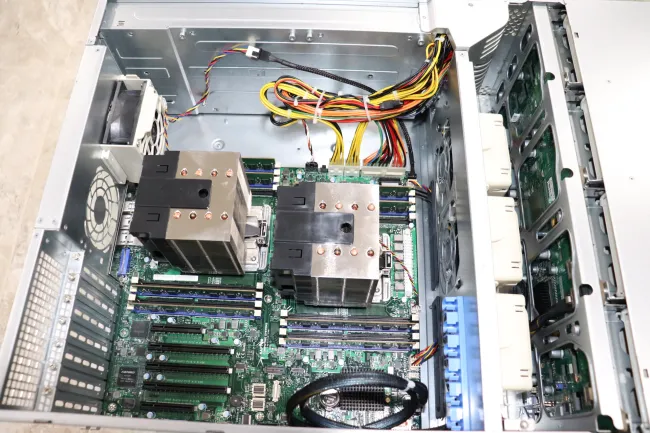 For those curious about the performance of IBM's POWER9 processors against the likes of today's AMD Threadripper and Intel Core i9 HEDT processors, here are some interesting benchmarks as we begin looking closer at the POWER9 performance on the fully open-source Raptor Talos II Secure Workstation. This open-source, secure system arrived for Linux testing with dual 22-core POWER9 CPUs to yield 176 total threads of power.
As mentioned a few days ago in the aforelinked article, Raptor Computing Systems recent sent over a Talos II system for benchmarking to deliver more frequent benchmarks from this high-end workstation/server that's fully open-source down to the motherboard firmware and BMC stack. We previously have carried out some remote benchmarks of the Talos II, but now having it in our labs allows us to more frequently conduct tests as well as swapping out the hardware, matching other test systems, and also other tests like performance-per-Watt comparisons that were not possible with the remote testing.
»
Printer-friendly version

2287 reads

PDF version
More in Tux Machines
Debian: Introducing Noir, miniDebConf19 Vaumarcus and New FAI.me Feature

Noir is a drop-in replacement for Black (the uncompromising code formatter), with the default line length set to PEP-8's preferred 79 characters. If you want to use it, just replace black with noir in your requirements.txt and/or setup.py and you're good to go. Black is a Python code formatter that reformats your code to make it more PEP-8 compliant. It implements a subset of PEP-8, most notably it deliberately ignores PEP-8's suggestion for a line length of 79 characters and defaults to a length of 88. I find the decision and the reasoning behind that somewhat arbitrary. PEP-8 is a good standard and there's a lot of value in having a style guide that is generally accepted and has a lot of tooling to support it. When people ask to change Black's default line length to 79, the issue is usually closed with a reference to the reasoning in the README. But Black's developers are at least aware of this controversial decision, as Black's only option that allows to configure the (otherwise uncompromising) code formatter, is in fact the line length. Apart from that, Black is a good formatter that's gaining more and more popularity. And, of course, the developers have every right to follow their own taste. However, since Black is licensed under the terms of the MIT license, I tried to see what needs to be done in order to fix the line length issue.

The Vaumarcus miniDebConf19 is happening! Come see the fantastic view from the shores of Lake Neuchâtel, in Switzerland! We're going to have two-and-a-half days of presentations and hacking in this marvelous venue and anybody interested in Debian development is welcome.

FAI.me, the build service for installation and cloud images has a new feature. When building an installation images, you can enable automatic reboot or shutdown at the end of the installation in the advanced options. This was implemented due to request by users, that are using the service for their VM instances or computers without any keyboard connected.

FreeBSD's Executive Director Calls For Linux + BSD Devs To Work Together

While called the Open-Source Summit, the event is primarily about Linux as after all it's hosted by the Linux Foundation. But at this week's Open-Source Summit in San Diego, Deb Goodkin as the executive director of the FreeBSD Foundation presented. Deb's talk was of course on FreeBSD but also why FreeBSD and Linux developers should work together. The presentation covered FreeBSD's development workflow and various features of this open-source operating system project for those unfamiliar as well as some of the companies utilizing FreeBSD and their different use-cases. It's a good overview for those not familiar with FreeBSD.

Enlightenment DR 0.23.0 Release

Highlights: New padded screenshot option Meson build now is the build system Music Control now supports rage mpris dbus protocol Add Bluez5 support with totally new and redone module and gadget Add dpms option to turn it off or on Alt-tab window switcher allows moving of windows while alt-tabbing Lots of bug fixes, compile warning fixes etc. Massive improvements to Wayland support Also: Enlightenment 0.23 Released With Massive Wayland Improvements

LG Has Been Working On Reduced Boot Times With Hibernation Optimizations

LG Electronics has been exploring improvements around hibernation/suspend-to-disk to speed-up the Linux boot process for consumer electronics rather than performing cold boots and as part of that is working towards upstream optimizations. While hibernation-based booting is generally quicker than performing cold boots, suspending to disk does yield extra writes to the NAND flash memory on these consumer devices and that is one of the things they are seeking to avoid. So it's been an effort not only to speed-up the hibernation boot process but also reducing the amount of data that needs to be written out to the flash storage.