Raptor Talos II POWER9 Benchmarks Against AMD Threadripper & Intel Core i9
Submitted by Rianne Schestowitz on Friday 9th of November 2018 04:52:48 AM
Filed under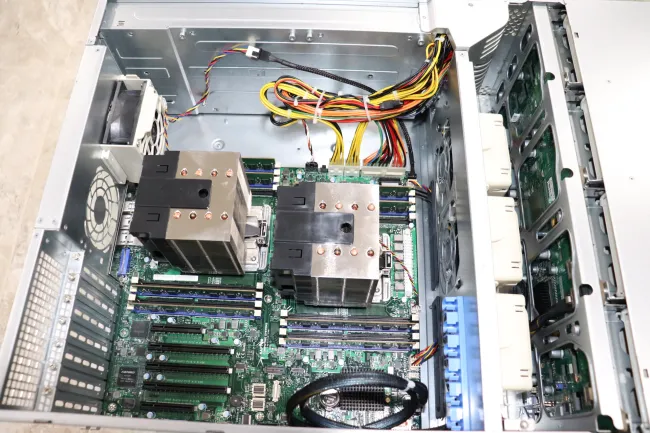 For those curious about the performance of IBM's POWER9 processors against the likes of today's AMD Threadripper and Intel Core i9 HEDT processors, here are some interesting benchmarks as we begin looking closer at the POWER9 performance on the fully open-source Raptor Talos II Secure Workstation. This open-source, secure system arrived for Linux testing with dual 22-core POWER9 CPUs to yield 176 total threads of power.
As mentioned a few days ago in the aforelinked article, Raptor Computing Systems recent sent over a Talos II system for benchmarking to deliver more frequent benchmarks from this high-end workstation/server that's fully open-source down to the motherboard firmware and BMC stack. We previously have carried out some remote benchmarks of the Talos II, but now having it in our labs allows us to more frequently conduct tests as well as swapping out the hardware, matching other test systems, and also other tests like performance-per-Watt comparisons that were not possible with the remote testing.
»
Printer-friendly version

2088 reads

PDF version
More in Tux Machines
Hack Computer review

I bought a hack computer for $299 - it's designed for teaching 8+ year olds programming. That's not my intended use case, but I wanted to support a Linux pre-installed vendor with my purchase (I bought an OLPC back in the day in the buy-one give-one program). I only use a laptop for company events, which are usually 2-4 weeks a year. Otherwise, I use my desktop. I would have bought a machine with Ubuntu pre-installed if I was looking for more of a daily driver.

KIT Scenarist is a Powerful Tool for Creating Screenplays

KIT Scenarist is an open source software for creating screenplays. You can use it for creating stories from the birth of the idea and before the transfer of the script to production.

Android Leftovers

R.T. Russell's Z80 BBC Basic is now open source

As part of the work I've been doing with cpmish I've been trying to track down the copyright holders of some of the more classic pieces of CP/M software and asking them to license it in a way that allows redistribution. One of the people I contacted was R.T. Russell, the author of the classic Z80 BBC BASIC, and he very kindly sent me the source and agreed to allow it to be distributed under the terms of the zlib license. So it's now open source!