Raptor Talos II POWER9 Benchmarks Against AMD Threadripper & Intel Core i9
Submitted by Rianne Schestowitz on Friday 9th of November 2018 04:52:48 AM
Filed under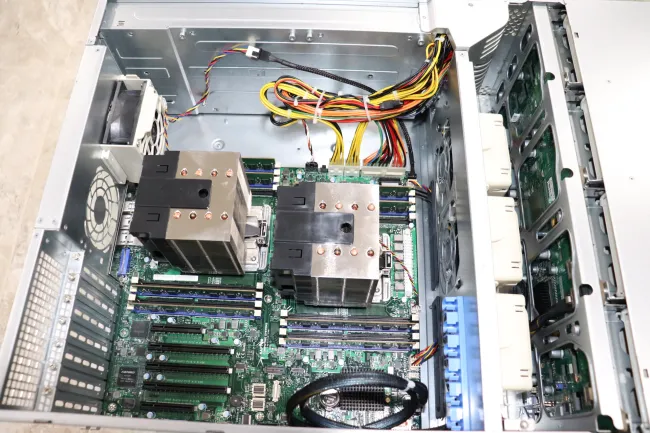 For those curious about the performance of IBM's POWER9 processors against the likes of today's AMD Threadripper and Intel Core i9 HEDT processors, here are some interesting benchmarks as we begin looking closer at the POWER9 performance on the fully open-source Raptor Talos II Secure Workstation. This open-source, secure system arrived for Linux testing with dual 22-core POWER9 CPUs to yield 176 total threads of power.
As mentioned a few days ago in the aforelinked article, Raptor Computing Systems recent sent over a Talos II system for benchmarking to deliver more frequent benchmarks from this high-end workstation/server that's fully open-source down to the motherboard firmware and BMC stack. We previously have carried out some remote benchmarks of the Talos II, but now having it in our labs allows us to more frequently conduct tests as well as swapping out the hardware, matching other test systems, and also other tests like performance-per-Watt comparisons that were not possible with the remote testing.
»
Printer-friendly version

2069 reads

PDF version
More in Tux Machines
Android Leftovers

today's howtos

OpenJDK 8 and 11: Still in safe hands

In 2018, Oracle announced that it would only provide free public updates and auto-updates of Java SE 8 for commercial users until the end of January 2019. Java 8 is a very important platform, used by millions of programmers, so this was a big deal. The Java community needed to fill the gap. In February of this year, I was appointed as the new Lead of the OpenJDK 8 Update Releases Project. A couple of weeks later, I was appointed the new Lead of the OpenJDK 11 Updates Project. This is an important milestone in the history of OpenJDK and of Java SE because it's the first time that a non-Oracle employee has led the current long-term OpenJDK release project. JDK 8 is still a much-used Java release in industry, and JDK 11 is the current long-term maintenance release. It's now a couple of weeks after the first releases of JDK8u and JDK11u on my watch. I think the process went pretty well, although it was not entirely smooth sailing for the developers. Having said that, we got our releases out on the day, as planned, and so far we've seen no major problems.

How to advance your career by contributing to open source projects

In 2017, I wrote my (so-far) most popular article of all time, "The Impact GitHub is Having on Your Software Career, Right Now…," on Medium. In that article, I cast the vision for how you can develop your career through open source contributions. It clearly struck a nerve—it got 382 points and 237 comments on Hacker News. Many of the comments hated on it so hard—they disagreed with my main premise—but I felt they had missed the point. At the time I was a recruiter with 10 years of engineering experience, working at Red Hat. There is nothing I love more than a challenge, so I went "deep cover." I quit my job as a recruiter and got a job as a software engineer in a pure closed-source company that uses BitBucket and has PCI-compliant security. Fourteen months later, I got hired by Camunda to work as the developer advocate for Zeebe, a workflow engine for orchestrating microservices, purely based on my open source contributions while working at that job. I just did everything I advised readers to do in the comments of my original Medium article.