Raptor Talos II POWER9 Benchmarks Against AMD Threadripper & Intel Core i9
Submitted by Rianne Schestowitz on Friday 9th of November 2018 04:52:48 AM
Filed under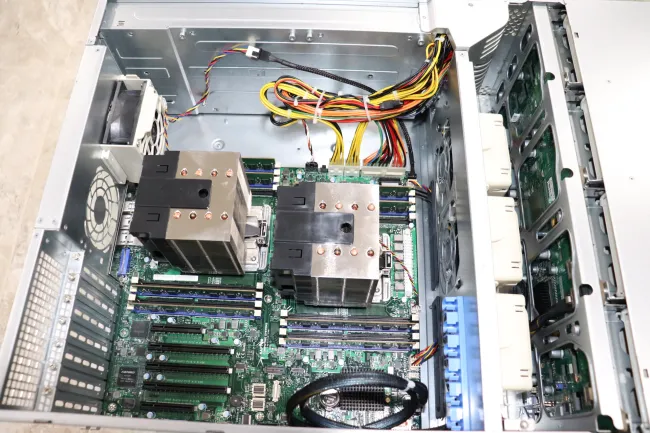 For those curious about the performance of IBM's POWER9 processors against the likes of today's AMD Threadripper and Intel Core i9 HEDT processors, here are some interesting benchmarks as we begin looking closer at the POWER9 performance on the fully open-source Raptor Talos II Secure Workstation. This open-source, secure system arrived for Linux testing with dual 22-core POWER9 CPUs to yield 176 total threads of power.
As mentioned a few days ago in the aforelinked article, Raptor Computing Systems recent sent over a Talos II system for benchmarking to deliver more frequent benchmarks from this high-end workstation/server that's fully open-source down to the motherboard firmware and BMC stack. We previously have carried out some remote benchmarks of the Talos II, but now having it in our labs allows us to more frequently conduct tests as well as swapping out the hardware, matching other test systems, and also other tests like performance-per-Watt comparisons that were not possible with the remote testing.
»
Printer-friendly version

2269 reads

PDF version
More in Tux Machines
Today in Techrights

IBM: OpenPOWER Foundation, Savings and the OpenStack Platform

Today marks one of the most important days in the life of the OpenPOWER Foundation. With IBM announcing new contributions to the open source community including the POWER Instruction Set Architecture (ISA) and key hardware reference designs at OpenPOWER Summit North America 2019, the future has never looked brighter for the POWER architecture. OpenPOWER Foundation Aligns with Linux Foundation The OpenPOWER Foundation will now join projects and organizations like OpenBMC, CHIPS Alliance, OpenHPC and so many others within the Linux Foundation. The Linux Foundation is the premier open source group, and we're excited to be working more closely with them. Since our founding in 2013, IEEE-ISTO has been our home, and we owe so much to its team. It's as a result of IEEE-ISTO's support and guidance that we've been able to expand to more than 350 members and that we're ready to take the next step in our evolution. On behalf of our membership, our board of directors and myself, we place on record our thanks to the IEEE-ISTO team. By moving the POWER ISA under an open model – guided by the OpenPOWER Foundation within the Linux Foundation – and making it available to the growing open technical commons, we'll enable innovation in the open hardware and software space to grow at an accelerated pace. The possibilities for what organizations and individuals will be able to develop on POWER through its mature ISA and software ecosystem will be nearly limitless.

This spring, Red Hat commissioned IDC to conduct a new study to analyze the contributions of Red Hat Enterprise Linux to the global business economy. While many of the findings were impressive, including immense opportunities for partners, we were especially excited to learn more about how our customers benefit from Red Hat Enterprise Linux. According to the study, the world's leading enterprise Linux platform "touches" more than $10 trillion of business revenues worldwide each year and provides economic benefits of more than $1 trillion each year to customers. Nearly $7 billion of that number comes in the form of IT savings. Even more exciting? As hybrid cloud adoption grows, we expect customers to continue to benefit given the importance of a common, flexible and open operating system to IT deployments that span the many footprints of enterprise computing.

If you didn't have a chance to attend our Road Ahead session at Red Hat Summit 2019 (or you did, but want a refresher) you'll want to read on for a quick update. We'll cover where Red Hat OpenStack Platform is today, where we're planning to go tomorrow, and the longer-term plan for Red Hat OpenStack Platform support all the way to 2025. A strategic part of our portfolio Red Hat OpenStack Platform is a strategic part of Red Hat's vision for open hybrid cloud. It's the on-prem foundation that can help organizations bridge the gap between today's existing workloads and emerging workloads. In fact, it just earned the 2019 CODiE award for "Best Software Defined Infrastructure." One of those emerging workloads, and more on the rest in a moment, is Red Hat OpenShift.

Android Leftovers

Is Fedora Linux a Good Distro? The 15 Best Reasons to Use Fedora Linux

It goes without saying that Fedora Linux is one of the best Linux distributions and significantly distinct with its properties. There is no denying that it is an enticing version of Linux and there are enough reasons to be lured with the Fedora. It offers far ranges of features that have made it an undeniable choice for the users. There is a close and intimate collaboration between Fedora and "Redhat" what has given a new dimension of this Linux version. It is more comfortable to use, user-friendly and latest technology oriented; thus, there are many obvious reasons for loving in it. [...] The various distribution of Linux system is recognized for easy-going properties, albeit Fedora is the easiest one in this context. Having an easier interface, users are capable of dealing with it very easily since the boot phase. When the boot is done, users will be guided with simple features to run it the way they desire.