Raptor Talos II POWER9 Benchmarks Against AMD Threadripper & Intel Core i9
Submitted by Rianne Schestowitz on Friday 9th of November 2018 04:52:48 AM
Filed under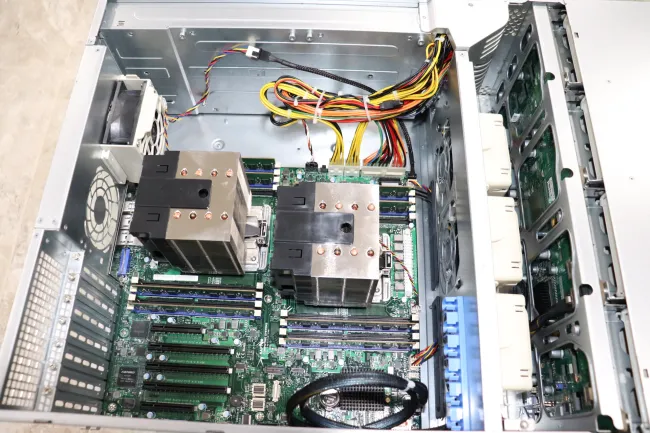 For those curious about the performance of IBM's POWER9 processors against the likes of today's AMD Threadripper and Intel Core i9 HEDT processors, here are some interesting benchmarks as we begin looking closer at the POWER9 performance on the fully open-source Raptor Talos II Secure Workstation. This open-source, secure system arrived for Linux testing with dual 22-core POWER9 CPUs to yield 176 total threads of power.
As mentioned a few days ago in the aforelinked article, Raptor Computing Systems recent sent over a Talos II system for benchmarking to deliver more frequent benchmarks from this high-end workstation/server that's fully open-source down to the motherboard firmware and BMC stack. We previously have carried out some remote benchmarks of the Talos II, but now having it in our labs allows us to more frequently conduct tests as well as swapping out the hardware, matching other test systems, and also other tests like performance-per-Watt comparisons that were not possible with the remote testing.
»
Printer-friendly version

2107 reads

PDF version
More in Tux Machines
today's howtos

Games Leftovers

Android Leftovers

Linux 5.2 + Mesa 19.2 Performance With Polaris/Vega/Vega20 vs. NVIDIA On Ubuntu 19.04

With last week having delivered fresh benchmarks of the mid-range NVIDIA/AMD graphics cards using the very latest drivers, particularly the in-development Linux 5.2 and Mesa 19.2 components with the Radeon graphics cards tested, here is a similar comparison when moving up the spectrum and focusing on the higher-end graphics cards. Here's a look at how the RX 590, RX Vega 56, RX Vega 64, and Radeon VII are performing with the newest open-source AMD driver code compared to the NVIDIA Turing line-up backed by their latest binary driver. While next month will be Radeon RX 5700 series Linux benchmarking using the newest code (DRM-Next / Linux 5.3), this article is offering a fresh look at how the Linux 5.2 kernel performance is shaping up on the higher-end graphics cards as complementary to last week's numbers. The four Radeon cards tested were using the Linux 5.2 Git kernel and Mesa 19.2-devel using the Oibaf PPA. The NVIDIA Pascal and Turing cards benchmarked were using their latest driver available, version 430.26.