How I Quit Apple, Microsoft, Google, Facebook, and Amazon
Submitted by Roy Schestowitz on Saturday 15th of December 2018 11:56:40 AM
Filed under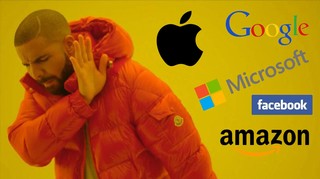 It was just before closing time at a Verizon store in Bushwick, New York last May when I burst through the door, sweaty and exasperated. I had just sprinted—okay I walked, but briskly—from another Verizon outlet a few blocks away in the hopes I'd make it before they closed shop for the night. I was looking for a SIM card that would fit a refurbished 2012 Samsung Galaxy S3 that I had recently purchased on eBay, but the previous three Verizon stores I visited didn't have any chips that would fit such an old model.
When I explained my predicament to the salesperson, he laughed in my face.
"You want to switch from you current phone to an... S3?" he asked incredulously.
I explained my situation. I was about to embark on a month without intentionally using any services or products produced by the so-called "Big Five" tech companies: Amazon, Apple, Facebook, Google, and Microsoft. At that point I had found adequate, open source replacements for most of the services offered by these companies, but ditching the Android OS, which is developed by Google, was proving difficult.
Most of the tech I use on a day-to-day basis is pretty utilitarian. At the time I was using a cheap ASUS laptop at work and a homebrew PC at my apartment. My phone was a Verizon-specific version of the Samsung Galaxy J3, a 2016 model that cost a little over $100 new. They weren't fancy, but they've reliably met most of my needs for years.
For the past week and a half I had spent most of my evenings trying to port an independent mobile OS called Sailfish onto my phone without any luck. As it turned out, Verizon had locked the bootloader on my phone model, which is so obscure that no one in the vibrant Android hacking community had dedicated much time to figuring out a workaround. If I wanted to use Sailfish, I was going to have to get a different phone.
»
Printer-friendly version

5585 reads

PDF version
More in Tux Machines
Excellent Utilities: cheat.sh – community driven cheat sheet

This is a series highlighting best-of-breed utilities. We're covering a wide range of utilities including tools that boost your productivity, help you manage your workflow, and lots more besides. There's a complete list of the tools in this series in the Summary section. Erik Karlsson, one of our regular contributors, has curated the finest free books that help you learn whatever programming language takes your fancy. There's everything covered from C, C++, Java, Python, R, and much more. Link: Excellent Free Books to Master Programming. The books offer an exceptional amount of information. But sometimes you'll need some very specific information that you can access instantly. Erik is currently curating his recommendations for high quality free programming tutorials. But until they're ready, we are showcasing a utility that offers an alternative to programming tutorials. Step forward cheat sheets with cheat.sh. What makes cheat.sh special? It offers unified access to the best community driven cheat sheets repositories of the world. cheat.sh uses selected community driven cheat sheet repositories and information sources, maintained by thousands of users, developers and authors all over the world. Besides covering 58 programming languages, it also offers cheat sheets for more than 1,000 Linux commands, and access to information from Stack Overflow.

Games: LinuxGSM, Boxtron, Total War: WARHAMMER II

A project that perhaps isn't as well known as it should be: LinuxGSM makes managing Linux game servers easy and they recently hit a fun milestone. It supports running servers for games like 7 Days to Die, Barotrauma, various Counter-Strike versions, Don't Starve Together, Minecraft and a ton more. Starting way back sometime in 2012, the lead developer Daniel Gibbs emailed in to notify us that they recently hit a huge milestone for the project as it now supports over 100 different games. There's a number of other ways to run game servers but the point of LinuxGSM is that each game is tweaked and tested by them, with an easy to run installer and script to manage all parts of it. Running updates, getting notifications sent to various places like Discord, Telegram, Email and more when it's having issues is simple to setup.

The Speedy Staging 0.5.3 of Boxtron is out, further improving this Steam Play compatibility tool for DOSBox gaming on Linux. As a reminder of the what and why: Just like how Proton enables you to play Windows games in the Linux Steam client, Boxtron is a tool that can be manually added to the Linux Steam client to run a native version of DOSBox. It's supposed to give you the best experience possible with DOS games on Steam. Rather than running them through Proton you get lower input lag, working Steam integration, better fullscreen support and so on.

Just a quick tip for Total War: WARHAMMER II fans this Monday morning, as you can now grab the previously White Dwarf Magazine exclusive DLC Gotrek and Felix for free. While they're only for Total War: WARHAMMER II, if you own both Total War: WARHAMMER titles they are also available in the expansive Mortal Empires campaign.

today's howtos

Today in Techrights