Deepin 15.9.2 Beta - The Repository Migrates to Debian Stable
Submitted by Roy Schestowitz on Saturday 16th of March 2019 04:35:34 AM
Filed under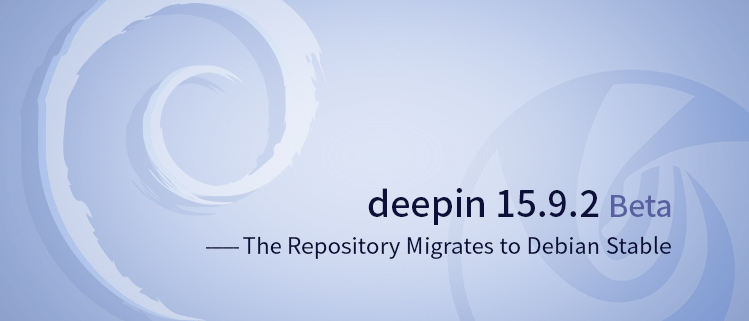 deepin is an open source GNU/Linux operating system, based on Linux kernel and mainly on desktop applications, supporting laptops, desktops and all-in-ones. It preinstalls Deepin Desktop Environment (DDE) and nearly 30 deepin native applications, as well as several applications from the open source community to meet users' daily learning and work needs. In addition, about a thousand of applications are offered in Deepin Store to meet users' various needs.
deepin 15.9.2 Beta is rebuilt and released based on the stable repository instead of previous Debian unstable. Several deepin applications have been migrated there too. By migration, deepin software repository will be more stable and reliability.
What is the difference between deepin 15.9.2 Beta ISO and deepin 15.9 ISO?
The main difference is that deepin software repository migrates from Debian unstable to Debian stable. Compared with 15.9 ISO, deepin 15.9.2 Beta ISO integrates the latest deepin 15.9.2 and has been adjusted and optimized accordingly.
Why migrate to Debian stable from unstable?
»
Printer-friendly version

617 reads

PDF version
More in Tux Machines
How to use Spark SQL: A hands-on tutorial

In the first part of this series, we looked at advances in leveraging the power of relational databases "at scale" using Apache Spark SQL and DataFrames. We will now do a simple tutorial based on a real-world dataset to look at how to use Spark SQL. We will be using Spark DataFrames, but the focus will be more on using SQL. In a separate article, I will cover a detailed discussion around Spark DataFrames and common operations. I love using cloud services for my machine learning, deep learning, and even big data analytics needs, instead of painfully setting up my own Spark cluster. I will be using the Databricks Platform for my Spark needs. Databricks is a company founded by the creators of Apache Spark that aims to help clients with cloud-based big data processing using Spark. Also: Scaling relational databases with Apache Spark SQL and DataFrames

4 questions Uber's open source program office answers with data

It's been said that "Software is eating the world," and every company will eventually become a "software company." Since open source is becoming the mainstream path for developing software, the way companies manage their relationships with the open source projects they depend on will be crucial for their success. An open source program office (OSPO) is a company's asset to manage such relationships, and more and more companies are setting them up. Even the Linux Foundation has a project called the TODO Group "to collaborate on practices, tools, and other ways to run successful and effective open source projects and programs".

Kernel: LWN on Linux 5.1 and More, 'Lake'-named Hardware

GNOME Desktop: Parental Controls and GNOME Bugzilla

Various of us have been meeting in the Red Hat offices in London this week (thanks Red Hat!) to discuss parental controls and digital wellbeing. The first two days were devoted to this; today and tomorrow will be dedicated to discussing metered data (which is unrelated to parental controls, but the hackfests are colocated because many of the same people are involved in both).

As part of GNOME's ongoing migration from Bugzilla to Gitlab, from today on there are no products left in GNOME Bugzilla which allow the creation of new tickets. The ID of the last GNOME Bugzilla ticket is 797430 (note that there are gaps between 173191–200000 and 274555–299999 as the 2xxxxx ID range was used for tickets imported from Ximian Bugzilla). Since the year 2000, the Bugzilla software had served as GNOME's issue tracking system. As forges emerged which offer tight and convenient integration of issue tracking, code review of proposed patches, automated continuous integration testing, code repository browsing and hosting and further functionality, Bugzilla's shortcomings became painful obstacles for modern software development practices. Nearly all products which used GNOME Bugzilla have moved to GNOME Gitlab to manage issues. A few projects (Bluefish, Doxygen, GnuCash, GStreamer, java-gnome, LDTP, NetworkManager, Tomboy) have moved to other places (such as freedesktop.org Gitlab, self-hosted Bugzilla instances, or Github) to track their issues.