ExTiX 19.3, Build 190307 based on upcoming Ubuntu 19.04, with Xfce 4.13, Kodi 18.2 "Leia", Refracta Snapshot, Nvidia graphics driver and kernel 5.0.0-exton
Submitted by Roy Schestowitz on Monday 15th of April 2019 04:25:36 PM
Filed under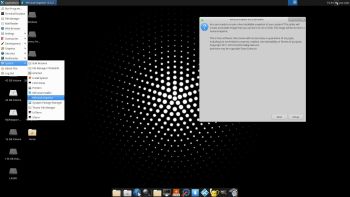 A new extra version of ExTiX is ready. This version is based on upcoming Ubuntu 19.04 Disco Dingo. ExTiX 19.3 uses the Xfce Desktop 4.13 and kernel 5.0.0-exton. Xfce is a lightweight desktop environment for UNIX-like operating systems. It aims to be fast and low on system resources, while still being visually appealing and user friendly. This version of ExTiX Xfce4 is for non-UEFI computers. Kodi 18.2 Leia is also preinstalled in this version of ExTiX. Just start Kodi like any other program while logged in to the Xfce4 Desktop as the ordinary user live. I have enabled a few addons in Kodi. Most important the Netflix addon. Nvidia proprietary Graphics driver 418.43 is pre-installed in ExTiX 19.3. It will automatically be used if your computer has support for it. Study all pre-installed packages in ExTiX 19.3.
»
Printer-friendly version

1010 reads

PDF version
More in Tux Machines
GNOME Devs Mull Making Dedicated System Info Tool

Would you find the GNOME desktop more useful if it could tell you more about the system you're running? If so, you may be interested to hear about a new app mooted by GNOME design team member Allan Day. Day proposes the creation of a new hardware diagnostics tool that would, in his words: "show technical details about the system and the available hardware. It would also include information about the firmware for your hardware, and allow blacklisting certain firmware versions." Now, call me wrong — I usually am — but doesn't that sounds like it would be mightily useful?

Android Leftovers

OSS: Legal and Licensing Workshop (LLW), Molly de Blanc on 'Breaking Up', Apache Software Foundation News and Beancount Examined

Security: Updates, Windows Issues, GNOME Security Internship and Slackware Security Updates

The latest in a series of online attacks is 'Aggah', a global malware campaign with roots in the Middle East. The Windows Malware comprises a commodity Trojan script being spread via an infected Microsoft Word Document. The perpetrators are tricking users into downloading and activating the malicious code using RevengeRAT. Since RevengeRat is comprised of several open source Trojan builds, it is very difficult to pinpoint the actual spammer. The people involved in this are using the alias name 'haggah' to carry out their operation.

I received a few code reviews in the GNOME Settings Daemon MR that I'll try to address in the next days. Also I'm going to widen the requirements for allowing keyboards when the screen is locked. Right now if the lock screen is active we authorize a keyboard only if it is the only available keyboard in the system. It was a good idea in theory but not that much in practice. For example let's assume that you use an hardware USB switch hub between your desktop and your laptop with a mouse and a keyboard attached. If you have a "gaming" mouse with extra keys it is not only a mouse but also a keyboard. That means that when you want to switch from your laptop the the desktop, the mouse and the keyboard will be connected nearly simultaneously and if the mouse goes first the real keyboard will not the authorized. So you'll be locked out from your system. The gaming mouse is also only an example. If you have a yubikey shared in this USB hub there will be the same problem explained above. For this reason in the next days I'll edit the current implementation so that every USB keyboards will be authorized even if the lock screen is active. However we will still show a notification to explain that we authorized a new keyboard while the screen was locked.

It's been a month since the final release of MATE 1.22.0 and the developers has pushed a new update MATE 1.22.1 which fixed some issues, including security fixes in the code that still uses unsafe functions such as strcat or strcpy. The new mate-icon-theme is also featuring a sharper icons for some MATE components as can be seen in the git log. The icons are now built using latest inkscape version so you will notice some differences once you upgrade your MATE components and logout from your X and login again or reboot your machine. For this new update, i had to patch the upstream source a bit to remove a dependency of inkscape in order to build mate-utils. It was introduced in this commit, but i revert some of the changes in the latest commit here. It won't have any effect at all for users as inkscape is only used as a build dependency, not as runtime dependency.