How much open source is too much when it's in Microsoft's clutches? Eclipse Foundation boss sounds note of alarm
Submitted by Roy Schestowitz on Wednesday 15th of May 2019 02:55:57 AM
Filed under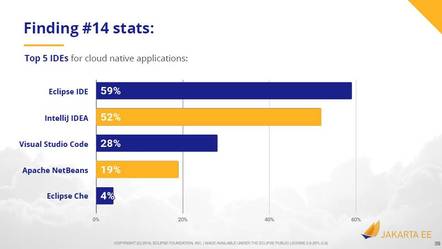 The Eclipse Foundation oversees numerous open-source projects including Jakarta EE, the open-source Java Enterprise Edition. It is also the home of the free Eclipse IDE, among the most popular IDEs for Java development.
One of the original Eclipse designers was Erich Gamma, who in 2011 joined Microsoft where he has worked on Visual Studio Code, Microsoft's open-source and cross-platform development tool.
Visual Studio Code has been a remarkable success. A recent Stack Overflow survey ranked it as the most popular development environment overall. Eclipse still leads for Jakarta EE development, according to its own survey (PDF), though VS Code puts in a decent showing (considering it is a relative newcomer) at 28 per cent usage (below).
»
Printer-friendly version

2131 reads

PDF version
More in Tux Machines
today's howtos

Wine 4.0.2 Released

28 facts about Linux for its 28th birthday

Nearly three decades ago, Linus Torvalds sent the email announcing Linux, a free operating system that was "just a hobby" and not "big and professional like GNU." It's fair to say that Linux has had an enormous influence on technology and the world in general in the 28 years since Torvalds announced it. Most people already know the "origin story" of Linux, though. Here's 28 things about Linux (the kernel and larger ecosystem) you may not already know. 1 - Linux isn't very useful alone, so folks took to creating Linux distributions to bundle user software with it, make it usable and easier to install. The first Linux distribution was Softlanding Linux System (SLS), first released in 1992 and using the .96p4 Linux kernel. You could buy it on 5.25" or 3.5" floppies, or CD-ROM if you were high-tech. If you wanted a GUI, you needed at least 8MB of RAM. 2 - SLS didn't last, but it influenced Slackware Linux, which was first released in 1993 and is still under development today. Slackware is the oldest surviving Linux distribution and celebrated its 26th birthday on July 17th this year. 3 - Linux has the largest install base of any general purpose operating system. It powers everything from all 500 of the Top 500 Supercomputers to Android phones, Chomebooks, and all manner of embedded devices and things like the Kindle eBook readers and smart televisions. (Also the laptop used to write this post.)

Quick Guide to The Awesome GNOME Disk Utility

GNOME Disk Utility is an awesome tool to maintain hard disk drives that shipped with Ubuntu. It's called simply "Disks" on start menu on 19.04, anyway. It's able to format hard disks and USB sticks, create and remove partitions, rename partitions, and check disk health. Not only that, it also features writing ISO into disk and vice versa, create ISO image of a disk. This tutorial explains in brief how to use it for 8 purposes. Let's go!