Librem 5 June Software Update
Submitted by Rianne Schestowitz on Thursday 20th of June 2019 12:07:46 AM
Filed under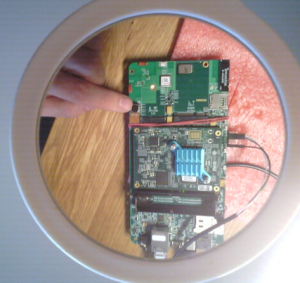 Several areas of the kernel have seen major improvements, and we are now very close to some important milestones. One such area is forward porting patches so that the images built for the devkit can switch from a 4.18 to a 5.2 kernel, and we're almost there! You can find a recent image build with the 5.2 kernel here.
With the new kernel, you will be able to long press the power button to turn on the devkit, and use suspend/resume. To help better detect SoC revisions, an RFC
patch has been sent to improve this. Working towards improving the power management, we are testing cpufreq and preparing some cpuidle tests.
A lot of effort has been put into debugging the sound on the 5.2 kernel. After many hours of work, we have discovered that ATF was blocking access to the aips regions—and upstream ATF has it fixed now!
Also: Librem 5 Dev Kit Can At Least Run Quake II Now, Progress On Adopting Linux 5.2
»
Printer-friendly version

1229 reads

PDF version
More in Tux Machines
Software: Genome Browsers, EtherCalc and Curl

In the fields of molecular biology and genetics, a genome is the genetic material of an organism. It consists of DNA (or RNA in RNA viruses). Each genome contains all of the information needed to build and maintain that organism. In humans, a copy of the entire genome—more than 3 billion DNA base pairs—is contained in all cells that have a nucleus. The study of the genome is called genomics. In bioinformatics, a genome browser is a graphical interface for display of information from a biological database for genomic data. They are important tools for studying genomes given the vast amounts of data available. They typically load very large files, such as whole genome FASTA files and display them in a way that users can make sense of the information there. They can be used to visualize a variety of different data types. Genome browsers enable researchers to visualize and browse entire genomes with annotated data including gene prediction and structure, proteins, expression, regulation, variation, comparative analysis, etc. They use a visual, high-level overview of complex data in a form that can be grasped at a glance and provide the means to explore the data in increasing resolution from megabase scales down to the level of individual elements of the DNA sequence. There's a wide range of web based genome browsers. We're going to restrict our selection to the top 4.

EtherCalc is an open source spreadsheet that makes it easy to work remotely and collaborate with others.

Six weeks after our previous bug-fix release, we ship a second release in a row with nothing but bug-fixes. We call it 7.65.2. We decided to go through this full release cycle with a focus on fixing bugs (and not merge any new features) since even after 7.65.1 shipped as a bug-fix only release we still seemed to get reports indicating problems we wanted fixed once and for all. Download curl from curl.haxx.se as always! Also, I personally had a vacation already planned to happen during this period (and I did) so it worked out pretty good to take this cycle as a slightly calmer one. Of the numbers below, we can especially celebrate that we've now received code commits by more than 700 persons!

100 Essential Linux Commands for Every User

Normal Linux user knows almost all the basic Linux day-to-day use commands to perform basic task such as installing any application, copying files from one directory to another, etc. But in this article I'm going to list 100 essential Linux commands which can be useful for every Linux user right from the noobs to the professional Linux developers and system administrators.So before wasting any time let's get started with this huge list of essential Linux commands.

today's howtos

Sparky 5.8 "Nibiru"

There are new live/install media of SparkyLinux 5.8 "Nibiru" available to download. This is the 1st release of the new stable line, which is based on the Debian 10 "Buster". Changes: – based on Debian 10 stable "Buster" now, repositories changed from 'testing' to 'stable' – system upgraded from Debian stable "Buster" repos as of July 14, 2019 – Linux kernel 4.19.37-5 (i686 & amd64) – Linux kernel 4.19.57-v7+ (ARMHF) – the Calamares installer updated up to version 3.2.11 – apt-daily.service disabled – sparky-tube installed as dafault – removed old 3rd party repositories – added obconf-qt (LXQt edition) – nm-tray installed instead of network-manager-gnome (LXQt edition) – network-manager added to CLI ARMHF image – small fixes