Daniel Pocock: Codes of Conduct and Hypocrisy
Submitted by Roy Schestowitz on Friday 19th of July 2019 02:39:07 PM
Filed under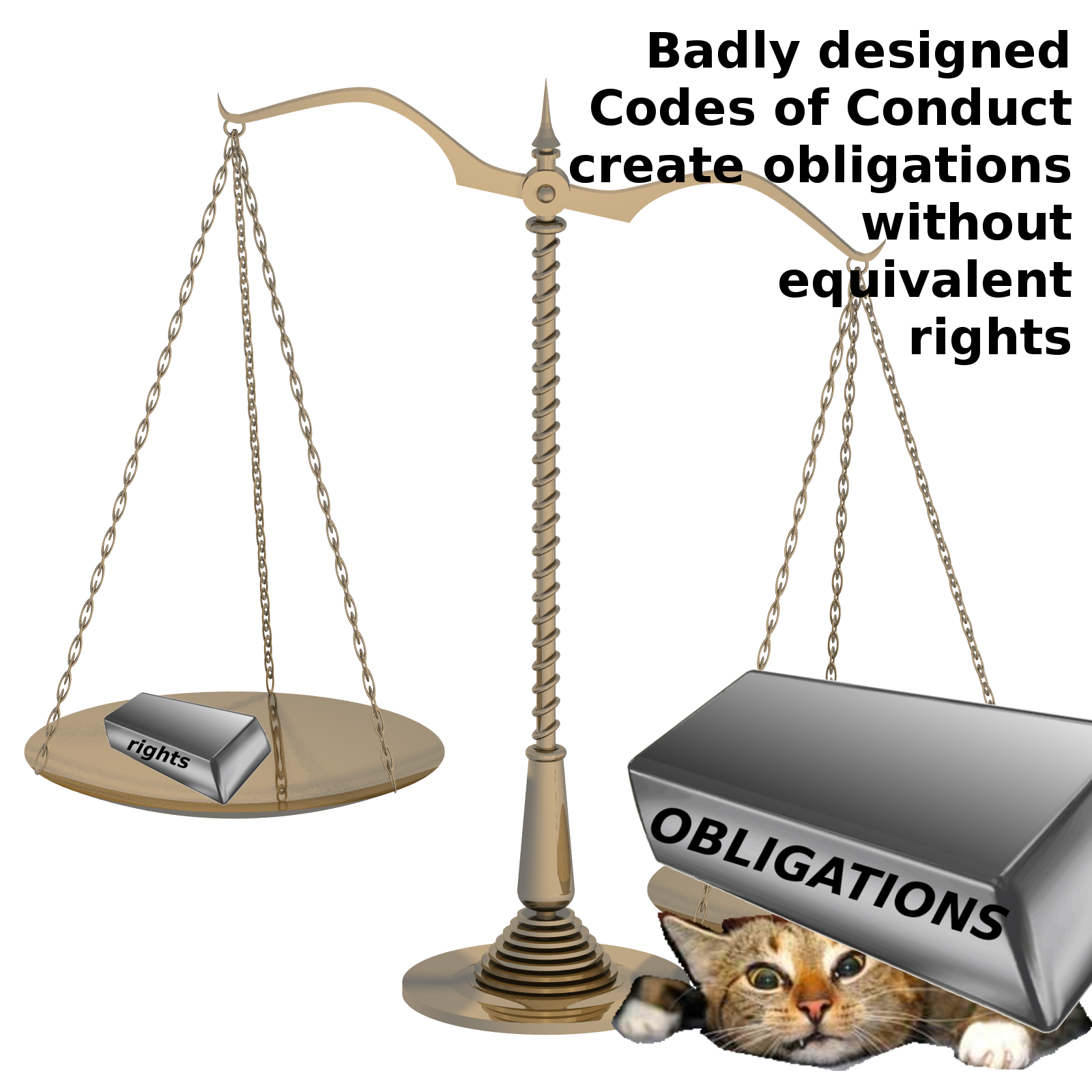 In 2016, when serious accusations of sexual misconduct were made against a volunteer who participates in multiple online communities, the Debian Account Managers sent him a threat of expulsion and gave him two days to respond.
Yet in 2018, when Chris Lamb decided to indulge in removing members from the Debian keyring, he simply did it spontaneously, using the Debian Account Managers as puppets to do his bidding. Members targetted by these politically-motivated assassinations weren't given the same two day notice period as the person facing allegations of sexual assault.
Two days hardly seems like sufficient time to respond to such allegations, especially for the member who was ambushed the week before Christmas. What if such a message was sent when he was already on vacation and didn't even receive the message until January? Nonetheless, however crude, a two day response period is a process. Chris Lamb threw that process out the window. There is something incredibly arrogant about that, a leader who doesn't need to listen to people before making such a serious decision, it is as if he thinks being Debian Project Leader is equivalent to being God.
The Universal Declaration of Human Rights, Article 10 tells us that Everyone is entitled in full equality to a fair and public hearing by an independent and impartial tribunal, in the determination of his rights and obligations. They were probably thinking about more than a two day response period when they wrote that.
Any organization seeking to have a credible code of conduct seeks to have a clause equivalent to article 10. Yet the recent scandals in Debian and Wikimedia demonstrate what happens in the absence of such clauses. As Lord Denning put it, without any process or hearing, members are faced with the arbitrary authority of the despot.
»
Printer-friendly version

1251 reads

PDF version
More in Tux Machines
Audiocasts/Shows: Jupiter (Linux Academy) and TLLTS

It's the final Friday, and the crew shares some great stories from a recent team summer camp. Plus some super-secret projects in the works, and another famous flash mob.

The complete keynote from Texas LinuxFest that inspired us to try harder. Thomas Cameron presents a keynote that everyone needs to hear. It's time to end the distro wars, invite everyone to the dance, and build the future. Cloud dude, Linux advocate, Open Source evangelist and current Amazonian, Thomas Cameron's keynote is a must listen.

The whole Choose Linux crew talk about Ell's recent trip to Black Hat, B-sides, DEF CON, and more at Hacker Summer Camp.

Android Leftovers

KMyMoney 5.0.6 released

The KMyMoney development team today announces the immediate availability of version 5.0.6 of its open source Personal Finance Manager. Another maintenance release is ready: KMyMoney 5.0.6 comes with some important bugfixes. As usual, problems have been reported by our users and the development team fixed some of them in the meantime. The result of this effort is the brand new KMyMoney 5.0.6 release. Despite even more testing we understand that some bugs may have slipped past our best efforts. If you find one of them, please forgive us, and be sure to report it, either to the mailing list or on bugs.kde.org.

Games: Don't Starve Together, Cthulhu Saves the World, EVERSPACE 2 and Stadia