LEMUR 4 RELEASED!
Submitted by Roy Schestowitz on Monday 12th of August 2019 09:12:54 AM
Filed under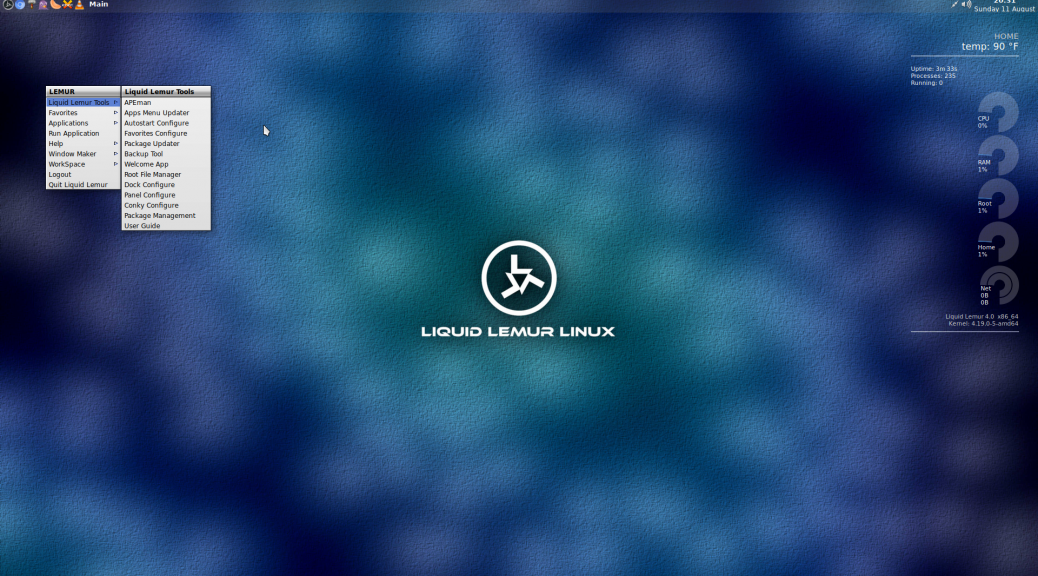 It has been a long time coming, but Liquid Lemur Linux 4.0 has been released! I'll get the forums back online in the next day or two…
Lemur 4 still comes in the pre-morphed state. I planned to release it in the default Window Maker layout. However, after updating to Debian 10 (Buster) a lot of the Window Maker apps refused to work. So until I can find the issue, Lemur will remain pre-morphed.
»
Printer-friendly version

1152 reads

PDF version
More in Tux Machines
GNU Parallel 20190822 ('Jesper Svarre') released [stable]

GNU Parallel 20190822 ('Jesper Svarre') [stable] has been released. It is available for download at: http://ftpmirror.gnu.org/parallel/ No new functionality was introduced so this is a good candidate for a stable release. GNU Parallel is 10 years old next year on 2020-04-22. You are here by invited to a reception on Friday 2020-04-17.

KDE ISO Image Writer – Release Announcement

My GSoC project comes to an end and I am going to conclude this series of articles by announcing the release of a beta version of KDE ISO Image Writer. Also: How I got a project in Labplot KDE

Linux Foundation: Automotive Grade Linux Announcement and Calling Surveillance Operations "Confidential Computing"

IBM/Red Hat: OpenShift, CUDA, Jim Whitehurst, VMworld and RHELvolution