Mozilla's WebThings Gateway now available for Turris Omnia router
Submitted by Roy Schestowitz on Thursday 15th of August 2019 03:55:39 AM
Filed under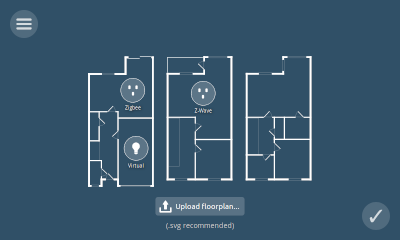 The first step for adding devices is to put them in a mode that is receptive to a new pairing, one at a time, then to tell the Gateway web application to scan for them. Once they are recognized (and renamed to something that makes more sense to the user), there are a number of different options. The device state can be queried (e.g. is a door open or a light on) or changed, for example; some devices may require an add-on in order to access them. Users can also create a floor plan of their house to place icons of the devices in the right locations.
Beyond that, there is a rules engine where automated changes can be programmed. So if the user wants a certain light to go on or off at a specific time, for example, that can be done. The interface is icon oriented, which should make it easier for less technical users. There is also an experimental Smart Assistant feature that allows voice or typed commands like "turn on the kitchen light" to be handled. The voice data is sent to Google's voice assistant API; the text commands are handled locally on the Gateway device. It is not clear why the assistant is not using Mozilla's speech-processing engine.
New for version 0.9 is a Notifier add-on that will send an email or SMS text message based on rules that the user specifies, so motion sensor activity could trigger a text message, for example. Accompanying the Gateway release is the 0.12 release of the WebThings Framework. It has made some changes to the Web Thing API to more closely align it with the recent W3C WoT Thing Description draft.
Centralizing IoT handling on a system controlled by the user is an admirable goal. The IoT world has so far proven to be an insecure morass of competing lock-in plays, or so it seems to this cynical observer. Wresting control of the devices from the manufacturers and placing it in the hands of their owners seems like an excellent step forward. Hopefully Mozilla sticks with this project for the long haul and that it gets the community support that it surely deserves—and needs.
»
Printer-friendly version

699 reads

PDF version
More in Tux Machines
Games: Underworld Ascendant, Dark Envoy and Elite Dangerous

Get ready to dungeon crawl! After many delays, the sequel to the classic Ultima Underworld games has finally seen a Linux release.

Ah Gamescom has arrived, which means tons of games will be shown off over the next week. Event Horizon (Tower of Time dev) are getting in on the action, to show off footage from their brand new RPG called Dark Envoy. For those who missed the previous article, it is already confirmed to be coming to Linux. To save you a click, when asked they said "We spent a considerable effort to make Tower of Time run well on Linux - so now, being more experienced with it, we also plan to release on Linux at the same time as PC launch.".

What's the one game keeping you a dual booter? Maybe it's PUBG, or Rainbow Six: Siege? Maybe it used to be Overwatch? For me, that game was Elite Dangerous, and one year on from Proton's release, I have a story to tell. There's a certain "je ne sais quoi" about Elite Dangerous that I've never been able to put my finger on. It's a game set in a scientifically modelled, full-scale replica of the whole Milky Way galaxy, and as with that setting, the game is truly vast, remarkably cold, and frequently incomprehensible. Yet, when playing Elite, I get the same feeling as when looking up at the stars on a dark and moonless night — my hungry soul is fed. Or it could just be space madness. Regardless, it's a feeling that I like to dip into every once in a while, immerse myself in, and try not to drown.

Red Hat and Fedora: HPC, Ansible and More Flock Reports

Programming Leftovers

7 of the Best IoT Projects Using Arduino

If you're an electronics hobbyist, chances are you've heard of the Arduino. It's a tiny computer that you can use to do surprisingly complex things. It also happens to be behind a fair number of Internet of Things projects. While some people reach a for Raspberry Pi or something even more powerful, an Arduino or Arduino Uno might be all you need. We've put together a list of IoT projects that prove this to be true. Also: mDash Cloud platform for IoT Devices Targets ESP8266/ESP32, STM32, and TI CC3220 Wireless MCUs