See Ubuntu Desktop Running on a Samsung Galaxy S10
Submitted by Roy Schestowitz on Monday 19th of August 2019 12:24:43 AM
Filed under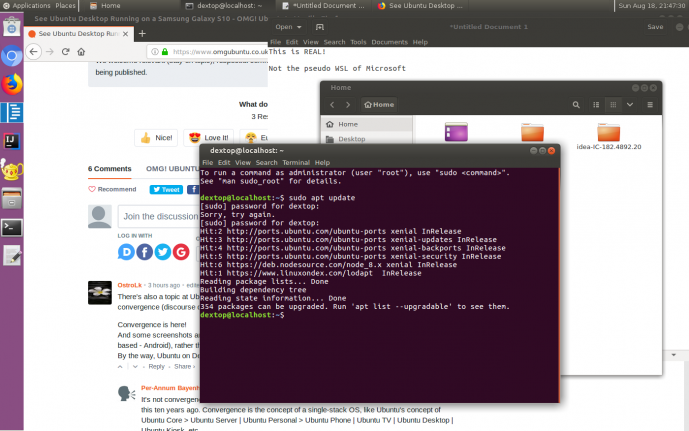 I might have written about its availability a few times, but until today I had never actually seen Ubuntu 16.04 LTS running on a Samsung smartphone.
Don't panic, you haven't missed any major announcements and Samsung hasn't started to sell phones with Ubuntu pre-loaded. I'm instead referring to the "Linux on DeX" development experience.
DeX is nifty bit of software tech that lets (select) Samsung devices running Android drive a more traditional "desktop" experience when connected to an external monitor, keyboard and mouse.
"Turn your Galaxy devices into a PC-like experience with a single cable," Samsung say.
Additionally, 'Linux on DeX' is an Android app that's only available as part of DeX. It lets users download and run a full desktop Linux experience using container technology on any supported Samsung Galaxy smartphone or tablet.
»
Printer-friendly version

2034 reads

PDF version
More in Tux Machines
Lubuntu 20.10 (Groovy Gorilla) BETA testing

We are pleased to announce that the beta images for Lubuntu 20.10 have been released! While we have reached the bugfix-only stage of our development cycle, these images are not meant to be used in a production system. We highly recommend joining our development group or our forum to let us know about any issues.

Plasma and the systemd startup

Landing in master, plasma has an optional new startup method to launch and manage all our KDE/Plasma services via a system --user interface rather than the current boot scripts. This will be available in Plasma 5.21. It is currently opt-in, off by default. I hope to make it the default where available after more testing and feedback, but it is important to stress that the current boot-up method will exist and be supported into the future. A lot of work was put into splitting and tidying so the actual amount of duplication in the end result is quite small and manageable.

today's howtos

This blog post covers some of my favorite settings for configuring the behavior of an ssh client (i.e. what is in the man pages for ssh_config). Whether you are looking to add some additional security constraints, minimize failures, or prevent carpal tunnel, ssh_config is an often underutilized, yet powerful tool.

This article will take a look at a few useful ways to modify your ssh_config file to achieve a greater degree of security and control. This post is not about server-side configuration via sshd_config, which deserves its own separate article.

Stacer is a GUI based application written in C++ to monitor and optimize Linux OS. The latest build version of Stacer is 1.1.0, which provides all in one stop for our common activities we perform using Terminal like package management, process management, Host details, CPU, Network and Disk monitoring, startup applications, and a few more.

Mozilla Thunderbird 78.3 Is Out and You Can Finally Upgrade from Earlier Versions

Mozilla Thunderbird 78.3 open-source and free email client has arrived with more improvements and bug fixes, and you can now finally upgrade from older Thunderbird releases. When Thunderbird 78 launched earlier this year, it didn't support automatic upgrades from version 68 or earlier. Automatic upgrade was blocked intentionally due to the revamped extension system that only supports MailExtensions, not classic extensions, to no break your Thunderbird installations. Three months later, Mozilla enabled automatic upgrades in Thunderbird with version 78.2.2 released a couple of weeks ago. Now Thunderbird 78.3 is out and it disables the installation of "legacy" MailExtensions.