A mobile phone that respects your freedom
Submitted by Roy Schestowitz on Thursday 29th of August 2019 12:43:02 AM
Filed under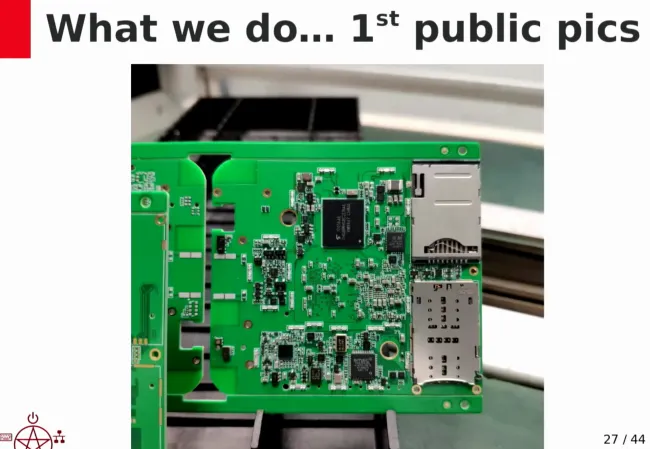 Motivation and challenges building a mobile phone that respects your freedom, privacy and digital rights - and is hackable. This talk will present a summary of a two year journey, which is still ongoing.
Today mobile phones are _the_ computing device of the decade, maybe even of this century. Almost everyone carries one, every day to every place. They are pretty much always connected and we entrust almost our entire digital life to them - any form of communication (voice, text, video), all kinds of entertainment (reading, web surfing, video/movies), personal information (address books, social media), location (navigation, location sharing) etc. Pretty much our entire digital life is mirrored by these devices and to a growing extent happening right on them.
What is often not fully recognized is that this huge ecosystem of mobile hard- and software is controlled by only a very few globe spanning companies. Our digital life is to a large part controlled by these companies and currently there is little way around them.
Also: Purism Shows Off First Shots Of The Librem 5 Smartphone's PCB
»
Printer-friendly version

1425 reads

PDF version
More in Tux Machines
Audiocasts/Shows: Linux in the Ham Shack and Linux Headlines

Welcome to Episode 302 of Linux in the Ham Shack. In this short topic episode, the hosts discuss the potential end of Kenwood in the amateur radio market, emcom in Montucky, Storm Area 51, HF on satellites, a huge update for PulseAudio, the Linux 5.3 kernel and much more. Thank you for listening and have a fantastic week.

Fresh init system controversy at the Debian project, a more scalable Samba, and a big release for LLVM. Plus GitHub's latest security steps and a new version of OBS Studio.

Android Leftovers

When Diverse Network ASICs Meet A Unifying Operating System

And it has also been a decade since switch upstart Arista Networks launched its Extensible Operating System, or EOS, which is derived from Linux. [...] The cross-platform nature of ArcOS, coupled with its ability to run in any function on the network, could turn out to be the key differentiator. A lot of these other NOSes were point solutions that could only be deployed in certain parts of the network, and that just creates animosity with the incumbent vendors that dominate the rest of the networking stack. Given the mission-critical nature of networking in the modern datacenter, it costs a great deal to qualify a new network operating system, and it can take a lot of time. If ArcOS can run across more platforms, qualify faster, and do more jobs in the network, then, says Garg, it has a good chance of shaking up switching and routing. "That totally changes the business conversation and the TCO advantages that we can bring to a customer across the entirety of their network."

Server: Kubernetes/OpenShift, OpenStack, and Red Hat's Ansible