A mobile phone that respects your freedom
Submitted by Roy Schestowitz on Thursday 29th of August 2019 12:43:02 AM
Filed under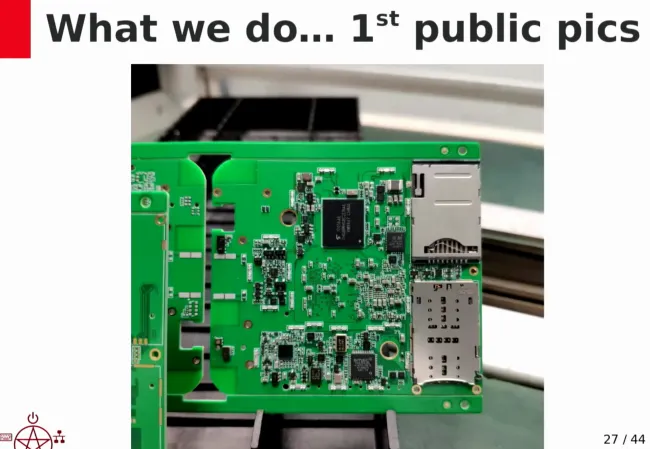 Motivation and challenges building a mobile phone that respects your freedom, privacy and digital rights - and is hackable. This talk will present a summary of a two year journey, which is still ongoing.
Today mobile phones are _the_ computing device of the decade, maybe even of this century. Almost everyone carries one, every day to every place. They are pretty much always connected and we entrust almost our entire digital life to them - any form of communication (voice, text, video), all kinds of entertainment (reading, web surfing, video/movies), personal information (address books, social media), location (navigation, location sharing) etc. Pretty much our entire digital life is mirrored by these devices and to a growing extent happening right on them.
What is often not fully recognized is that this huge ecosystem of mobile hard- and software is controlled by only a very few globe spanning companies. Our digital life is to a large part controlled by these companies and currently there is little way around them.
Also: Purism Shows Off First Shots Of The Librem 5 Smartphone's PCB
»
Printer-friendly version

1919 reads

PDF version
More in Tux Machines
Now and Then: The Fate of 7 Promising Free Linux Web Browsers

This is illustrated by the image to the left which depicts the web browser share for visits to LinuxLinks.com for the period covering June – September 2020. But Chrome and Firefox are not for everyone. Chrome is proprietary software so it's not very appealing to open source enthusiasts. There's the open source Chromium, of course, but that's not very popular. And Firefox has been steadily losing market share.

Linux Jargon Buster: What is a Rolling Release Distribution?

After understanding what is Linux, what is a Linux distribution, when you start using Linux, you might come across the term 'rolling release' in Linux forum discussions. In this Linux jargon buster, you'll learn about rolling release model of Linux distributions. In software development, rolling release is a model where updates to a software are continuously rolled out rather than in batches of versions. This way the software always remains up-to-date. A rolling release distribution follows the same model and it provides the latest Linux kernel and the software version as they are released.

What are the Best Linux Distros for 2020

In this tutorial, we shall focus on the 10 + 1 best Linux distributions for the year 2020 for new and experienced users. As per distrowatch below are the top 10 Linux distributions based on website page hit ranking... In this article, we have covered the best 11 Linux distribution for the year 2020. Please do not forget to tell us which ones you like or find any other better distro.

Lightweight Linux distribution 4MLinux 34.0 Released with WebP Support

The super lightweight Linux distribution 4MLinux released the latest stable version 34.0 with new features and latest app updates.