LibreOffice 6.3.1 and LibreOffice 6.2.7 announced, focusing on security
Submitted by Roy Schestowitz on Thursday 5th of September 2019 03:27:47 PM
Filed under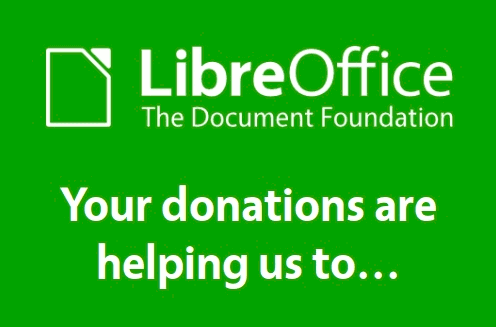 The Document Foundation announces LibreOffice 6.3.1, the first minor release of the LibreOffice 6.3 family, and LibreOffice 6.2.7, the seventh minor release of the LibreOffice 6.2 family, with many bug fixes and a key security improvement.
LibreOffice 6.3.1 and LibreOffice 6.2.7 consider the presence of any call to a script-like thing as equally hazardous as a macro, and present the user a warning dialog about the document trying to execute a script. Users should never allow the execution of macros and scripts embedded in documents, unless they are perfectly aware of the potential risks associated with the action.
LibreOffice 6.3.1 "fresh" is targeted at technology enthusiasts and power users, while LibreOffice 6.2.7 "still" is targeted at users in production environments and individual users who prefer robustness over advanced features. All LibreOffice users should update immediately their current version.
LibreOffice's individual users are helped by a global community of volunteers: https://www.libreoffice.org/get-help/community-support/. On the website and the wiki there are guides, manuals, tutorials and HowTos. Donations help us to make all of these resources available.
Also: A New Version Of SoftMaker FreeOffice Adds Dark Mode, Improved Microsoft Office Compatibility
»
Printer-friendly version

969 reads

PDF version
More in Tux Machines
Mirrors for Speedier Downloads

To put it briefly, PureOS provides ISO images and packages for download. Recently, we've seen increased traffic on our download site, and we expect that traffic to grow. We're hoping to address increased traffic with mirrors for both package updates and downloads. We're very happy to announce that Sonic, a highly-ranked and privacy-respecting ISP, has offered to host a mirror for PureOS. This will alleviate some of the traffic, especially for those in North America, without compromising security. The security of the packages remains guaranteed by our signatures; the mirror simply holds another, identical set of packages, signed with Purism's key. The mirror is easy to use. For example, if you'd like to use the mirrors for downloading an image, simply use this URL: https://mirrors.sonic.net/pureos/downloads/. And here's the link to the most recent GNOME Live build.

Audiocasts/Shows

It's time once again for The Weekender. This is our bi-weekly departure into the world of amateur radio contests, open source conventions, special events, listener challenges, hedonism and just plain fun. Thanks for listening and, if you happen to get a chance, feel free to call us or e-mail and send us some feedback. Tell us how we're doing. We'd love to hear from you.

The first Open Core Summit, an activist programmer takes aim at Chef, a French court disagrees with Valve's licensing model, and Lennart Poettering wants to rethink the Home directory.

It's TechSNAP story time as we head out into the field with Jim and put Sure-Fi technology to the test. Plus an update on Wifi 6, an enlightening Chromebook bug, and some not-quite-quantum key distribution.

Graphics: AMD, GNOME Shell on Wayland and NVIDIA Nsight Graphics

Ubuntu: Video Encoder Performance, Ubuntu Touch, LZ4 Compression

Often when doing cross-distribution benchmarks, readers often comment on the performance of Clear Linux particularly for video encoding use-cases as surprisingly different from other distributions. Some argue that it's just over the default CPU frequency scaling governor or compiler flag defaults, so here is a look at that with Ubuntu 19.10 daily benchmarked against Clear Linux. On the same Core i9 9900K system I recently ran some benchmarks looking at Clear Linux vs. Ubuntu 19.10 and then Ubuntu 19.10 with various common tunables to make it more akin to Clear Linux. Ubuntu 19.10 was used due to its recent software components being at similar versions to Intel's rolling-release distribution.

For the past few weeks I've been using a nexus 4 running ubuntu touch as, mostly, my daily driver. I've enjoyed it quite a bit. In part that's just the awesome size of the nexus 4. In part, it's the ubuntu touch interface itself. If you haven't tried it, you really should. (Sailfish ambiances are so much prettier, but ubuntu touch is much nicer to use – the quick switch to switch between two apps, for instance. Would that I could have both.). And in part it's just the fact that it really feels like – is – a regular ubuntu system.

anonical's Ubuntu 19.10 "Eoan Ermine" will boot even faster than its predecessor, Ubuntu 19.04 "Disco Dingo" according to Ubuntu's kernel team. After extensive testing on a variety of compression options on the Ubuntu installation image, Canonical engineers determined that the LZ4 decompression method provided a most appreciable gain in speed.