LibreOffice 6.3.1 and LibreOffice 6.2.7 announced, focusing on security
Submitted by Roy Schestowitz on Thursday 5th of September 2019 03:27:47 PM
Filed under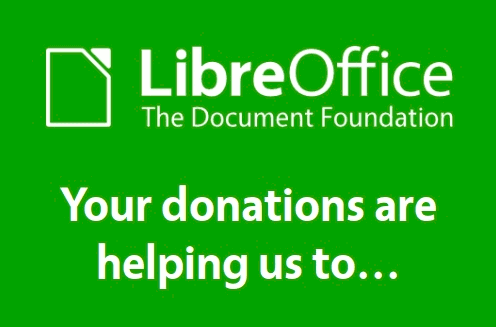 The Document Foundation announces LibreOffice 6.3.1, the first minor release of the LibreOffice 6.3 family, and LibreOffice 6.2.7, the seventh minor release of the LibreOffice 6.2 family, with many bug fixes and a key security improvement.
LibreOffice 6.3.1 and LibreOffice 6.2.7 consider the presence of any call to a script-like thing as equally hazardous as a macro, and present the user a warning dialog about the document trying to execute a script. Users should never allow the execution of macros and scripts embedded in documents, unless they are perfectly aware of the potential risks associated with the action.
LibreOffice 6.3.1 "fresh" is targeted at technology enthusiasts and power users, while LibreOffice 6.2.7 "still" is targeted at users in production environments and individual users who prefer robustness over advanced features. All LibreOffice users should update immediately their current version.
LibreOffice's individual users are helped by a global community of volunteers: https://www.libreoffice.org/get-help/community-support/. On the website and the wiki there are guides, manuals, tutorials and HowTos. Donations help us to make all of these resources available.
Also: A New Version Of SoftMaker FreeOffice Adds Dark Mode, Improved Microsoft Office Compatibility
»
Printer-friendly version

1689 reads

PDF version
More in Tux Machines
today's howtos

Android Leftovers

Edge AI box powers up with Jetson AGX Xavier

Neousys' compact "NRU-120S" edge AI box runs on a Jetson AGX Xavier and provides 4x screw-lockable PoE+ GbE, 2x hot-swap SATA trays, 3x USB, 2x DP, isolated CAN and DIO, and M.2 and mini-PCIe slots. Neousys has introduced a variety of Intel-based edge AI systems with PCIe slots that support Nvidia graphics cards, such as the Coffee Lake based Nuvo-7166GC. Now it has announced a rugged NRU-120S AI box that taps Nvidia's high-end, Linux-powered Jetson AGX Xavier module. The rugged, fanless system supports intelligent video analytics, NVR, and other deep-learning vision applications in industrial inspection, smart agriculture, and automated warehouse operations.

The 10 Best New Features in GNOME 3.38

Gnome 3.38 is released. This new version with the codename "Orbis" brings along a lot more new features and improvements. This post will look at some of these features that you should expect. Even though this powerful Desktop Environment includes all the features we will look at, their availability may differ from one distribution to another. The downstream packaging process mainly causes that. Some of these features might be renamed, relocated, or omitted for later versions of the particular distro. Since Ubuntu 20.04 is an LTS release, you can't install the Gnome 3.38 here. If you are in dire need to test this new release, you can download the ISO file for GNOME 3.38 BETA and use it as a virtual machine. Alternatively, you can wait for the release of Ubuntu 20.10 in October as it is meant to ship with this new GNOME release.