Archman Linux: Pure Arch With Extra Flair
Submitted by Rianne Schestowitz on Friday 13th of September 2019 08:45:28 PM
Filed under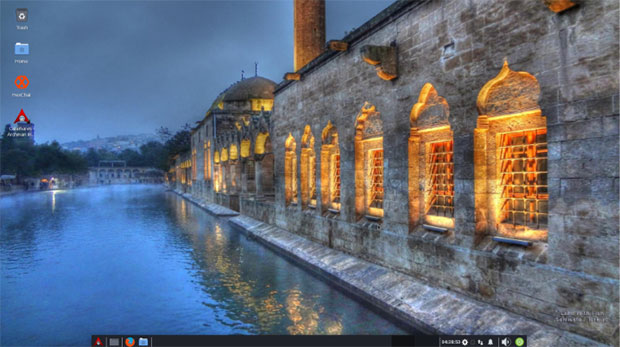 The distro's origin is Turkey. That by itself is not an issue, but the reach of the Archman community's language localization seems a bit short.
In numerous documentation and website displays, the use of English is a bit awkward. The flawed English does not seem to be a factor within the operating system itself though. Still, if you are struggling to deal with Arch idiosyncrasies, side-stepping some of the phraseology can add to the frustration.
Distros based on Arch Linux usually are not a good starting choice for newcomers to the Linux operating system. Users need a better handle on how Linux works to use Arch-based distros successfully. Considerable background reading is necessary for things to make sense with minimal frustration.
Arch Linux distros in general are not ideal operating systems for users with little Linux experience. Developers of distros such as Archman Linux are trying to change that reputation. Archman Linux can be a good second OS to use as a tool for learning more about how Linux works.
»
Printer-friendly version

1868 reads

PDF version
More in Tux Machines
How To Install Node.js and NPM on Ubuntu 18.04

Node.js is one of the most popular web technologies to build network applications quickly. In this guide, we'll show you how to install Node.js and NPM on Ubuntu 18.04 LTS. We need to add Node.js PPA to your Ubuntu 18.04 LTS, 16.04 LTS, 14.04 LTS systems and install it. Same instructions you can apply for any Debian based distribution, including Kubuntu, Linux Mint and Elementary OS. Read more

Android Leftovers

5 GNU/Linux Distros to Try KDE Plasma 5.18 LTS Right Now

Released on February 11th, 2020, KDE Plasma 5.18 LTS brings lots of goodies for fans of the popular desktop environment including a new global edit mode for customizing the desktop, better integration of GTK apps, and improved notifications system that now shows when a connected Bluetooth device is low on battery power. Also new in KDE Plasma 5.18 LTS is support for Nvidia GPU stats in KSysGuard, a new Emoji selector, a new system tray widget for enabling the Night Color feature, as well as an optional User Feedback page in System Settings for those who want to help KDE improve future release of the Plasma desktop.

Displaying Problems inline in KDevelop

In 2018 the KTextEditor framework which powers the editor of KDevelop gained support for displaying inline notes enabling to show information inside the editor without interfering with the editing process. One of the prototypes shown during the development of the interface for displaying such notes was showing detetcted problems like compiler warnings and errors in the affected line. Being a KDevelop user for quite some time now I was excited about that feature when I read the blog post linked earlier. Unfortunately, it didn't get implemented straight away and I forgot about it - until recently when the inline note cababilities were brought up on IRC. I though to myself: "How hard can it be?" And thanks to the incredible work done when implementing the InlineNote and related interfaces into KTextEditor and the extensible structure of KDevelop it wasn't hard at all! The work needing to be done was basically plugging the two systems together and deciding how the notes should look like.