German ministry hellbent on taking back control of 'digital sovereignty', cutting dependency on Microsoft
Submitted by Rianne Schestowitz on Thursday 19th of September 2019 08:51:40 PM
Filed under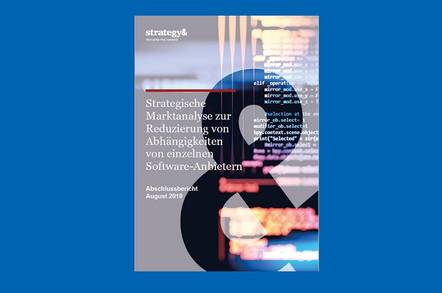 The Federal Ministry of the Interior (Bundesministerium des Innern or BMI) in Germany says it will reduce reliance on specific IT suppliers, especially Microsoft, in order to strengthen its "digital sovereignty".
In an official statement, the Federal Minister of the Interior Horst Seehofer states that "in order to ensure our digital sovereignty, we want to reduce dependencies on individual IT providers. We are also considering alternative programs to replace certain software. This will be done in close coordination with other EU countries."
BMI commissioned a strategic market analysis from consultants PwC, resulting in a paper that was published last month. The paper examines the risks inherent in IT dependency on commercial software vendors, with a particular focus on Microsoft because of the heavy use of its products and the way they are interconnected, especially Microsoft Office, Windows, Windows Server and Office 365.
»
Printer-friendly version

2225 reads

PDF version
More in Tux Machines
Android Leftovers

KDE Frameworks 5.73 Released with Many Changes to Breeze Icons, Kirigami and KNewStuff

KDE Frameworks 5.73 is a monthly update to the open-source software suite, but it packs a lot of interesting changes. For example, the Kirigami UI builder received a new FlexColumn component and now supports action visibility in the GlobalDrawer, along with optimizations to the mobile layout and to the accessibility of the Kirigami input fields. The Breeze icon theme saw a lot of changes too during the development cycle of KDE Frameworks 5.73, and it now comes with a bunch of new icons for Kontrast, kirigami-gallery, snap-angle, document-replace, SMART status, task-recurring, appointment-recurring, Overwrite action/button, and applications/pkcs12 mime type.

Redo Rescue Backup and Recovery Live System Gets NFS Share Support, SSH Server

For those not in the know, Redo Rescue is a great, free and easy to use live Linux system based on Debian GNU/Linux that can help you whenever your computer is broken by letting you backup and restore an entire system in just a few minutes. For example, if your computer no longer boots after installing the recent BootHole patches for the GRUB2 bootloader, you can use Redo Rescue to repair the boot. Of course, there are a few other tools that can do the same, but Redo Rescue can also do bare metal restores by replacing the MBR and partition table, re-map original data to a different target partition and even verify the integrity of an existing backup image.

Pocket P.C. design files released as open source (handheld Linux computer)

The Popcorn Computers Pocket P.C. is designed to be a handheld Linux computer with a 4.95 inch full HD display, a built-in keyboard, and a ARM Cortex-A53 quad-core processor. First unveiled in November 2019, the Pocket P.C. hasn't shipped yet. It's still up for pre-order for $199 and up. But the developers have already open sourced the hardware by releasing the latest design files. You can find the at the project's GitHub page.