GameMode improvements for GNOME 3.34 and Fedora 31
Submitted by Roy Schestowitz on Wednesday 25th of September 2019 03:42:39 PM
Filed under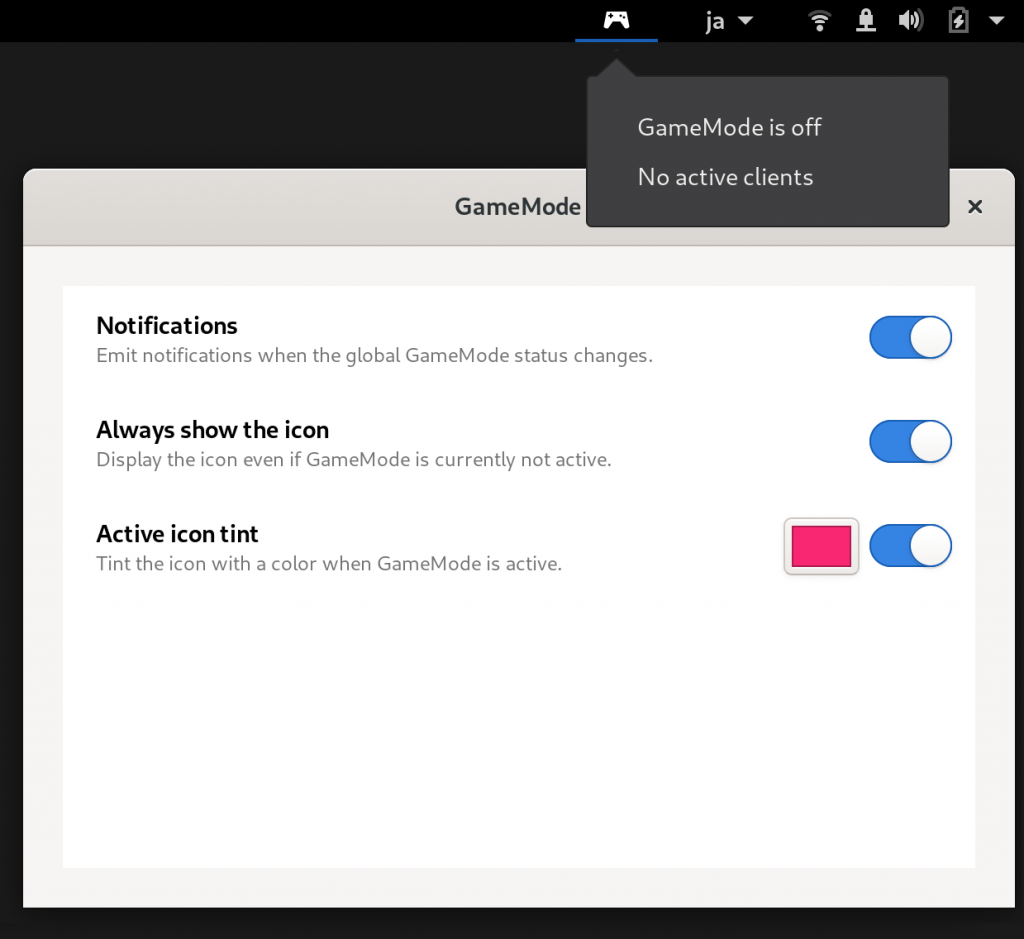 Christian Schaller wrote an excellent blog post highlighting a lot of the cool new features and improvements that ship with Fedora 31. I wanted to add to that and give an overview of new things and improvements we did for GameMode that will be in Fedora 31. First of all a quick refresher about GameMode:
GameMode is a solution to optimize performance of a GNU/Linux system for gaming. This is to improve frames-per-seconds as well as make games run smoother, i.e. avoid stuttering. Performance optimization is done by applying various global and per-game tweaks: setting the CPU governor, adjusting the I/O priority, changing the niceness of the game and setting a different kernel scheduler (SCHED_ISO). It recently gained support for setting GPU performance modes (NVIDIA and AMD) and GPU overclocking (NVIDIA). Additionally it will inhibit the screensaver and can execute custom scripts on start and end.
There were two main issues that I focused on: First it was hard to tell if GameMode was currently active and what games/programs were requesting it. The second one was to make GameMode compatible with flatpaks. Both required changes to the GameMode daemon and the API. Upstream was very quick to review and merge all the required patches and roll a release (1.4), thanks a bunch of that.
»
Printer-friendly version

1533 reads

PDF version
More in Tux Machines
Android Leftovers

Use this open source tool to get your local weather forecast

Last year, I brought you 19 days of new (to you) productivity tools for 2019. This year, I'm taking a different approach: building an environment that will allow you to be more productive in the new year, using tools you may or may not already be using. One of the things I love about the past decade of my employment is that it mostly has been remote. I can work anywhere I happen to be in the world, although the reality is that I spend a lot of time in my home office. The downside is that when I leave the house, I base a lot of decisions on what the conditions look like outside my window. And where I live, "sunny and clear" can mean anything from "scorchingly hot" to "below freezing" to "it will rain in an hour." Being able to check the actual conditions and forecast quickly is pretty useful.

The evolution of a Linux sysadmin

We've all got a story, right? I don't know if anyone would read mine, but, to the right audience, it might sound familiar, or at least relatable. My life is sort of fractured between two things I'm passionate about. One is the off-road industry, and the other is open source software. Some time ago, I was involved in a YouTube "challenge" where a bunch of us off-road enthusiasts were asked to share our story, and I told the tale of how I got involved in "Jeeping" and why we do what we do in that space. Here, I am about to tell the other side of my story, where I'm a computer guy with a bunch of nerd cred. So hang on while I tell you the story of a broke high-school kid who stumbled into a career.

Events: LCA Talks and ChefConf 2020 CFP

Everyone has expertise in some things, which is normally seen as a good thing to have. But Dr. Sean Brady gave some examples of ways that our expertise can lead us astray, and actually cause us to make worse decisions, in a keynote at the 2020 linux.conf.au. Brady is a forensic engineer who specializes in analyzing engineering failures to try to discover the root causes behind them. The talk gave real-world examples of expertise gone wrong, as well as looking at some of the psychological research that demonstrates the problem. It was an interesting view into the ways that our brains work—and fail to work—in situations where our expertise may be sending our thoughts down the wrong path. Brady began his talk by going back to 1971 and a project to build a civic center arena in Hartford, Connecticut in the US. The building was meant to hold 10,000 seats; it had a large roof that was a "spiderweb of steel members". That roof would be sitting on four columns; it was to be built on the ground and then lifted into place.

He introduced poker with a definition: "Poker is a gambling game of strategy played by people for money, using cards". The order of the terms in that definition is important, he said. In online poker, though, the "people" element is weakened because you can't see and directly interact with the other people you are playing with. So, unlike real-life poker, online poker is more about sociology than psychology; serious players track the trends of the player base as a whole, rather than trying to recognize the quirks of a particular person. That means online poker is "really about money". In order to succeed, one has to develop some weird views of the value of money. Even in games with relatively small stakes, players can win or lose a few thousand dollars in a session; in games with "nosebleed stakes", a player could be up or down by a million dollars in an evening. The game is particularly popular in the US, UK, and Australia, he said; it is played online and in face-to-face games in people's homes or at casinos. Poker became mainstream in the late 1990s, largely due to the "Late Night Poker" television series in the UK. There are a lot of different kinds of poker games, but the show focused on no-limit Texas hold 'em, which is the most "high drama of poker games" so it was well-suited to television. The show pioneered the use of a hole-card camera, so that viewers could see the two unseen cards each player was dealt. That innovation allowed viewers and commentators to analyze the choices that the players were making; without seeing the hole cards, watching other people play poker is about as interesting as "watching paint dry", Kuhn said. He did not go into the rules of poker much in the talk; a lot of it is not really germane to his topic. The important things to note are that it is a zero-sum, partial-information game where players are playing against each other and not the house (as they are in most other gambling games). It is a game of skill—better players win more over time—but there is a huge element of chance. In order for the house to make any money (casinos are not charities after all), a small percentage of the bets are kept by the house, which is usually called the "rake". All of that made poker an ideal candidate for online play. He put up a screen shot of a online poker game from 1999 and noted that all of today's poker sites have a similar look. It features a simple user interface that allows players to quickly and easily see the cards and make their bets. Most online poker players do not want sophisticated graphics and the like. So poker is relatively easy to write an online system for; there are a few "tricky bits", but in comparison to, say, an online multiplayer role-playing game, there are only minimal timing or network-delay issues to handle. It is completely turn-based and the state of the game is easily maintained on the server side. In addition, the client does not need any secret information, so the ability to cheat by extracting secrets from the data sent back and forth is eliminated—or, at least, it should be. The main problem for these systems is scaling them to accommodate as many tables as there is demand for. Serious players want to play in multiple games at once and the house maximizes its revenue by the number of games it can run. The "watershed moment" for online poker came in 2003 when Chris Moneymaker—his actual birth name, as has been documented—joined into a "satellite tournament" for the World Series of Poker (WSoP). Moneymaker paid $86 to enter the tournament and ended up winning the $10,000 entry into the main WSoP event in Las Vegas; he won that tournament and received $2.5 million for doing so. That created a huge boom in online poker, Kuhn said.

So hopefully you've taken the time to submit something. Lots of folks have, and thank you! Maybe you're still not sure what you could talk about at ChefConf? Maybe you've got some interesting people stories from your time in the automation mines. Over the years we've categorized these talks as "DevOps" or "People, Processes, and Teams", but the real guts of the discussion centers on how tooling helps people get their jobs done better, as well as how new theories in teamwork and product delivery impact technical teams. How we work together sets the stage for how we succeed together.