Firefox 69 + Chrome 77 On Windows 10 vs. Ubuntu / Clear Linux Benchmarks
Submitted by Rianne Schestowitz on Tuesday 8th of October 2019 04:52:19 PM
Filed under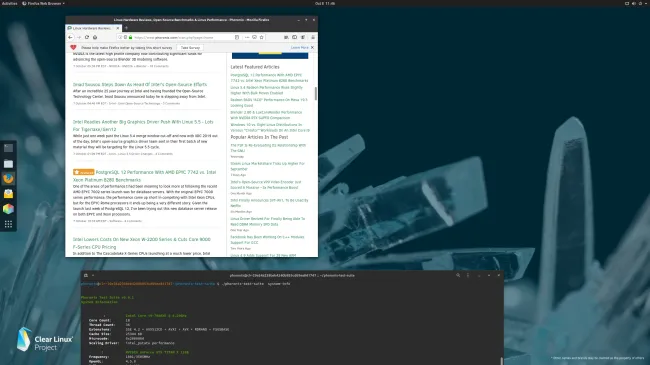 With running some fresh cross-OS benchmarks now that Ubuntu 19.10 is imminent followed by Ubuntu 19.10, a new Windows 10 update coming in the days ahead, and also the release of macOS 10.15, a lot of fun benchmarks are ahead. In today's article is a quick look at the Windows 10 vs. Ubuntu 19.10 vs. Clear Linux web browser performance for both Mozilla Firefox and Google Chrome.
For this round of benchmarking was Windows 10 Pro Build 18362, Ubuntu 19.10 with its latest packages as of 6 October, and Clear Linux 31210 all running on the same system. The system used for this round of benchmarking was the Intel Core i9 7980XE with ASUS PRIME X299-A motherboard, 4 x 4GB DDR4-3200 Corsair memory, NVIDIA GeForce GTX TITAN X with the NVIDIA proprietary drivers, and Samsung 970 EVO 500GB NVMe SSD for storage.
Via the Phoronix Test Suite (https://www.phoronix-test-suite.com/) a range of browser tests were run via Firefox 69 and Chrome 77 on each of these three operating systems under test. Again, a larger OS comparison also including macOS and the newest Linux/Windows updates will be forthcoming as well over October and into November thanks to the existing autumn update season.
»
Printer-friendly version

2412 reads

PDF version
More in Tux Machines
Plasma 5.17 for Kubuntu 19.10 available in Backports PPA

We are pleased to announce that Plasma 5.17.1, is now available in our backports PPA for Kubuntu 19.10. The release announcement detailing the new features and improvements in Plasma 5.17 can be found here

Android Leftovers

Raspberry Pi 4: Chronicling the Desktop Experience – Week 1

This is a weekly blog about the Raspberry Pi 4 ("RPI4"), the latest product in the popular Raspberry Pi range of computers. The purpose of the blog is two-fold. Primarily, it's to share my experiences using the RPI4 purely as a desktop replacement machine, to see what works well, and what doesn't. It's also to act as an aide-mémoire for myself. Along the way, I'll be exploring what I'm looking for from a desktop machine. Smooth running multimedia, office based software, email, networking, and productivity apps are all high on my list of priorities. Rest assured, even though I am a huge advocate of the Pi range of computers, I'll be brutally honest in my critique of RPI4. For example, the RPI4 is marketed as an energy efficient computer. In a way that's very true. The Pi consumes a mere 2.8 watts when idle and about 5w when maxing out all 4 cores. But the firmware doesn't automatically switch off the monitors' backlight. Instead, it only blanks the screen. While there are plans to fix this issue (part fix with a working vcgencmd), it's a startling omission. With inadequate power management of the monitors, it's hard to consider the Pi 4 as an energy efficient desktop solution.

Open Source CMS Ghost 3.0 Released with New features for Publishers

Ghost is a free and open source content management system (CMS). If you are not aware of the term, a CMS is a software that allows you to build a website that is primarily focused on creating content without knowledge of HTML and other web-related technologies. Ghost is in fact one of the best open source CMS out there. It's main focus is on creating lightweight, fast loading and good looking blogs. It has a modern intuitive editor with built-in SEO features. You also have native desktop (Linux including) and mobile apps. If you like terminal, you can also use the CLI tools it provides.