Apache Rya matures open source triple store database
Submitted by Roy Schestowitz on Friday 18th of October 2019 03:48:17 PM
Filed under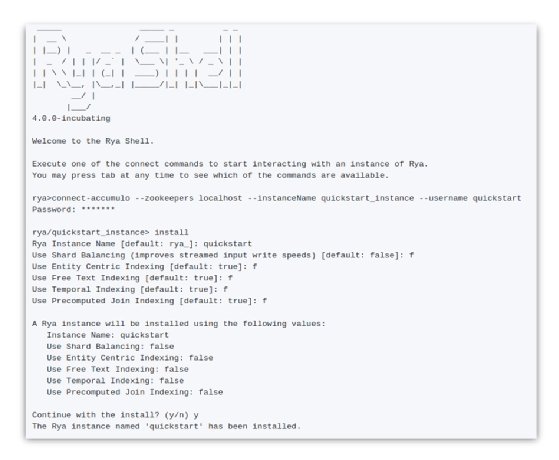 The open source Apache Rya database effort is continuing to move forward as it reaches a new level of project maturity and acceptance.
Rya (pronounced "ree-uh") is an RDF (resource description framework) triple store database. The project started at the U.S. government's Laboratory for Telecommunication Sciences with an initial research paper published in 2012.
The project joined the Apache Software Foundation (ASF) in 2015 as an incubated project, and in September 2019 achieved what is known as Top-Level Project status. The Top-Level status is an indication and validation of the project's maturity, code quality and community. The ASF is home to Hadoop, Spark and other widely used database and data management programs.
Also: Yahoo Groups is being prepared for shutdown, with all stored archives to be deleted on Dec 14
»
Printer-friendly version

1510 reads

PDF version
More in Tux Machines
GNOME 40 Alpha Released

GNOME 40 is now available as the first step towards releasing this updated Linux desktop environment in March. GNOME 40 Alpha comes with a ton of changes -- many of which we have been outlining in various Phoronix articles over the past few months. Among the main highlights of GNOME 40

Kali Linux hands-on: A look at the installation options

Anyone involved in or even significantly interested in cybersecurity has probably heard of Kali Linux. Since its early days as BackTrack, it has been considered the standard in penetration testing and security analysis platforms. In my opinion, it also happens to be one of the best Debian GNU/Linux distributions available. It is based on Debian stable (currently 10/buster), but with a much more current Linux kernel (currently 5.9 in Kali, compared to 4.19 in Debian stable and 5.10 in Debian testing).

Ubuntu Emailing With Thunderbird And Android's K-9

Continuing email beginner's guide, now we Ubuntu users who have Android can read our emails anywhere anytime in both devices. It's a wonderful experience. On computer we use Thunderbird, while on phone we use K-9, both are free software. This tutorial uses Disroot email account as example, thanks to its gratis IMAP feature. Now, let's go! Fortunately, Ubuntu users do not need to install anything anymore. But for Android users, you will install K-9 Email Client, it is available at free software center F-Droid.

Write GIMP scripts to make image processing faster

Some time ago, I wanted to give a blackboard-style look to a typeset equation. I started playing around with the GNU Image Manipulation Program (GIMP) and was satisfied with the result. The problem was that I had to perform several actions on the image, I wanted to use this style again, and I did not want to repeat the steps for all the images. Besides, I was sure that I would forget them in no time. GIMP is a great open source image editor. Although I have been using it for years, I had never investigated its batch-processing abilities nor its Script-Fu menu. This was the perfect chance to explore them.