Solus Brightens Computing Across the Linux User Spectrum
Submitted by Rianne Schestowitz on Friday 18th of October 2019 07:03:46 PM
Filed under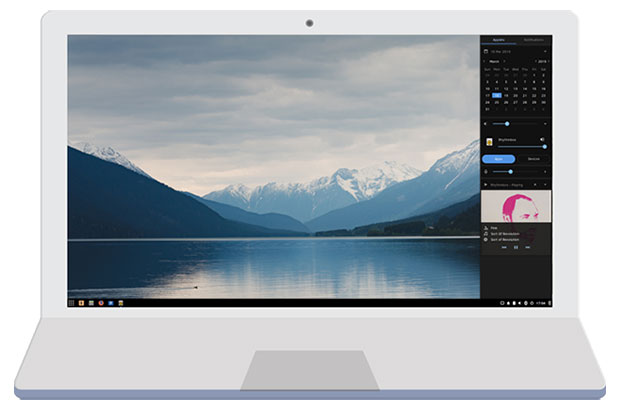 Regardless of how you spend your time at the keyboard, Solus can be an ideal solution for all your computing needs. It comes with a collection of specially designed tools to make using and maintaining the operating system a uniquely easy experience.
For technically minded users, Solus supports a wide variety of editors, programming languages, compilers and version-control systems. It has tools for containerization/virtualization technology, such as Docker and Vagrant. Whether you're writing drivers in C or writing backend Web services in Go, there is software that will fit your needs.
Home or office users will be pleased with the latest LibreOffice suite version 6.2.1.2. The Solus Software Center has options for accounting, Personal Information Management and more. Content Creators can animate in Synfig Studio, produce music with Musescore or Mixxx, do graphic designing with GIMP or Inkscape, and edit videos with Avidemux, Kdenlive or Shotcut.
Gamers can enjoy open source games natively configured for Solus with support for many gamepads and controllers. With little or no setup required, gamers can play Steam titles for Linux with a modern, optimized gaming runtime. There is also built-in support for the Itch.io and Lutris gaming platforms.
»
Printer-friendly version

1259 reads

PDF version
More in Tux Machines
Fedora: Qubes, rpminspect, rpminspect, and ProcDump

Programming: Interview With Guido van Rossum, Python Picks and New Release of Picolibc From Keith Packard

VXL Launches CloudDesktop On the Go (CoGo), a Truly Portable Linux Micro Thin Client

VXL, a leader in thin clients, endpoint management and digital signage software solutions, launches its new, low cost, CloudDesktop On the Go (CoGo). An ultra-compact and highly portable USB key, CoGo repurposes legacy PCs into a fully functional Linux thin client. Available with a lifetime perpetual license and priced at a highly competitive $77 including first year support, CoGo offers users up to a massive 50% saving over equivalent software solutions. CoGo allows businesses to extend the life of ageing PC hardware by using it to access server-hosted computing sessions or virtual desktop infrastructure. Users simply plug CoGo into a PC and boot from it. The VXL Gio Linux firmware is instantly useable without overwriting the local OS and the converted PC can be managed as thin client.

ALT Linux: Worthy Linux Alternatives, With a Catch

ALT Linux may have a problem with getting English language updates on some of its most recent product releases. The primary geographic audience it serves may not make English a top priority. Yet many of its products are available with the English language intact. The great variety of Linux distros available make ALT Linux a very viable source of options for anyone looking to sample the flexibility the Linux operating system offers. I like the starter kit inventory maintained by the ALT Linux developers. Distro hoppers particularly can focus on trying dozens of desktop varieties without having to adjust to separate distro designs. All of the ALT Linux distros share a common, simple design for ease of use and reliability.