Solus Brightens Computing Across the Linux User Spectrum
Submitted by Rianne Schestowitz on Friday 18th of October 2019 07:03:46 PM
Filed under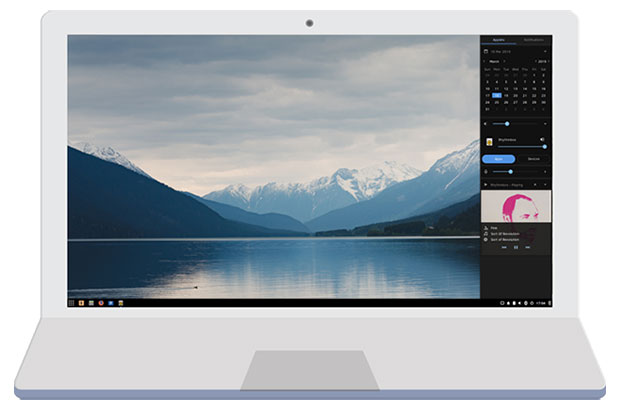 Regardless of how you spend your time at the keyboard, Solus can be an ideal solution for all your computing needs. It comes with a collection of specially designed tools to make using and maintaining the operating system a uniquely easy experience.
For technically minded users, Solus supports a wide variety of editors, programming languages, compilers and version-control systems. It has tools for containerization/virtualization technology, such as Docker and Vagrant. Whether you're writing drivers in C or writing backend Web services in Go, there is software that will fit your needs.
Home or office users will be pleased with the latest LibreOffice suite version 6.2.1.2. The Solus Software Center has options for accounting, Personal Information Management and more. Content Creators can animate in Synfig Studio, produce music with Musescore or Mixxx, do graphic designing with GIMP or Inkscape, and edit videos with Avidemux, Kdenlive or Shotcut.
Gamers can enjoy open source games natively configured for Solus with support for many gamepads and controllers. With little or no setup required, gamers can play Steam titles for Linux with a modern, optimized gaming runtime. There is also built-in support for the Itch.io and Lutris gaming platforms.
»
Printer-friendly version

1742 reads

PDF version
More in Tux Machines
DRM, Ransom, and Proprietary Spyware

Sparky 2020.12

The December snapshot of Sparky 2020.12 of the (semi-)rolling line is out. It is based on the Debian testing "Bullseye". Changes: • packages updated from Debian testing repos as of December 3, 2020 • Linux kernel 5.9.11 (5.9.12 & 5.10-rc6 in Sparky unstable repos) • Calamares 3.2.34 + kpmcore 4.2.0 • APTus replaced by APTus AppCenter 20201203-RC1; it is still under development but it is enough stable to let you test and work on it https://sparkylinux.org/sparky-aptus-appcenter/ • added 'sparky-www' – it is a small package, which provides a custom Sparky's start page, powered by DuckDuckGo, to your favorite web browser; the start page is located at /opt/sparky/index.html and has to be loaded manually to a web browser, after installing the package https://wiki.sparkylinux.org/doku.php/sparky_www • Firefox 83.0 • Thunderbird 78.5.0 • LibreOffice 7.0.3 • VLC 3.0.11 • Exaile 4.1.0 beta1 • libpython3.9 is installed, but Python 3.8 is still the default one • python2.x & libpython2.x removed • GCC 10.2.0 as the default compiler • added RSS feed clients: QuiteRSS to LXQt and Liferea to MATE and Xfce iso images

CMS: State of the Word, WordPress and More

State of the Word is an annual keynote address delivered by the project co-founder, Matt Mullenweg. [...] A Question and Answer period with pre-recorded videos will follow State of the Word. To take part, record a video of you asking your question to Matt on your computer or phone (landscape format, please). Don't forget to include your name and how you use WordPress! Try to keep your video to under a minute so Matt can answer as many questions as possible.

In this article, we are going to see best WordPress Gallery Plugin to Showcase your Portfolio. showcase your work to the best effect with a WordPress Gallery Plugin. No matter what kind of website you have, be it an online shop or a blog, you have to make it stand out. There are about two billion websites today, which means that getting yours noticed is extremely hard. Granted, less than half of these pages are active. However, even with those numbers it will be difficult to attract traffic to your page and then keep visitors interested enough to stick. Increasing the visual appeal of your site is as important as offering valuable content if you want to keep people interested.

In a nutshell, when you install too many apps, you call on problems. Your site will get sluggish, and you will lose customers due to the site's poor performance. And it will be much harder to fix those issues.

Games: APICO, Liquidation - Echoes of the Past and Chat Clients