How to Use Upswift to Manage Your IoT Devices Remotely
Submitted by Roy Schestowitz on Thursday 24th of October 2019 08:50:32 AM
Filed under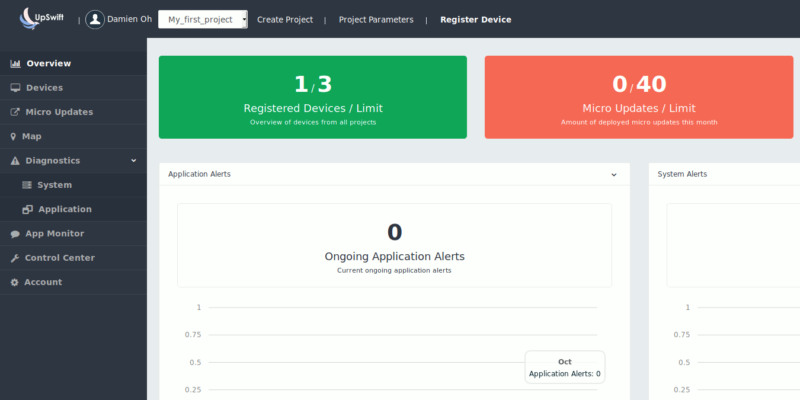 If you are developing only one IoT device, it is quick and easy to update and manage it. But what if you have 10, 50 or 100 devices ? Managing all of them suddenly becomes a hassle. This is where UpSwift comes into play.
UpSwift is a management software that allows you to control and manage your Linux-based devices remotely. All the connected devices are displayed in one dashboard, and you can easily manage all your devices at the same time.
[...]
UpSwift currently only supports Linux-based devices. To get started, simply sign up for an account at the UpSwift website. It is free to sign up for an account, and the free plan allows you to connect up to three devices. This is good enough for you to try out the software. For up to ten devices, they have different price plans for different needs.
»
Printer-friendly version

1708 reads

PDF version
More in Tux Machines
Stable Kernels: 5.9.12, 5.4.81, 4.19.161, 4.14.210, 4.9.247 and 4.4.247


I'm announcing the release of the 5.9.12 kernel.

All users of the 5.9 kernel series must upgrade.

The updated 5.9.y git tree can be found at:
	git://git.kernel.org/pub/scm/linux/kernel/git/stable/linux-stable.git linux-5.9.y
and can be browsed at the normal kernel.org git web browser:
	https://git.kernel.org/?p=linux/kernel/git/stable/linux-s...

thanks,

greg k-h

Also: Linux 5.4.81 Linux 4.19.161 Linux 4.14.210 Linux 4.9.247 Linux 4.4.247

Now and Then: The Fate of 15 More Linux Distributions

A typical desktop Linux distribution consists of various software components including the Linux kernel, a broad collection of programming tools produced by the GNU Project, a graphical server, and other free and open source software. Due to Linux's open source nature, there are many hundreds of actively maintained distributions or 'distros' of the OS. Linux distros are like Linux software in general. They come and (some) go. A few weeks ago we carried an article which tracked Linux distributions placed in the top 15 in 2006 on Distrowatch's page hit ranking. The article proved popular, in part because it stoked controversy about the relevancy of the page hit ranking. We don't use their hit ranking as a gauge of the popularity or usage of a specific distribution. But neither is there any evidence to show the page hit ranking is rigged. Instead, the hit ranking acts as a rough barometer of which distributions are attracting interest.

Multi-touch Gestures in elementary OS 6

One of the most hotly requested features for years has been to have multi-touch gestures in elementary OS, and with 6.0 I'm excited to say that we will deliver. Like the dark style preference, delivering a great multi-touch experience is a little more complicated than it seems on the surface. There have been some 3rd party tools to detect touchpad gestures and then trigger actions after-the-fact, but it wasn't until recently that we've had the technical ability to provide smooth, responsive animations that track 1:1 with your finger movement across a touchpad or touch screen. We've had the great pleasure of working with José Expósito, the author of Touchégg, on our window manager gestures. In elementary OS 6, we use Touchégg Daemon behind the scenes to capture input events and communicate them to Gala, our window manager. Also: elementary OS 6 to get great looking multi-touch gestures

Watch Live TV on Linux With Hypnotix: A New IPTV Application Being Developed by Linux Mint Team

The rise of streaming services like Netflix made people speculate about the dim future of TV channels. While the newer generation might not watch TV anymore, TV channels are not out of fashion, yet. Many streaming services like Hulu and Hotstar include TV channels in their offering. TV channels are also utilizing live streaming to broadcast their content to viewers on the internet. Another way to watch live TV is by using IPTV. There are a number of TV channels available via IPTV so that viewers can use internet to watch the live broadcast. Some channels are available for free while some might require subscription.