Halloween Update for FreeCAD & Debian Science Work
Submitted by Roy Schestowitz on Friday 1st of November 2019 05:15:21 PM
Filed under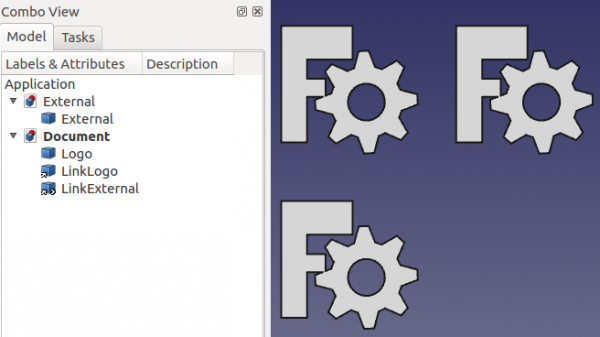 In August, a major milestone towards unified, mainline mechanical assembly functionality in FreeCAD was reached.
One of the core challenges in implementing assembly functionality is the problem of topological naming. In a CAD model there are topological entities, such as solids, faces, edges, and vertices. We must choose some algorithm to name them so that you can refer to relationships to make an assembly. A simple example would be two cubes, connected by touching faces. If a parameter in your model changes, and after recalculation, your "Face_N" is on the wrong side of the cube, your assembly may break, or not be what you are expecting. Without a good approach to topological naming, parametric FreeCAD models won't be robust to changes and recalculations, which defeats the purpose of parametric modeling.
Because this is such a difficult problem, progress has been slow. However, recently a relatively new FreeCAD developer, 'realthunder', put significant work towards this problem, with a solution finally on the horizon. Because it required major changes to FreeCAD's internals, the review and testing period was and continues to be lengthy.
»
Printer-friendly version

3367 reads

PDF version
More in Tux Machines
GNU, GTK/GNOME, and More Development News

today's howtos and instructional sessions/videos

TDF Annual Report and LibreOffice Latest

       

The Annual Report of The Document Foundation for the year 2019 is now available in PDF format from TDF Nextcloud in two different versions: low resolution (6.4MB) and high resolution (53.2MB). The annual report is based on the German version presented to the authorities in April. The 54 page document has been entirely created with free open source software: written contents have obviously been developed with LibreOffice Writer (desktop) and collaboratively modified with LibreOffice Writer (online), charts have been created with LibreOffice Calc and prepared for publishing with LibreOffice Draw, drawings and tables have been developed or modified (from legacy PDF originals) with LibreOffice Draw, images have been prepared for publishing with GIMP, and the layout has been created with Scribus based on the existing templates.

LibreOffice 6.4.5 was announced on July, 2

This week, I was mainly working on cleaning up and migrating the patches from my experimental branch to LO master.

Better Than Top: 7 System Monitoring Tools for Linux to Keep an Eye on Vital System Stats

Top command is good but there are better alternatives to Top. Take a look at these system monitoring tools in Linux that are similar to top but are actually better.