A Beginner's Guide to Sonic Pi
Submitted by Roy Schestowitz on Thursday 7th of November 2019 02:58:31 AM
Filed under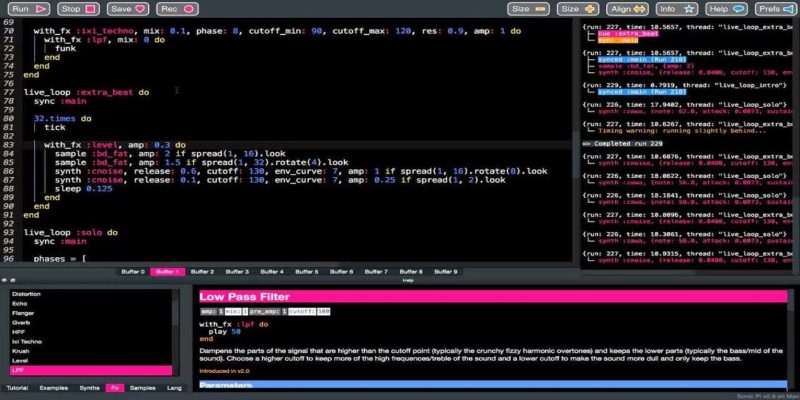 Developed by Sam Aaron at the University of Cambridge, Sonic Pi was intended to be a tool for teaching programming to kids by combining computer code with music. But very much like the Raspberry Pi itself, it was found and adopted by a dedicated community of enthusiasts who put it to far more ambitious uses.
Today, Sonic Pi is a project supported by hundreds of Patreons across the globe and used by everyone from professional musicians to casual hobbyists. It remains a wonderful tool to learn programming in a non-boring, interactive manner, which is why it is used by educationists worldwide as well.
Follow us as we delve into the musical world of Sonic Pi, and you will be mixing beats and creating the next party anthem in no time!
»
Printer-friendly version

1393 reads

PDF version
More in Tux Machines
Devices and Open Hardware: Chomebox, MNT Reform, Arduino and More

Programming: Awk, LLVM Clang and Qt

Q4OS 4.2 Gemini, testing

An update to the Q4OS 4 Gemini testing branch is immediately available for download as 64bit live media. The new 4.2 release is based on Debian 11 Bullseye and features Plasma desktop environment by default. New visual Plasma themes have been added, they are now available in system settings utility. Debian Bullseye packages has been received in their latest version, Q4OS specific packages has been updated as well. New version of Trinity desktop 14.0.10 is ready for installation using the Desktop profiler tool. Feel free to download live media for 64bit computers from the dedicated Testing releases site. Q4OS 4 Gemini will be in development until Debian Bullseye becomes stable, and it will be supported at least five years from the official release date.

Security: Patches, Diffoscope, Netfilter, and Intel Defects