The Document Foundation welcomes the release to OASIS of the TC Committee Draft of ODF Version 1.3 for ratification
Submitted by Roy Schestowitz on Friday 8th of November 2019 02:15:35 AM
Filed under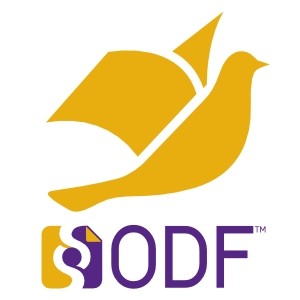 The Document Foundation welcomes the release to OASIS of TC Committee Draft of ODF Version 1.3 for ratification. At the end of the process, ODF Version 1.3 will be submitted to ISO to become a standard. The final approval is expected in late 2020 or early 2021.
Editing of ODF Version 1.3 Committee Draft has been sponsored by the Community of ODF Specification Maintainers (COSM), a project launched by The Document Foundation in 2017 with the donation of a seed of euro 10,000 to get the COSM project started, plus up to euro 20,000 to match each euro donated by other stakeholders.
So far, the COSM project has been backed by Microsoft, Collabora, the UK Government Digital Services, CIB, the European Commission's StandICT project and Open-Xchange. The money has been used to pay an editor to finalize the ODF 1.3 specification and manage it through the OASIS review and ratification process.
Major new features of ODF 1.3 are digital signature and OpenPGP-based XML encryption of documents, plus several improvements to features already available in ODF 1.2 like new polynomial and moving average regression types for charts, a new specification for number of decimal digits in number formatting, a special header/footer style for first page of documents, contextual spacing for paragraphs, additional type argument values for the WEEKDAY function, and the new text master template document type. Most of these new features have been contributed by developers at CIB, Collabora, Microsoft and The Document Foundation.
»
Printer-friendly version

1609 reads

PDF version
More in Tux Machines
A Look At The GCC Compiler Tuning Performance Impact For Intel Ice Lake

For those wondering if it's worthwhile for performance recompiling your key Linux binaries with the microarchitecture instruction set extensions and tuning for Ice Lake, here are some GCC compiler benchmarks looking at that impact for the Core i7 1065G7 on the Dell XPS 7390. In particular, this article is looking at the affect on generated benchmark binaries when built under the following CFLAGS/CXXFLAGS configurations: -O3 -march=skylake - Just optimizing for conventional Skylake processors. -O3 -march=skylake-avx512 - Optimizing for Skylake AVX-512 processors like Skylake-SP/Skylake-X. The Skylake AVX-512 enables use of the AVX512F, CLWB, AVX512VL, AVX512BW, AVX512DQ and AVX512CD instructions. -O3 -march=icelake-client - Optimizing for Icelake client/desktop processors. New instructions exposed here not found with Skylake/Skylake-AVX512 include AVX512VBMI, AVX512IFMA, SHA, CLWB, UMIP, RDPID, GFNI, AVX512VBMI2, AVX512VPOPCNTDQ, AVX512BITALG, AVX512VNNI, VPCLMULQDQ, and VAES. Note there is also the "icelake-server" target for future Ice Lake Xeon Scalable processors where additionally PCONFIG and WBNOINVD are flipped on.

Android Leftovers

PHP 7.4 Performance Benchmarks Show A Nice Improvement - But PHP 8.0-dev Is Running Even Faster

PHP 7.4 is due to be released next week as the annual major iteration to PHP7. Like we have seen through the PHP7 releases, while new features continue to be tacked on for this popular web-based programming language the performance has continued evolving. Here are the latest benchmarks of PHP 5.6 through PHP 7.4 while also looking at the PHP 8.0-dev performance that is in development on Git master. Outside of the performance realm, PHP 7.4 is another exciting update thanks to finally introducing FFI support. The Foreign Function Interface for PHP allows accessing C structs/functions/variables from native PHP code for making it easier to interact with C libraries from PHP. In addition to the headlining FFI support of PHP 7.4, this next release has a preload function to preload functions/classes to speed-up the loading of scripts by 30~50%, language alterations, TLS 1.3 support in PHP OpenSSL streams, and a variety of other smaller additions.

Stable kernels 5.3.12, 4.19.85, and 4.14.155

I'm announcing the release of the 5.3.12 kernel. All users of the 5.3 kernel series must upgrade. The updated 5.3.y git tree can be found at: git://git.kernel.org/pub/scm/linux/kernel/git/stable/linux-stable.git linux-5.3.y and can be browsed at the normal kernel.org git web browser: https://git.kernel.org/?p=linux/kernel/git/stable/linux-s...