Rewriting large parts of Beast and Bse
Submitted by Roy Schestowitz on Friday 8th of November 2019 03:01:11 AM
Filed under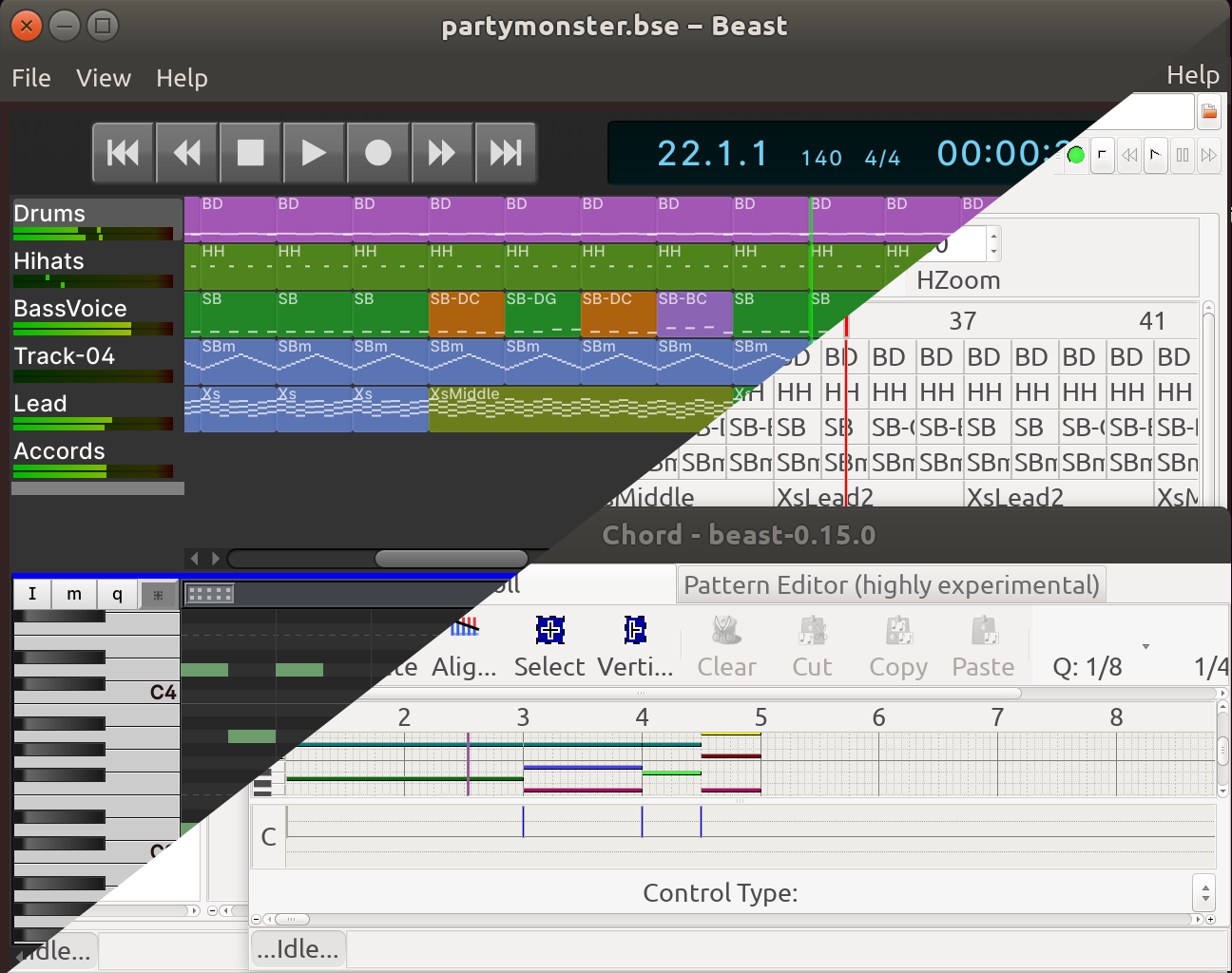 Last Tuesday Beast 0.15.0 was released. This is most probably the last release that supports the Gtk+ Beast UI. We have most of the bits and pieces together to move towards the new EBeast UI and a new synthesis core in the upcoming months and will get rid of a lot of legacy code along the way.
For a bit of background, we started the migration to C++ some 10+ years ago, but really moving the code away from a GObject and GParamSpec type system and a GValue based IPC system proved to take much longer than originally anticipated. In addition, the Beast synthesis facilities (many of which were introduced ca 20 years ago) are far from state of the art by modern standards. In particular the way synthesis modules have to be manually connected and how basic synthesis devices still have to be created from scratch with Mono voice modules feels very inefficient.
»
Printer-friendly version

1520 reads

PDF version
More in Tux Machines
Comparing the similarities and differences between inner source and open source

Open source software (OSS) has been around since the 1990s and has thrived, quickly growing to become mainstream. It is now more well understood around the world than it has ever been before. Some refer to it as FOSS to highlight the Freedom part of open source (Free and Open Source Software). And in 2014, at OSCON, the term "inner source" was debuted, and people started talking about how to use the principles of open source, but inside of a company. It raised several questions for those unfamiliar with the term, which I hope to answer with this article. For example, what is similar about the two, what is different, the company roles involved in the two, is inner source taking the energy away from open source, etc. These are all fair questions, and as my organization practices both and is involved in both movements, I want to take some time to share insight with this audience as a developer, as a company, and as an open source enthusiast.

4 questions about AI ethics and how open source can help

As a high school student, I've become very interested in artificial intelligence (AI), which is emerging as one of the most impactful innovations of recent times. This past summer, I was selected for the AI4ALL program, where we learned how to develop AI systems using Python. For my final project, I created an object-detection program and integrated it with a virtual drone simulation. Throughout the project, I was able to use open source frameworks, including TensorFlow, Keras, Scikit-learn, and PyTorch, to aid in developing the object-detection machine learning (ML) algorithm process.

MuditaOS: A Beautiful and Minimal Open Source Mobile Operating System

MuditaOS is a beautiful, minimal open-source operating system for mobile phones. Unlike other mobile phone operating systems, however, the developers behind MuditaOS are not interested in smartphones. Instead, they aim to take us to the era before the smartphone craze that has lead to distrust for big tech companies, but with a far cooler style. Developing this mobile operating system has admittedly been a challenge to the team and they are excited to have come up with a beautifully designed E Ink OS, which they have open-sourced to meet the modern user's desire for transparency without compromising quality. When the company developed and open-source the operating system, they announced that open-sourcing the OS goes along the lines of their "You're happy – I'm Happy" philosophy and this makes even more sense when you understand that Mudita is from the Sanskrit word "Mudit" which translates to 'Happy'.

TUXEDO Computers Enables Full Linux Support on the Intel-TongFang QC7 Gaming Laptop

At the request of numerous users, TUXEDO Computers is now providing the necessary drivers and software needed to enable full Linux support on the Intel-TongFang QC7 reference gaming laptop, which is the base of several laptops available for purchase in stores across Europe and the US. Some well known brands include the Aftershock / LEVEL51 Vapor 15 Pro, Eluktronics MAG-15, MAINGEAR ELEMENT, and XMG FUSION 15, the latter being now offered by TUXEDO Computers on their online store fully configurable and pre-installed with the company's in-house built, Ubuntu-based TUXEDO_OS.