ALT Linux: Worthy Linux Alternatives, With a Catch
Submitted by Rianne Schestowitz on Friday 15th of November 2019 07:15:03 PM
Filed under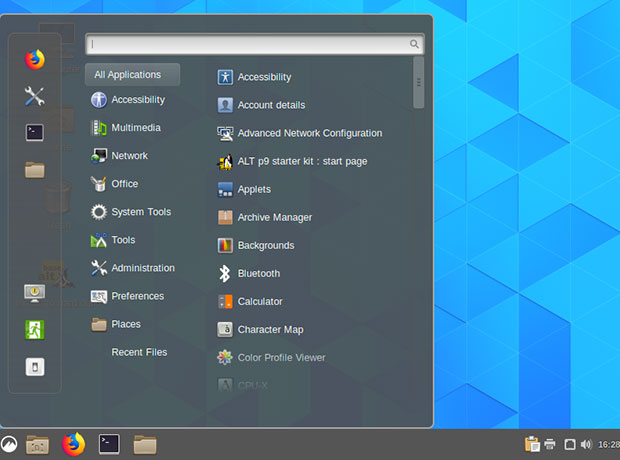 ALT Linux may have a problem with getting English language updates on some of its most recent product releases. The primary geographic audience it serves may not make English a top priority. Yet many of its products are available with the English language intact.
The great variety of Linux distros available make ALT Linux a very viable source of options for anyone looking to sample the flexibility the Linux operating system offers. I like the starter kit inventory maintained by the ALT Linux developers.
Distro hoppers particularly can focus on trying dozens of desktop varieties without having to adjust to separate distro designs. All of the ALT Linux distros share a common, simple design for ease of use and reliability.
»
Printer-friendly version

2417 reads

PDF version
More in Tux Machines
Android Leftovers

Pekwm: A lightweight Linux desktop

Let's say you want a lightweight desktop environment, with just enough to get graphics on the screen, move some windows around, and not much else. You find traditional desktops get in your way, with their notifications and taskbars and system trays. You want to live your life primarily from a terminal, but you also want the luxury of launching graphical applications. If that sounds like you, then Pekwm may be what you've been looking for all along. Pekwm is, presumably, inspired by the likes of Window Maker and Fluxbox. It provides an application menu, window decoration, and not a whole lot more. It's ideal for minimalists—users who want to conserve resources and users who prefer to work from a terminal.

What motivates people to contribute to open source?

Knowing what motivates people is a smart way to recruit contributors to an open source project—and to keep them contributing once they've joined. For his book How Open Source Ate Software, Red Hat's Gordon Haff did a lot of research on the topic of motivation, and he shared some of it in his Lightning Talk at All Things Open 2019, "Why do we contribute to open source?" Watch Gordon's Lightning Talk to learn about the three main types of motivation—extrinsic, intrinsic, and internalized extrinsic—what they are, and how they relate to open source communities.

6 Best Free Linux Speed Reading Tools

The idea of speed reading was invented by an American schoolteacher named Evelyn Wood. There's a few different approaches when it comes to speed reading. Spritz technology is based on the notion that much of the time spent in reading text is taken by the eye's focus moving between words and across the page. According to Spritz, spritzing is defined as reading content one word at a time with the optimal recognition point (ORP) positioned inside of their custom "redicle". After your eyes find the ORP, your brain starts to process the meaning of the word that you're viewing. The concept of speed reading in this context is simple: slice a text into individual short segments, like a word. The software featured in this group test is based on spritzing. Read text without moving your eyes, and therefore rapidly increase your reading speed. Unlike other reading techniques, you don't need to rewire your brain to work more efficiently.