PHP Web Server GUI - Version 1.0.0 Released
Submitted by Roy Schestowitz on Sunday 24th of November 2019 10:17:06 AM
Filed under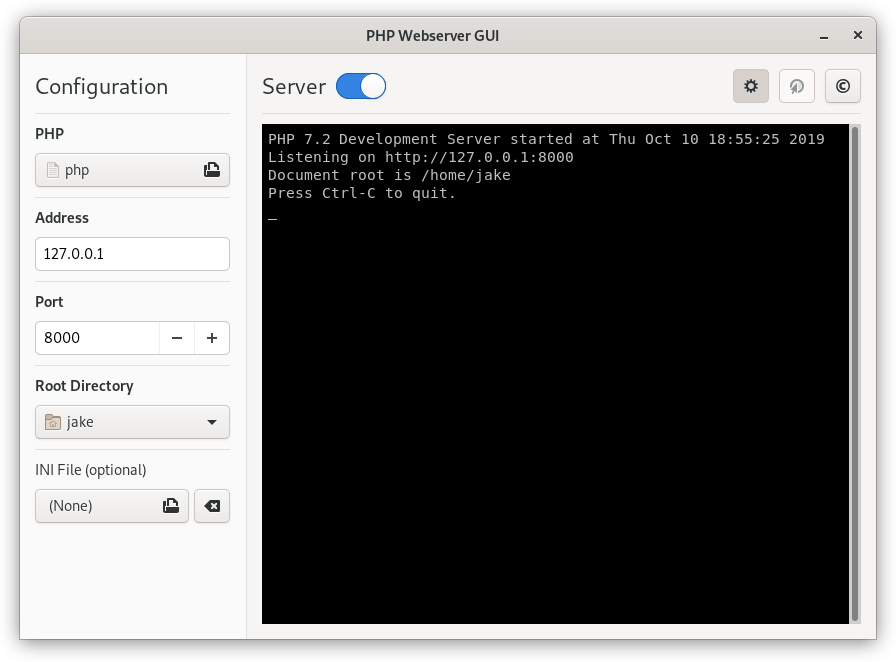 PHP's built-in web server is a CLI feature, as such it requires a specific command to use, one which is easy to forget and gets buried in your terminal's history. While writing a script can help, it too gets buried in your terminal history, or is often located in an inconvenient place on the filesystem, requiring you to browse to the script before you can use it. This basic GTK+ GUI solves these issues. It's as easy to use as any other app on your system.
It's also a great tool for teaching PHP or the fundamentals of how web servers work. It's an easy tool for students to use, for learning programming, in Raspberry Pi projects, robotics, or anything else that requires a web-based interface or centralized server communication. Many of these things are true of PHP's built-in web server itself, this GUI just makes it easier to use for people who are not comfortable using the command line.
»
Printer-friendly version

1578 reads

PDF version
More in Tux Machines
OpenWiFi Open-Source Linux-compatible WiFi Stack Runs on FPGA Hardware

WiFi is omnipresent on most connected hardware, and when it works it's great, but when there are issues oftentimes they can not be solved because the firmware is a closed-source binary.

Analyzing Cinnamon keyboard shortcuts

Hello yet again, once again! For those who are not acquainted with this series, I am in an endeavor to analyze keyboard shortcuts in most major DEs so that we, the KDE community, can decide on the best defaults for KDE Plasma. Last time I analyzed MATE, and before that, XFCE. This time we analyze Cinnamon, a non-keyboard-driven environment that quite surprised me. I didn't recall it was the case (I've used Cinnamon as a replacement for Windows 7 for some time in an old machine), but Cinnamon is actually quite similar to Plasma. It has quite surprised me, but this will stay for another day. One thing of note I will do on my next post in the series will be breaking the order I've followed until now for which DE to analyze, which was the list I made on the Phabricator task which is being tracked in this blog series. This is so because we're close to Plasma 5.18, which is an important milestone to KDE—it will be an LTS version which should likely ship with LTS Kubuntu. Thus, I'll focus first on keyboard-driven environments and speed things up for quicker decision-making. Oh, and I've had my birthday on the 12th of December! As a treat to myself, I tweaked the blog a bit. Weirdly enough, if I schedule my posts correctly, this post should be up three days after my birthday, the next should be three days prior to christmas and the next should be three days prior to New Year's eve!

Best MySQL Clients for Ubuntu

MySQL is very popular and one of the most widely used relational database management systems. Written in C and C++, it was developed and released by Oracle Corporation in mid 1995. Since then its popularity has only one direction i.e. northwards. Reason behind ever increasing popularity is that it is open-source and very easy to use, and integrates with various web apps and tools very easily. LAMP (Linux, Apache, MySQL, PHP) is very popular combination and a backbone of various popular applications. There are many MySQL GUI clients for Windows users but if you're working on Ubuntu then in this article I'm going to introduce you to the 5 best MySQL clients that you can use on Ubuntu and other Linux distributions.

Prime Numbers, Encryption and the Linux Factor Command

Have you ever needed to print the prime factors of a number on the Linux command line? Me neither. However, a tool does exist for it. Enter the factor command. The factor command is part of the GNU Core Utilities package, therefore it is available on almost any Linux system. This little beauty has the singular purpose of producing the prime factors of any number. To me, this is pretty neat. To anyone interested in learning cryptography or number theory, this may be a useful, if not fun, little utility.