Clementine | A New Music Player in Debian 10
Submitted by Roy Schestowitz on Wednesday 11th of December 2019 04:18:36 AM
Filed under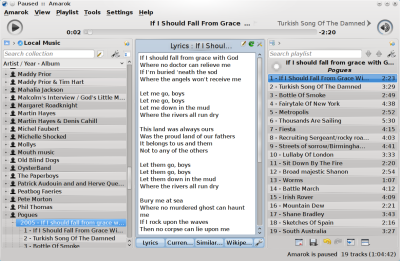 Clementine has improved the interface by putting all the main features, from accessing the local library to streaming services, on a sidebar on the left. This sidebar has several options, although the most legible, the plain toolbar, is not the default. Still, no matter what the appearance, Clementine's sidebar goes one better than Amarok by adding a file manager to the tool collection. However, one change that is not an improvement is the song info tool. To get lyrics and other information, users must click on a link and go to their web browser. There, instead of offering and displaying a best guess, like Amarok does, Clementine offers a range of possibilities, which are often so lengthy a list that, by the time you find the right entry, the track could easily have finished. Admittedly, Amarok's best guess could occasionally be hilariously wrong, but it was quicker and displayed results in Amarok's own window.
Another interface quirk that Clementine does not improve upon is Amarok's insistence that, unless File | Quit is selected, it minimizes to the notification bar. I have always wondered: Why isn't shutting down the window (no matter how you close the window) the default behavior and minimizing a deliberate choice? I also don't see much reason for the mood bar, whose colors supposedly change to reflect the nature of the current song. Fortunately, though, the mood bar can be turned off in Tools | Preferences | Appearance.
Still, although some of the tools are less than optional, on the whole, Clementine preserves Amarok's tradition of attempting to digitally reproduce the experience of a physical album -- an effort that few other music players do as well, or at all. I especially like Clementine's tabbed playlists, which mean that selections can be queued up like a stack of LPs or CDs, with only a click required to change them.
»
Printer-friendly version

1783 reads

PDF version
More in Tux Machines
5 of the Best Linux Laptops in 2020

If you're shopping for a laptop and know you're planning to run Linux, you can either get any laptop, reformat the hard drive and install your favorite Linux distro on it or just get a laptop that is running Linux right out of the box. Here are some of the best Linux laptops you can get in 2020. [...] These all come preloaded with Ubuntu 20.04 LTS, which is a solid base for any of the various flavors or just vanilla Ubuntu. Many of the drivers have been contributed upstream by Dell, so many distros that use newer kernels should be able to take full advantage of the Killer Wi-Fi cards and Intel Iris Plus Graphics. [...] Pine64 has been in the news often for its Pinephone, but the Pinebook Pro is another great product from them. It's a 14" ARM laptop that weighs less than 3 lbs/1.5 KG and sips power. It's a great little machine that helps to push Linux forward on the ARM platform and comes in just under $200.

Richard Stallman: A Discussion on Freedom, Privacy & Cryptocurrencies

Dr. Richard Stallman is well-known for his free software movement activism. His speeches and work revolve around a term: freedom. And it is precisely that word that prompted Stallman to launch the GNU Project, founding the Free Software Foundation and releasing the GNU General Public License, among other projects, to promote the free software concept. RMS, as Dr. Stallman is also known, has some opinions regarding the concept of cryptocurrencies that have been widely discussed within the crypto community.

Android Leftovers

CoreELEC 9.2.4 Linux Distro Adds ODROID-N2+ and La Frite SBC Support, Kodi 18.8

CoreELEC 9.2.4 is a major update that comes about two months after version 9.2.3 with numerous new features and improvements. First and foremost, this release introduces new hardware support, allowing users to install CoreELEC on new single-board computers, including Libre Computer's La Frite and ODROID-N2+, along with official support for Beelink and MINIX devices. It also adds support for new accessories, including the ODROID HiFi-Shields high-resolution Digital to Analog Converter (DAC) and other I2S devices on the ODROID-C4 single-board computer, as well as support for RTL8156 based USB adapters and support for RT5651 analog audio amp used in the MINIX U22X-XJ and Ugoos AM6 Android TV box sets.