Clementine | A New Music Player in Debian 10
Submitted by Roy Schestowitz on Wednesday 11th of December 2019 04:18:36 AM
Filed under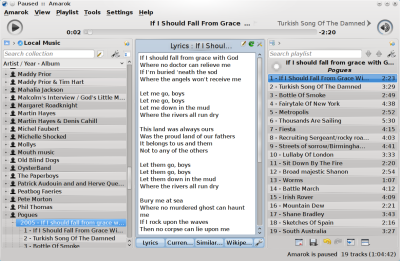 Clementine has improved the interface by putting all the main features, from accessing the local library to streaming services, on a sidebar on the left. This sidebar has several options, although the most legible, the plain toolbar, is not the default. Still, no matter what the appearance, Clementine's sidebar goes one better than Amarok by adding a file manager to the tool collection. However, one change that is not an improvement is the song info tool. To get lyrics and other information, users must click on a link and go to their web browser. There, instead of offering and displaying a best guess, like Amarok does, Clementine offers a range of possibilities, which are often so lengthy a list that, by the time you find the right entry, the track could easily have finished. Admittedly, Amarok's best guess could occasionally be hilariously wrong, but it was quicker and displayed results in Amarok's own window.
Another interface quirk that Clementine does not improve upon is Amarok's insistence that, unless File | Quit is selected, it minimizes to the notification bar. I have always wondered: Why isn't shutting down the window (no matter how you close the window) the default behavior and minimizing a deliberate choice? I also don't see much reason for the mood bar, whose colors supposedly change to reflect the nature of the current song. Fortunately, though, the mood bar can be turned off in Tools | Preferences | Appearance.
Still, although some of the tools are less than optional, on the whole, Clementine preserves Amarok's tradition of attempting to digitally reproduce the experience of a physical album -- an effort that few other music players do as well, or at all. I especially like Clementine's tabbed playlists, which mean that selections can be queued up like a stack of LPs or CDs, with only a click required to change them.
»
Printer-friendly version

1728 reads

PDF version
More in Tux Machines
Release of Wine 5.12

The Wine development release 5.12 is now available.

What's new in this release (see below for details):
  - NTDLL converted to PE format.
  - Support for the WebSocket API.
  - Improved RawInput support.
  - Vulkan spec update.
  - Various bug fixes.


The Wine compatibility layer continues progressing, with the latest development release Wine 5.12 out now. What is Wine, apart from a tasty liquid that you should drink responsibly? It would be a bit weird if we were covering the world of fermented grapes—we are in fact talking about software. A quick reminder for the newer Linux user: it's a compatibility layer that allows the running of Windows-only applications and games on Linux and other operating systems. It's one of the driving forces behind Steam Play Proton.

Wine 5.12 is out for the US Holiday weekend testing. Wine 5.12 brings NTDLL now converted to PE format, support for the WebSocket API, improved RawInput support, updated Vulkan specification compliance, and around 48 known bug fixes. The bug fixes for this bi-weekly release help out software ranging from Battle.net to Adobe Photoshop to multiple games.

today's howtos

Fedora Project and IBM/Red Hat

Linux Plumbers Conference Not Sold Out and Annual X.Org / Wayland / Mesa Conference Going Virtual

We're really sorry, but apparently the Cvent registration site we use has suffered a bug which is causing it to mark the conference as "Sold Out" and, unfortunately, since today is the beginning of the American Independence day weekend, we can't get anyone to fix it until Monday. However, rest assured there are plenty of places still available, so if you can wait until Monday, you should be able to register for the conference as soon as the site is fixed.

XDC 20 was set to take place this September in Poland but is now moving to an online event as a result of the ongoing coronavirus / COVID-19 pandemic.  The X.Org Foundation has decided to make XDC 2020 a virtual conference due to uncertainty over the COVID-19 situation come September in Europe. This will be the first time the annual X.Org Developers' Conference has been an entirely online event.  The announcement was made today as well as extending the call for presentations by an additional two weeks.