Clementine | A New Music Player in Debian 10
Submitted by Roy Schestowitz on Wednesday 11th of December 2019 04:18:36 AM
Filed under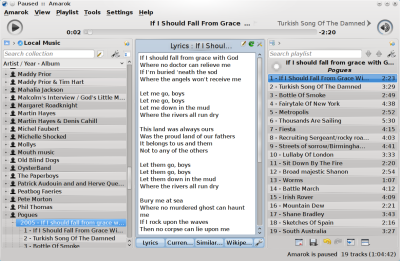 Clementine has improved the interface by putting all the main features, from accessing the local library to streaming services, on a sidebar on the left. This sidebar has several options, although the most legible, the plain toolbar, is not the default. Still, no matter what the appearance, Clementine's sidebar goes one better than Amarok by adding a file manager to the tool collection. However, one change that is not an improvement is the song info tool. To get lyrics and other information, users must click on a link and go to their web browser. There, instead of offering and displaying a best guess, like Amarok does, Clementine offers a range of possibilities, which are often so lengthy a list that, by the time you find the right entry, the track could easily have finished. Admittedly, Amarok's best guess could occasionally be hilariously wrong, but it was quicker and displayed results in Amarok's own window.
Another interface quirk that Clementine does not improve upon is Amarok's insistence that, unless File | Quit is selected, it minimizes to the notification bar. I have always wondered: Why isn't shutting down the window (no matter how you close the window) the default behavior and minimizing a deliberate choice? I also don't see much reason for the mood bar, whose colors supposedly change to reflect the nature of the current song. Fortunately, though, the mood bar can be turned off in Tools | Preferences | Appearance.
Still, although some of the tools are less than optional, on the whole, Clementine preserves Amarok's tradition of attempting to digitally reproduce the experience of a physical album -- an effort that few other music players do as well, or at all. I especially like Clementine's tabbed playlists, which mean that selections can be queued up like a stack of LPs or CDs, with only a click required to change them.
»
Printer-friendly version

1683 reads

PDF version
More in Tux Machines
The Linux Kernel Deprecates The 80 Character Line Coding Style

The Linux kernel has officially deprecated its coding style that the length of lines of code comply with 80 columns as the "strong preferred limit". The Linux kernel like many long-standing open-source projects has a coding style guideline that lines of code be 80 columns or less, but now that while still recommended is no longer going to be as enforced. This stems from Linus Torvalds commenting on Friday that excessive linebreaks are bad and is against ugly wrapped code that is strictly sticking to 80 characters per line. This is part of the broader trend that most are no longer using 80x25 terminals but with today's high resolution displays the terminal sizes are often larger though some preferring the default in order to allow more terminals to be displayed simultaneously on their nice displays. Original from Torvalds:


Not necessarily.

Excessive line breaks are BAD. They cause real and every-day problems.

They cause problems for things like "grep" both in the patterns and in
the output, since grep (and a lot of other very basic unix utilities)
is fundamentally line-based.

So the fact is, many of us have long long since skipped the whole
"80-column terminal" model, for the same reason that we have many more
lines than 25 lines visible at a time.

And honestly, I don't want to see patches that make the kernel reading
experience worse for me and likely for the vast majority of people,
based on the argument that some odd people have small terminal
windows.

If you or Christoph have 80 character lines, you'll get possibly ugly
wrapped output. Tough. That's _your_ choice. Your hardware limitations
shouldn't be a pain for the rest of us.

Longer lines are fundamentally useful. My monitor is not only a lot
wider than it is tall, my fonts are universally narrower than they are
tall. Long lines are natural.

When I tile my terminal windows on my display, I can have 6 terminals
visible at one time, and that's because I have them three wide. And I
could still fit 80% of a fourth one side-by-side.

And guess what? That's with my default "100x50" terminal window (go to
your gnome terminal settings, you'll find that the 80x25 thing is just
an initial default that you can change), not with some 80x25 one. And
that's with a font that has anti-aliasing and isn't some pixelated
mess.

And most of my terminals actually end up being dragged wider and
taller than that. I checked, and my main one is 142x76 characters
right now, because it turns out that wider (and taller) terminals are
useful not just for source code.

Have you looked at "ps ax" output lately? Or used "top"? Or done "git
diff --stat" or any number of things where it turns out that 80x25 is
really really limiting, and is simply NO LONGER RELEVANT to most of
us.

So no. I do not care about somebody with a 80x25 terminal window
getting line wrapping.

For exactly the same reason I find it completely irrelevant if
somebody says that their kernel compile takes 10 hours because they
are doing kernel development on a Raspberry PI with 4GB of RAM.

People with restrictive hardware shouldn't make it more inconvenient
for people who have better resources. Yes, we'll accommodate things to
within reasonable limits. But no, 80-column terminals in 2020 isn't
"reasonable" any more as far as I'm concerned. People commonly used
132-column terminals even back in the 80's, for chrissake, don't try
to make 80 columns some immovable standard.

If you choose to use a 80-column terminal, you can live with the line
wrapping. It's just that simple.

And longer lines are simply useful. Part of that is that we aren't
programming in the 80's any more, and our source code is fundamentally
wider as a result.

Yes, local iteration variables are still called 'i', because more
context just isn't helpful for some anonymous counter. Being concise
is still a good thing, and overly verbose names are not inherently
better.

But still - it's entirely reasonable to have variable names that are
10-15 characters and it makes the code more legible. Writing things
out instead of using abbreviations etc.

And yes, we do use wide tabs, because that makes indentation something
you can visually see in the structure at a glance and on a
whole-function basis, rather than something you have to try to
visually "line up" things for or count spaces.

So we have lots of fairly fundamental issues that fairly easily make
for longer lines in many circumstances.

And yes, we do line breaks at some point. But there really isn't any
reason to make that point be 80 columns any more.

                  Linus


today's howtos

Python Programming

Three years of postmarketOS

We have over 200 booting devices now. Yes, booting is the operative word, with most of these ports you get more of a Raspberry Pi alternative than a functional phone experience with postmarketOS. Therefore, we started to categorize the devices. All existing device ports have been moved to the testing category, and can be moved to community or main depending on which features are working and how well maintained a port is. Only community and main devices will be cherry-picked to the stable branch. Currently the only device in the main category is the QEMU virtual device. It doesn't have any special hardware like a modem or GPS, so it was easy to make it comply with the requirements for main. Once some minor changes are done to the PinePhone port, it can be moved from community to main as well. There are also some devices pending to be moved into community from testing, like the Nokia N900, Xiaomi Redmi 4X, Motorola Moto G4 Play, Samsung Galaxy A3, Samsung Galaxy A5, Samsung Galaxy S4 Mini Value Edition and Wileyfox Swift. This is mostly possible, because they run a mainline Linux kernel already, or in case of the MSM8916, are currently being mainlined. The MSM8974 devices are also candidates, such as the Nexus 5, Fairphone 2, OnePlus One and the Samsung Galaxy S5. Earlier concepts of a channel-agnostic pmdevices repository were scrapped. This would allow using the same device packages with both the edge and stable channels, but at the price of making the device packages more complicated. Instead of doing that, we will treat the device specific packages like other packages and cherry-pick only the rather risk-free patches to the stable branch.