Trinity Desktop Environment R14.0.7 Released!
Submitted by Rianne Schestowitz on Monday 30th of December 2019 05:27:59 PM
Filed under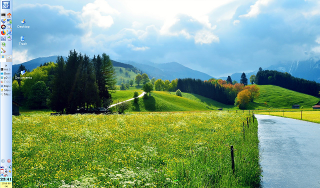 The Trinity Desktop Environment (TDE) development team is pleased to announce the immediate availability of the new TDE R14.0.7 release. TDE is a complete software desktop environment designed for Unix-like operating systems, intended for computer users preferring a traditional desktop model, and is free/libre software.
R14.0.7 is the seventh maintenance release of the R14.0 series, and is built on and improves the previous R14.0.6 version. Maintenance releases are intended to promptly bring bug fixes to users, while preserving overall stability through the avoidance of both major new features and major codebase re-factoring.
Also: Trinity Desktop R14.0.7 Released For Keeping KDE 3 Spirit Alive In 2020
»
Printer-friendly version

2131 reads

PDF version
More in Tux Machines
Android Leftovers

today's howtos

Foundations: prpl Foundation, Cloud Foundry and ASF

Adaptive Spectrum and Signal Alignment, Inc. (ASSIA®) the market-leading supplier of AI-driven broadband and Wi-Fi optimization software, announced its official involvement in the prpl Foundation, an open-source, community-driven, not-for-profit consortium with a focus on enabling the security and interoperability of embedded devices for the smart society of the future. ASSIA makes it possible for service providers' Wi-Fi management solutions to work with any Wi-Fi router and middleware solution and interoperate, scale, and evolve with technology and standards.

Cloud Foundry, an open-source foundation dedicated to a cloud-oriented application platform, is now incubating the KubeCF project, and has also welcomed Google upgrading its membership to platinum – the highest level. Google has been a member of Cloud Foundry since January 2017, but platinum membership represents a higher level of commitment. Google's Jennifer Phillips, head of Open Source Programs, is to be on the foundation's board of directors. The other platinum members are Dell EMC, IBM, SAP, SUSE and VMware.

The Apache Software Foundation (ASF), the all-volunteer developers, stewards, and incubators of more than 350 Open Source projects and initiatives, announced today its 21st Anniversary.

LibreOffice 6.4.3 Release Candidate Version 1 Released Today!

LibreOffice 6.4.3 RC1 Released: LibreOffice is one of the best open-source text editors. LibreOffice comes as default application release of Linux OS. LibreOffice is developed by Team Document Foundation. Today they announced that the LibreOffice 6.4.3 RC1 version has been released. As per their calendar, LibreOffice 6.4.3 RC1 has been released exactly on today!. This RC1 version has many bugs fixes and tweaks in essential features.