The Schism at the Heart of the Open-Source Movement
Submitted by Roy Schestowitz on Friday 3rd of January 2020 10:17:35 PM
Filed under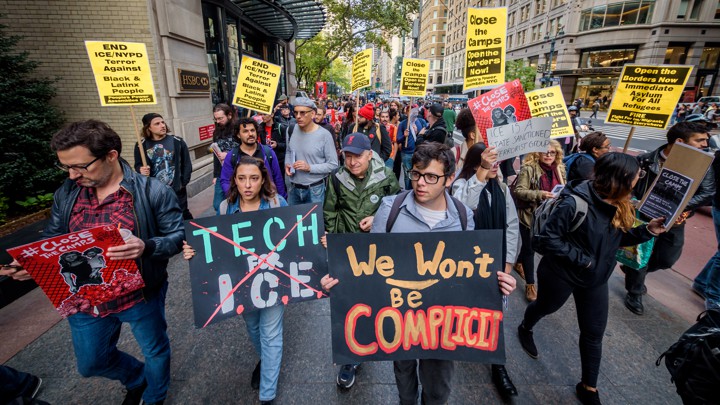 Richard Schneeman is a software developer in Austin. Since 2012, he's contributed to Ruby on Rails, an open-source coding software that GitHub has long used as part of its infrastructure. "Since I have contributed to Ruby on Rails, and I know that GitHub is using Ruby on Rails, I know that ICE is directly using my code," he told me. "When I first found out, I was like, Oh, this has gotta be a mistake, right?"
In December, Schneeman signed an open letter alongside 2,000 other open-source contributors, who called the ICE contract a betrayal of open source's commitment to "inverting power structures and creating access and opportunities for everyone."
When reached for comment, a spokesperson for GitHub referred me to an October blog post from the company's CEO and co-founder, Nat Friedman. The post acknowledges the work GitHub has done to connect and build users, but also points to a tension central to the open-source project. For a project to call itself "open source," it can't place restrictions on who can and cannot access it.
Friedman noted that although GitHub is an enormous part of the open-source community, its contract with ICE is for a different product, the GitHub Enterprise Server—a version of the typical GitHub platform retooled for the company using it. Data are hosted on the company's own servers, access is restricted solely to its own employees, sharing is limited based on internal rules and regulations, and so on.
Friedman explained that GitHub doesn't know the specifics of how ICE is using the Enterprise product. He maintained a distinction between the open-source repositories the platform is known for and ICE's "private work" using the Enterprise software. As he argued, interrogating the agency or potentially terminating its contract would compromise Github's core philosophy.
"A world where developers in one country or every country are required to tell us what type of software they are creating would, in our view, undermine the fundamental rights of software developers," Friedman wrote in his blog post.
It's important to note that GitHub has a code of conduct and has removed users from its site for violating those terms. Being unpopular is neither illegal nor a violation of the terms of service.
Via: LWN
»
Printer-friendly version

1617 reads

PDF version
More in Tux Machines
OSS Leftovers

Programming: Rust, C and Python

Proprietary Stuff and Openwashing

Security Leftovers

U.S. Wireless carriers are coming under heavy fire for failing to protect their users from the practice of SIM hijacking. The practice usually involves conning or bribing a wireless employee to port a victim's cell phone number right out from underneath them, letting the attacker then pose as the customer to potentially devastating effect. Carriers are facing numerous lawsuits from victims who say attackers used the trick to first steal their identity, then millions in cryptocurrency, or even popular social media accounts.

Stefan and I have been taking last week to add DNS over TLS into IPFire - another step to make DNS more private. Here is what we have done. Cleaning up some mess IPFire has multiple places where DNS servers could be configured. If you were using PPP for your Internet connection, you would have set this up with your dialup settings. If you were using a static IP address, then you would have set up the DNS servers with it in the setup. If you were using DHCP, you had a page on the web user interface to go to. This is not only confusing for the user, but also there were the places in the code where those settings were applied. Now, we have created an entire new page which combines all of it together! You will have a list where you can set all DNS servers and set new settings. [...] This will be release with Core Update 140. Amongst the many new features, we have removed a lot of code that has caused us a lot of trouble in the past and rewritten many things entirely from scratch.

Security updates have been issued by Arch Linux (chromium), Fedora (gnulib, ImageMagick, jetty, ocsinventory-agent, phpMyAdmin, python-django, rubygem-rmagick, thunderbird, and xar), Mageia (e2fsprogs, kernel, and libjpeg), openSUSE (icingaweb2), Oracle (git, java-11-openjdk, and thunderbird), Red Hat (.NET Core), Scientific Linux (git, java-11-openjdk, and thunderbird), SUSE (fontforge and LibreOffice), and Ubuntu (kamailio and thunderbird).