The Schism at the Heart of the Open-Source Movement
Submitted by Roy Schestowitz on Friday 3rd of January 2020 10:17:35 PM
Filed under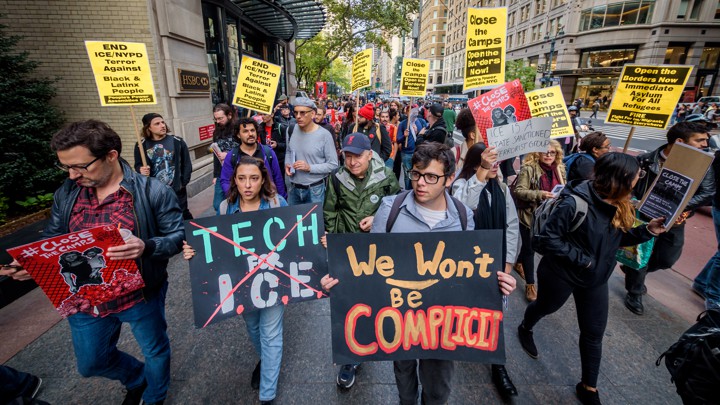 Richard Schneeman is a software developer in Austin. Since 2012, he's contributed to Ruby on Rails, an open-source coding software that GitHub has long used as part of its infrastructure. "Since I have contributed to Ruby on Rails, and I know that GitHub is using Ruby on Rails, I know that ICE is directly using my code," he told me. "When I first found out, I was like, Oh, this has gotta be a mistake, right?"
In December, Schneeman signed an open letter alongside 2,000 other open-source contributors, who called the ICE contract a betrayal of open source's commitment to "inverting power structures and creating access and opportunities for everyone."
When reached for comment, a spokesperson for GitHub referred me to an October blog post from the company's CEO and co-founder, Nat Friedman. The post acknowledges the work GitHub has done to connect and build users, but also points to a tension central to the open-source project. For a project to call itself "open source," it can't place restrictions on who can and cannot access it.
Friedman noted that although GitHub is an enormous part of the open-source community, its contract with ICE is for a different product, the GitHub Enterprise Server—a version of the typical GitHub platform retooled for the company using it. Data are hosted on the company's own servers, access is restricted solely to its own employees, sharing is limited based on internal rules and regulations, and so on.
Friedman explained that GitHub doesn't know the specifics of how ICE is using the Enterprise product. He maintained a distinction between the open-source repositories the platform is known for and ICE's "private work" using the Enterprise software. As he argued, interrogating the agency or potentially terminating its contract would compromise Github's core philosophy.
"A world where developers in one country or every country are required to tell us what type of software they are creating would, in our view, undermine the fundamental rights of software developers," Friedman wrote in his blog post.
It's important to note that GitHub has a code of conduct and has removed users from its site for violating those terms. Being unpopular is neither illegal nor a violation of the terms of service.
Via: LWN
»
Printer-friendly version

2293 reads

PDF version
More in Tux Machines
How to create bootable Ubuntu 20.04 on windows 10

I think so; a few weeks back, I was doing something on my Ubuntu 20.04. Suddenly my friend knocks on my door, and he was curiously peeking on my laptop screen. I asked what happen, Benhur? Benhur replied, what are you doing on your laptop, It is totally different from my laptop screen, and It fascinated me. Will you tell me what it is?

Audio/Video: LHS, Going Linux, and DistroTube

It's time once again for The Weekender. This is our bi-weekly departure into the world of amateur radio contests, open source conventions, special events, listener challenges, hedonism and just plain fun. Thanks for listening and, if you happen to get a chance, feel free to call us or e-mail and send us some feedback. Tell us how we're doing. We'd love to hear from you.

We are pleased to say we are in an excellent place with music streaming on Linux. For the most part all of the services we reviewed worked really well.

Security Leftovers

Android Leftovers