Games: Steam Client, Slay the Spire and DASH (Danger Action Speed Heroes)
Submitted by Roy Schestowitz on Tuesday 21st of January 2020 12:15:37 PM
Filed under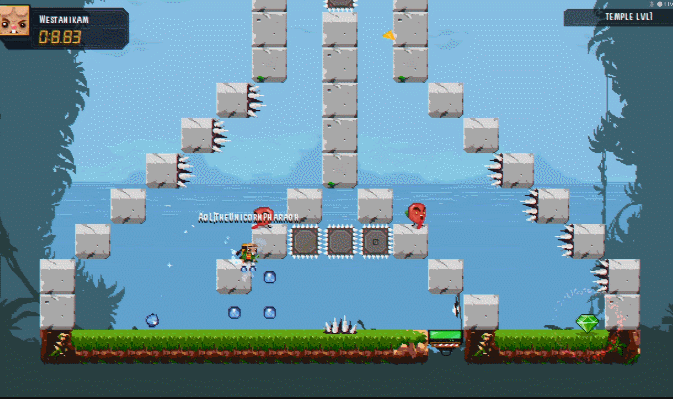 The first stable update for the Steam Client of 2020, pulling in all the recent changes from the Beta versions.

For Linux users, it's a good one. It fixes the Steam Library not working on some NFS mounts, fixes a crash while prepare the Hardware Survey and some tweaks to the Steam Runtime system info gathering to only run when needed.

Now that the huge update to Slay the Spire is live adding in The Watcher as the fourth character, Mega Crit Games have also updated their opt-in game engine upgrade Beta.

For a while now, they've had a "libgdx199" Beta available on Steam to improve the foundation the game is built upon. However, that's only compatible with save files from the previous major build. A new opt-in Beta "libgdx199.main" has been put up, which is compatible with the current version of the game.

DASH (Danger Action Speed Heroes), a platformer that's built for people who love creating and competing across user-made levels just recently expanded with a big new online multiplayer mode.

It's one thing to create levels, play those made by others and see the Ghost of players from their times. It's a whole different experience to run, jump and fail with others right there with you. That's exactly what the new update to DASH will offer. This Competitive Run game mode might be the first of multiple, with it being a big all-for-one mode too.
»
Printer-friendly version

1702 reads

PDF version
More in Tux Machines
postmarketOS in 2020-02

Long time readers may ask themselves: what's with the strange title? Where's the traditional "xyz days of postmarketOS" post? Truth is, that this is a low-key update post, one that is rather "rushed out" in a few hours instead of spending a whole week on adding all the fancy photos and gifs webm animations and so on. Consider this the minimal effort of making the project not look dead on the homepage, while not getting too distracted from the deep development lands that our minds are sunken into. We are on track with our project direction 2020 plans. In a nutshell, we will create a stable releases of postmarketOS based on Alpine stable, while still having the development channel based on Alpine edge. Furthermore, the status of supported devices will become clearer. The PinePhone, possibly the Librem 5 and few more will be labeled as officially supported in their deviceinfo and in the wiki. postmarketOS should be usable as daily driver on these. All other devices will be categorized further, depending on active maintainer count and what is working. Think of it like the AUR: still useful, but sometimes broken and you need to know what you are doing when using these. The devices will get split into their own git repository, so one can use the device packages with both the "edge" and "latest" (stable!) channel of all other packages. @ollieparanoid and @Minecrell are evolving pmbootstrap as needed.

Android Leftovers

KDE: Cutelyst 2.10.0 and SimpleMail 2, Okular Examined, FOSDEM & Plasma Mobile Sprint

Cutelyst the C++/Qt Web framework and SimpleMailQt just got new releases. Cutelyst received many important bugfixes and if you are compiling it with View::Email it also requires SimpleMail 2, the latter got an Async API which is on production for a few months, allowing for a non-blocking send mail experience.

Wouldn't it be nice if you had one program to view them all? That's exactly what Okular does. It's an open source universal document viewer for Windows, Linux and macOS. The program is made by KDE, a name Linux users should be familiar with, among other creations they are the ones behind the popular Kubuntu (Ubuntu + KDE Software) distro. Let's begin touring the interface. The sidepanel on the left can be used to jump to the Contents, Thumbnails, Reviews and Bookmarks sections. Select one of the options and the list of corresponding items are displayed in the panel to the right of the sidebar. The Contents option lists each section/chapter in a document, along with the sub-items, page numbers, etc. The Thumbnail mode pane displays a preview of each page in the document, you can scroll through it and click to go to the selected page. The Reviews pane contain the annotations that have been made on the document. If you don't have any, you can add some by hitting the F6 key or from the Tools menu > Review. Bookmarks are custom links that you have added, i.e., if you bookmark a page it will be displayed in the side-panel for future reference. Hit Ctrl + B to bookmark a page.

Last week I decided to take KDE Itinerary for a test tour. Between the train rides there was also time for some KDE stuff. FOSDEM After writing an exam on Friday afternoon I took a train to Frankfurt. I did so not to enjoy the beautiful scenery of the area around Frankfurt central station at night but to be able to catch an early train towards Bruxelles for my first time at FOSDEM. It has been a great experience to meet so many people interested in what KDE does at the KDE booth. It also was awesome to meet all the folks that are working hard on making Linux on the phone become a thing.

Want to be an innovative company? Adopt enterprise open source

Nearly all IT professionals (95%) agree that enterprise open source is important, with 75% of professionals citing it as "extremely important," a Red Hat report found. Enterprise open source isn't just a trend, but a growing movement, as 77% of respondents expect their organizations to increase open source use in the next 12 months. "Historically, open source was seen [mainly] in web infrastructure," said Gordon Haff, Red Hat technology evangelist. "What you're seeing today is how open source is becoming a space where companies and individuals come together to collaborate in new areas of technology."