Games: Steam Client, Slay the Spire and DASH (Danger Action Speed Heroes)
Submitted by Roy Schestowitz on Tuesday 21st of January 2020 12:15:37 PM
Filed under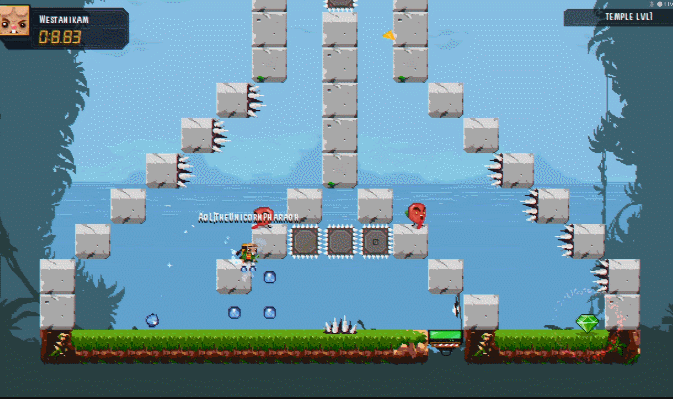 The first stable update for the Steam Client of 2020, pulling in all the recent changes from the Beta versions.

For Linux users, it's a good one. It fixes the Steam Library not working on some NFS mounts, fixes a crash while prepare the Hardware Survey and some tweaks to the Steam Runtime system info gathering to only run when needed.

Now that the huge update to Slay the Spire is live adding in The Watcher as the fourth character, Mega Crit Games have also updated their opt-in game engine upgrade Beta.

For a while now, they've had a "libgdx199" Beta available on Steam to improve the foundation the game is built upon. However, that's only compatible with save files from the previous major build. A new opt-in Beta "libgdx199.main" has been put up, which is compatible with the current version of the game.

DASH (Danger Action Speed Heroes), a platformer that's built for people who love creating and competing across user-made levels just recently expanded with a big new online multiplayer mode.

It's one thing to create levels, play those made by others and see the Ghost of players from their times. It's a whole different experience to run, jump and fail with others right there with you. That's exactly what the new update to DASH will offer. This Competitive Run game mode might be the first of multiple, with it being a big all-for-one mode too.
»
Printer-friendly version

1832 reads

PDF version
More in Tux Machines
Ade Malsasa Akbar on CloudTube and Mailo

Do you remember Invidious Everywhere? Since early September Invidio.us is unfortunately officially closed and the Invidious web software development is now seeking for new maintainer. Thank you Omarroth for this incredibly good YouTube front end for your hard works help people and me truly a lot for these years. However, there is a good news, it is CloudTube now an alternative to Invidious so we can watch YouTube right in the web browser without being tracked nor running nonfree javascript.

Here is Mailo a new email service you can register to based in France, Europe. With Mailo your email address will be like malsasa@mailo.com. It promises ethical emails, offers free accounts, and gives imap feature with beautiful yet easy to use interface. What's so special about Mailo is it's friendly to everyone using Free Libre Open Source Software in general and everyone seeking privacy alternative to Gmail in particular. It is featured in Free Software Foundation's Webmail Systems page. For you who are looking for secure email other than Disroot or Tutanota, Mailo is very promising. By this article I wish our readers try and give us comments about it.

Best Linux distros of 2020 for beginners, mainstream and advanced users

Different Linux distros can all work with Linux software and applications, and of course, any cloud-based apps that run through a browser. However, Linux distros come with a variety of different ranges of bundled software. Some might come with a lot of basic applications already pre-installed, while others will have the barest minimum. And, as mentioned, Linux is very customizable, far beyond what normal Windows or Mac users may be used to. Users can commonly configure everything from their desktop to security and privacy settings. Altogether, this is why it helps to have a good idea of what different Linux distros can offer. Do you need a GUI more familiar to Windows? Are you more concerned about privacy? How comfortable are you with typing commands rather than clicking icons?

today's howtos

This week in KDE: fixing up Plasma 5.20

Okular's editable forms are no longer mis-rendered when inertially scrolling (Kezi Olio, Okular 1.11.2) When your scanner can almost but not quite fit a particular page size, Skanlite will now display the option to scan to that page size anyway (e.g. 215mm wide scan beds now give you the option to scan using the US Letter page size) (Kåre Särs, libksane 20.12) The text of Elisa's keyboard shortcuts are now translated properly (Nikunj Goyal, Elisa 20.12) Clearing the clipboard history on Wayland no longer crashes Plasma (David Edmundson, Plasma 5.20) Improved the Plasma SVG cache heuristics such that various things which might sometimes be invisible after upgrading Plasma now show up like they're supposed to (Arjen Hiemstra, Plasma 5.20) On Wayland, clicking on a Task Manager entry while that entry's tooltip is visible no longer crashes Plasma (Vlad Zahorodnii, Plasma 5.20) On Wayland, clicking on a Task Manager thumbnail now activates that window, as you would expect (Marco Martin, Plasma 5.20) Also: KDE Plasma 5.20 Should Be Crashing A Lot Less Under Wayland