Linux on laptops: Ubuntu 19.10 on the HP Dragonfly Elite G1
Submitted by Rianne Schestowitz on Monday 27th of January 2020 06:16:56 PM
Filed under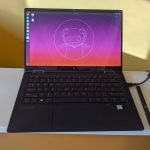 If you're looking for the easiest possible experience in procuring a Linux laptop, you just can't argue with an OEM experience like Dell's XPS 13 Developer Edition, or System76's Galago Pro. But it's nice having the option to retrofit Linux onto a laptop you just plain like rather than being limited to the ones sold with it—and if you like the Dragonfly Elite, it makes a great Linux laptop. We didn't face any significant hurdles getting Ubuntu 19.10 installed (we were completely done in well under ten minutes), and the laptop was completely and immediately functional, without the need to mess around with anything.
The Dragonfly Elite is a great performer. Everything from booting to opening applications to running them felt quick and crisp; for more detail, refer to Valentina's original review. The important thing from our perspective is that changing operating systems didn't slow the system down or make anything get perceptibly clunky—it's still a well-behaved eighth generation i7 system with 16GB of RAM and fast solid state storage, and it behaves just as you'd expect such a system to.
The battery life is also excellent, with a solid six to seven hours of full-screen, online 720P YouTube watching at full screen brightness. If you're watching offline media and willing to drop the screen brightness down to 50%, you could almost certainly watch movies on the Dragonfly Elite for a full ten-hour plane ride across the Atlantic.
»
Printer-friendly version

1676 reads

PDF version
More in Tux Machines
More Android Leftovers

Android Leftovers

IPFire 2.25 - Core Update 141 released

The first exciting big update of the year is ready: IPFire 2.25 - Core Update 141! It comes with a totally reworked DNS system which adds many new features like DNS-over-TLS. On top of that, this update fixes many bugs. Also: IPFire Open-Source Linux Firewall Gets a Revamped DNS System IPFire

GIMP 2.10.18 Officially Released, Here's What's New

GIMP 2.10.18 comes three months after version 2.10.14, which probably most of you out there are running on your GNU/Linux distributions, but the development team released version 2.10.16 a week ago without announcing anything official. Now, GIMP 2.10.18 is here, and we finally have details about the new features that were implemented during this cycle. Without any further ado, the highlights of the GIMP 2.10.18 release include a new 3D Transform tool to let users rotate and pan items in 3D space (you can check it out in action below), a new high-contrast symbolic theme, a new "Composited Preview" option for most transformation tools, and the ability to group tools by default in the toolbox, which is enabled by default after you update to this version.