Ubuntu 20.04 + Linux 5.5: Fresh Benchmarks Of AMD EPYC Rome vs. Intel Xeon Cascade Lake
Submitted by Rianne Schestowitz on Thursday 13th of February 2020 04:37:31 PM
Filed under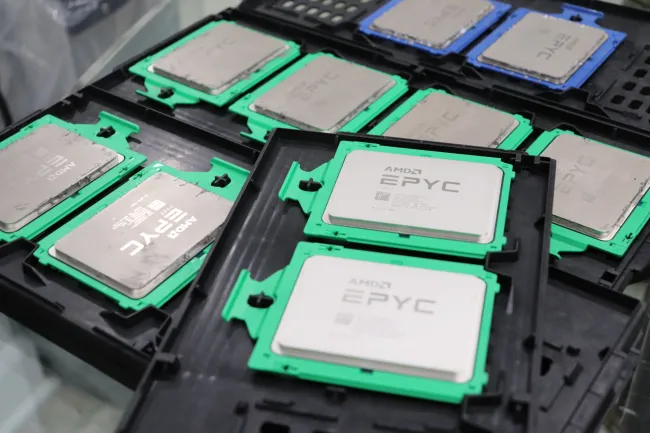 Here are some fresh numbers looking at the current performance of various AMD EPYC 7002 "Rome" processors up against Intel Xeon Cascade Lake processors when using an Ubuntu 20.04 LTS development snapshot and also upgrading to Linux 5.5 as the latest stable kernel. Beyond raw performance, power efficiency and performance-per-dollar for these different server CPUs are being compared as well for these sub-$5000 processors.
Ahead of the Ubuntu 20.04 long-term support release this spring and being curious how the latest AMD EPYC and Intel Xeon CPUs are competing with a bleeding-edge software stack also including Linux 5.5, this fresh benchmark comparison was performed. The single-socket tests carried out for this article included the...
»
Printer-friendly version

1601 reads

PDF version
More in Tux Machines
Rules for product managers at open source companies

Product management is an interesting career. It's immensely rewarding to be the interface between users, business strategy, engineering, and product design. And it's also a highly lucrative career with increasing demand for ambitious and empathetic practitioners. It's also a role with no single path. You might see various certifications and courses emerging to help address the serious skills shortage. The good news is that these are starting to contribute to the talent pipeline, but they struggle to address the wider demands of the role. This is especially the case where roles require direct experience across the enormous range of what it takes to build and ship successful products.

How we decide when to release Fedora

Open source projects can use a variety of different models for deciding when to put out a release. Some projects release on a set schedule. Others decide on what the next release should contain and release whenever that is ready. Some just wake up one day and decide it's time to release. And other projects go for a rolling release model, avoiding the question entirely. For Fedora, we go with a schedule-based approach. Releasing twice a year means we can give our contributors time to implement large changes while still keeping on the leading edge. Targeting releases for the end of April and the end of October gives everyone predictability: contributors, users, upstreams, and downstreams. But it's not enough to release whatever's ready on the scheduled date. We want to make sure that we're releasing quality software. Over the years, the Fedora community has developed a set of processes to help ensure we can meet both our time and and quality targets.

Raspberry Pi 4: Chronicling the Desktop Experience – Firefox Upgrade – Week 18

This is a weekly blog about the Raspberry Pi 4 ("RPI4"), the latest product in the popular Raspberry Pi range of computers. I've previously looked at web browsing on the RPI4 in Week 4 of my blog, recommending Chromium and Vivaldi on this tiny machine. Chromium offers the virtue of official Raspbian support on the RPI4 and it's published under an open source license. On the other hand, Vivaldi is no-charge proprietary software. Both web browsers earned my recommendation. At the time, I was unable to recommend Firefox because the Raspbian repositories hosted a prehistoric version; version 60.9.0 ESR to be specific. Running a version of a web browser that's 2 years behind the latest version is totally unacceptable, even from a security standpoint alone.

Zorin OS For Windows Users

Dear former Microsoft users, after Windows 7 (W7) officially discontinued early this year, how about looking at alternative operating system called Zorin OS? Zorin is computer operating system for everybody that is user-friendly and familiar. You can get Zorin gratis and free, you and your family can use without learning much, prepare to live peacefully without virus & antivirus, and you will be happy you can revive old computers with it. This article gives you sights on Zorin from perspective of a W7 user and see if you find it interesting. Enjoy Zorin!