New ISOs for Slackware Live (liveslak 1.3.5)
Submitted by Roy Schestowitz on Thursday 20th of February 2020 03:22:54 PM
Filed under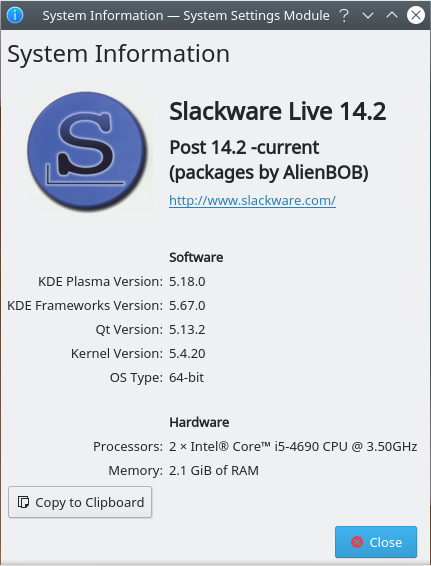 I have uploaded a set of fresh Slackware Live Edition ISO images. They are based on the liveslak scripts version 1.3.5. The ISOs are variants of Slackware-current "Tue Feb 18 05:20:50 UTC 2020" with the 5.4.20 kernel but without PAM.
The PLASMA5 variant is my february release of 'ktown' aka KDE-5_20.02 .
Download these ISO files preferably via rsync://slackware.nl/mirrors/slackware-live/ (or its mirror rsync://slackware.uk/people/alien-slacklive/ but allow that 24 to sync up) because that allows easy resume if you cannot download the file in one go.
»
Printer-friendly version

2160 reads

PDF version
More in Tux Machines
Best Markdown Editors for Linux

This article will cover free and open source markdown editors available for Linux. You can use these apps to write documents, notes, ebooks etc. and format them for better readability and accessibility.

Security Leftovers

Security updates have been issued by Debian (firefox-esr and mediawiki), openSUSE (firefox, libqt5-qtbase, and rubygem-actionpack-5_1), Red Hat (qemu-kvm, qemu-kvm-ma, and virt:rhel), SUSE (dpdk, firefox, and go1.15), and Ubuntu (dpdk, imagemagick, italc, libpgf, libuv1, pam-python, squid3, ssvnc, and teeworlds).

This release fixes the security vulnerability described in our September 29 post.

This release fixes the security vulnerability described in our September 29 post.

today's howtos

HPLIP 3.20.9, HP print, scan, and fax drivers for Linux, now is available to download. Though the release note is not ready at the moment of writing, HPLIP 3.20.9 package is already available to download in its website. Normally, there will be a list of new supported printers.

DAPS is OpenSUSE's "DocBook Authoring and Publishing Suite" that is used to build documentation for SUSE and OpenSUSE. It actually requires A LOT of dependencies when being installed and for that reason alone, it's actually better to run it in a container. This is my image and how I use it.

Python Programming