Netrunner Linux Still Goes Its Own Way at 'Twenty'
Submitted by Rianne Schestowitz on Friday 28th of February 2020 07:24:42 PM
Filed under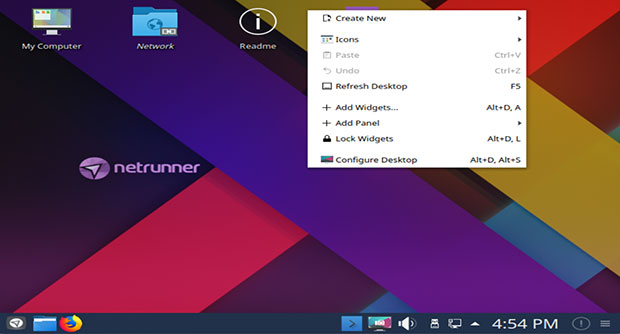 The Netrunner distro used to be a bleeding-edge choice among KDE options. With little that's new and must-have, this release takes the edge off the bleeding.
I wasn't nudged away from my preferred competing KDE distro -- the new Feren OS Plasma edition.
While Netrunner 20.01 provides a fairly solid integration of classic KDE desktop performance, this release is a departure, in that it is not a step or two ahead of most other KDE-integrated Linux OSes. I
Netrunner attracts two types of typical users. One fancies a more friendly desktop environment. The second wants the freedom to tweak more extensively than other desktop environments allow.
Hardware requirements include a minimum CPU of 1.6 GHz Intel Atom N270 or greater and at least 1 GB of RAM with at least 10 GB hard drive space. Also, the computer should have Intel GMA 945 graphics card support with 128+ MB of video memory.
Netrunner is a unique distro with its own spin on the K Plasma desktop environment. Seasoned Linux users who like to fiddle and tweak an OS into their own platform will love how this distro integrates the KDE Plasma desktop. Newcomers can be quite content using the out-of-the-box settings.
»
Printer-friendly version

2299 reads

PDF version
More in Tux Machines
Android Leftovers

Stable Kernels: 5.5.15, 5.4.30, 4.19.114, 4.14.175, 4.9.218, and 4.4.218

I'm announcing the release of the 5.5.15 kernel. All users of the 5.5 kernel series must upgrade. The updated 5.5.y git tree can be found at: git://git.kernel.org/pub/scm/linux/kernel/git/stable/linux-stable.git linux-5.5.y and can be browsed at the normal kernel.org git web browser: https://git.kernel.org/?p=linux/kernel/git/stable/linux-s...

Android Leftovers

System76 Thelio Major Proves To Be A Major Player For Linux Workstations

For the past two months we have been testing the System76 Thelio Major and it's been working out extremely well with performance and reliability. The Thelio Major offering with options for Intel Core X-Series or AMD Ryzen Threadripper and resides between their standard Thelio desktop with Ryzen/Core CPUs and the Thelio Massive that sports dual Intel Xeon CPUs. The Thelio Major is the platform we have been using for all of our AMD Ryzen Threadripper 3990X testing and it's been working out great. The Thelio Major besides having Threadripper and Core X-Series CPU options can be configured with up to 256GB of RAM, up to two GPUs, and up to 46TB of storage for really yielding incredibly powerful Linux workstation performance potential.